Work has begun on Indonesia's long-anticipated high-speed railroad, a $5 billion project that will – when completed – become the first high-speed rail in Southeast Asia. Funded by loans from Chinese banks and overseen by China Railway Corporation, the 142km rail line is one of dozens of Chinese-funded infrastructure projects being undertaken in the region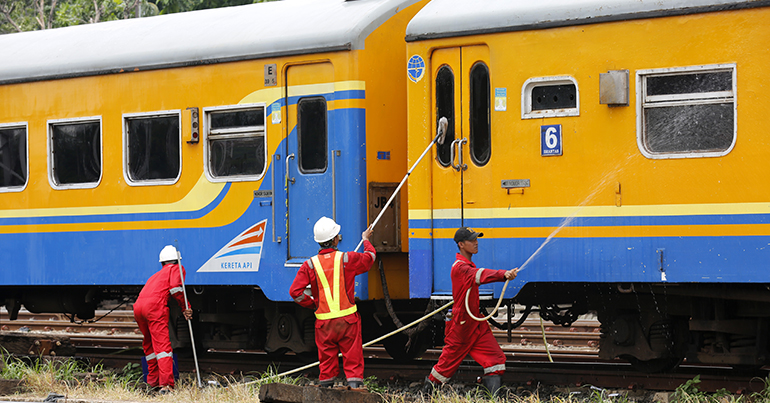 The agreement to build a rail line to connect the Indonesian capital of Jakarta with West Java's capital of Bandung was originally cemented in 2015. Despite intentions to break ground on the project in early 2016, construction was repeatedly postponed, bringing officials to question the stagnated project as recently as January this year.
"It is not a financing problem," said maritime affairs coordinating minister Luhut Binsar Pandjaitan. "The problem is with ourselves. We need to know, for example, whether a high-speed rail link between Bandung and Jakarta, which are only 140 kilometres apart, is a necessary project."
Yet construction on the rail line has continued again in earnest in the past months. In a statement released last week, China Railway Corporation announced that significant progress had been made at 22 key construction sites along the proposed track.
The rail line is one of many projects undertaken as part of China's Belt and Road Initiative, an ambitious road, rail and construction project spanning across Southeast Asia and several other regions. Established in 2013, the initiative has encouraged a significant increase in outbound investment, cementing China's position as the number-one trading partner for over 100 countries.
China's investment in Indonesia has more than doubled since it first agreed to build the Indonesian rail line in 2015. In April this year alone, Indonesia signed five contracts with China amounting to a whopping $23.3 billion that will see through several infrastructure projects, including the building of a hydropower plant.
"We need investment and China [has] excess capacity," David Sumual, chief economist at PT Bank Central Asia in Jakarta, told Bloomberg. "The two countries need each other."
Tensions between Indonesia and China have been building in the South China Sea in recent years, with Indonesia hauling away fishing boats – many of them Chinese – that it believes to be poaching in its waters.
[manual_related_posts]
Maritime affairs and fisheries minister of Indonesia Susi Pudjiastuti, who has long been outspoken against Chinese "trickery", has recently had her more shocking tactics – including her tendency to blow up seized fishing boats – reined in by government officials who fear loss of foreign investment.
Chinese investment in Indonesia is expected to continue to grow over the upcoming year.