Regency House is poised perfectly betwixt Orchard Road's alluring malls, but it is tempting not to leave its welcoming walls
It was a welcome pack like no other. Most high-end addresses provide guests with a couple of bottles of hotel-branded water and a selection of nuts, yet Regency House had not so much ripped up the rule book as run it through a shredder on multiple occasions, pulped it and created a radical 1,000-page manifesto. Sat on the breakfast bar were two large baskets: one of them overflowing with red and green apples, kiwi fruits, oranges, black grapes and a bottle of red wine; the other containing bottles of orange juice, crisps, cheese crackers, cookies, chocolate bars, hot chocolate and oat biscuits. Along with the buffet breakfast and 24-hour supply of tea, coffee and further biscuits in the lobby area, it's safe to say that one rarely goes hungry at Regency House.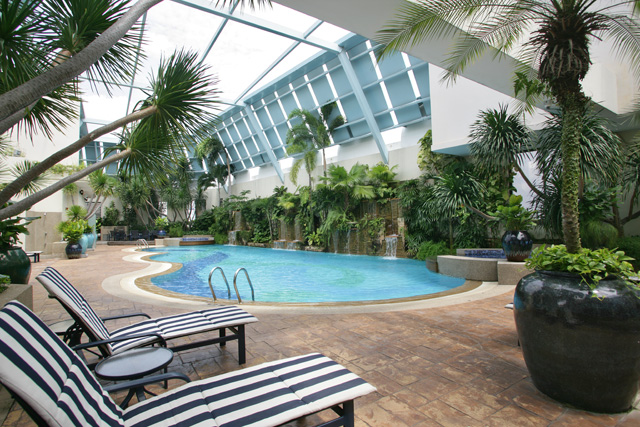 One rarely has to work too hard to indulge their appetite for shopping either. Those who come to Singapore intending to give their credit cards a damned good thrashing are well served, with Orchard Road just a few metres away. Located a two-minute walk through Istana Park lies the Cathay, a mall whose entrance retains the linear Art Deco façade of its former life as the headquarters of the British Malaya Broadcasting Corporation, as well as the first skyscraper in Singapore when the residential tower block was completed in 1941. At the other end of the scale, and also within spitting distance of Regency House, lies Orchard Central, the super-modern, digital art-covered tallest 'vertical mall' in Singapore.
With wallets walloped and purses pummelled, Regency's swimming pool, located in an attractive rooftop atrium, provides a pleasant end to the day before an evening spent in one of the recently refurbished studio apartments. With black, wooden finishes and modernist soft furnishings, as well as a gleaming, fully fitted kitchen, everything is in place for those who are spending more than a few days in the city-state. Slouching on the sofa, dipping the complimentary cookies in the complimentary hot chocolate, it's easy to feel right at home. And delighted that Regency House obliterated that rule book.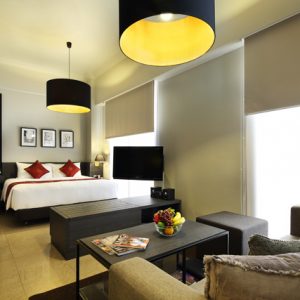 Gourmet groceries
Putting aside his cannibalistic tendencies for a moment, Hannibal Lecter was a serious foodie. All that talk of fava beans and high quality chianti demonstrated that he knew a thing or two about pairing, and he could also be seen enjoying some foie gras from Dean & Deluca while on the run in the film Hannibal. There is certainly nowhere better to do a spot of gourmet grocery shopping in the city-state than the upmarket specialty food chain that was established in New York City. From award-winning cheeses to the world's finest chocolates and artisanal preserves, it is virtually impossible to leave this treasure trove, found in Orchard Central mall, empty handed.
Pati diving
Azmi chapatis is an absolute gem on the corner of Serangoon Road and Norris Road that is staffed mainly by older Muslim gentlemen whose unflappability, despite the lengthy queues, is proof enough that that they've been turning out top quality Indian cuisine for longer than most of us can remember. Order, pay and collect your food at the small window before picking a table. The chapatis are simply perfect, some say the best in Singapore, and are perfect for mopping up dish after dish.
Past glories
"But Singapore is so clean and modern," comes the familiar refrain from people who prefer their buses to break down and enjoy plotting a course through dog excrement on the street. But those who pine for a more 'authentic' holiday experience can also get their fix in Singapore. Simply hop on a ferry at Changi Point Ferry Terminal and ten minutes later pull up at Pulau Ubin, a 10-square-kilometre island that remains largely untouched since the 1960s and was long the source of granite in the city's early days. Much of the island has returned to nature after its stone-quarrying heyday and it supports a rich ecosystem home to sea hares, octopuses and starfish.
Essentials
Tel: +65 6737 8828. Website: stayfareast.com/Regency_House. Address: 121 Penang Road, Singapore. Rooms: 41 studios, 35 two-bedroom suites, 12 three-bedroom suites. Rates: studios start from $2,400 a week and $7,850 a month. Two-bedroom suites start from $2,935 a week, and three-bedroom suites from $3,387 a week. A free parking space is provided with each suite booked. Suggested accommodation: given their sleek makeovers, the studio apartments are the pick of the bunch.
Keep reading:
"An oasis in the sky: Parkroyal on Pickering" – Spectacular terraces brimming with plants encapsulate the ethos of one of the region's greenest hotels