Navigating one of Singapore's famed hawker centres is easy enough. Up, down, up, down. Making a decision is not quite so easy. Laksa, char siew, hainanese chicken, hokkien mee. Hungry eyes begin to surreptitiously inspect other diners' plates. Scanning for hints. Desperately seeking bee hoon.
A queue sends a clue. Twenty-five people can't be wrong. They aren't. The lor mee is exquisite: the noodles' sauce is thick, sticky and a little bit sweet, just like it should be. Up, down, up, down. Searching for the exit. But that chicken rendang looks good. Oh, go on then.
Many people come to Singapore to shop, and sometimes to gawk at the most orderly, most 21st-Century city in Southeast Asia. They are missing the point. They should come to Singapore to eat. And to take their pick of some of the finest hotels in the region, of course.
Parkroyal on Pickering is a true landmark hotel in a city of landmark hotels. While passing by on Pickering Street, it is impossible not to wonder about this distinctive building, stacked like Balinese rice terraces, with foliage gushing out of every available orifice.
It is one of the region's greenest hotels and, quite rightly, isn't shy in flaunting it. The 300-metre-long garden walk is the closest guests will ever come to an ecological getaway in a five-star, city-centre hotel; an onsite horticulturalist is required to tend to the 15,000 square metres of greenery, which includes leafy monstera and fragrant frangipani trees. Just in case guests somehow overlook the hotel's green credentials, each room contains a small, wooden 'green cube' that reminds guests of the separate recycling bins and specially calibrated water flow rate of the showers.
The rooms manage to continue the airy ambience so evident throughout the complex, with muted greens and elemental wood finishes providing a genuinely 'organic' feel. The 5th floor infinity pool gives unobstructed city views, while brightly coloured cabanas inspired by Chinese songbird cages provide a faultless spot to tend to stomachs bloated by lor mee and chicken rendang. This is exactly what the 21st Century should be like.
Greener than green
Parkroyal on Pickering's green credentials run far deeper than recycling bins and green cubes. The hotel also features rain sensors to halt irrigation when rain is detected; more than half of the guestroom corridors are open-air, maximising natural light and reducing reliance on air conditioning; the car park includes charging points for hybrid vehicles; and the in-room control panel has an 'eco' button to raise the air conditioning by a couple of degrees.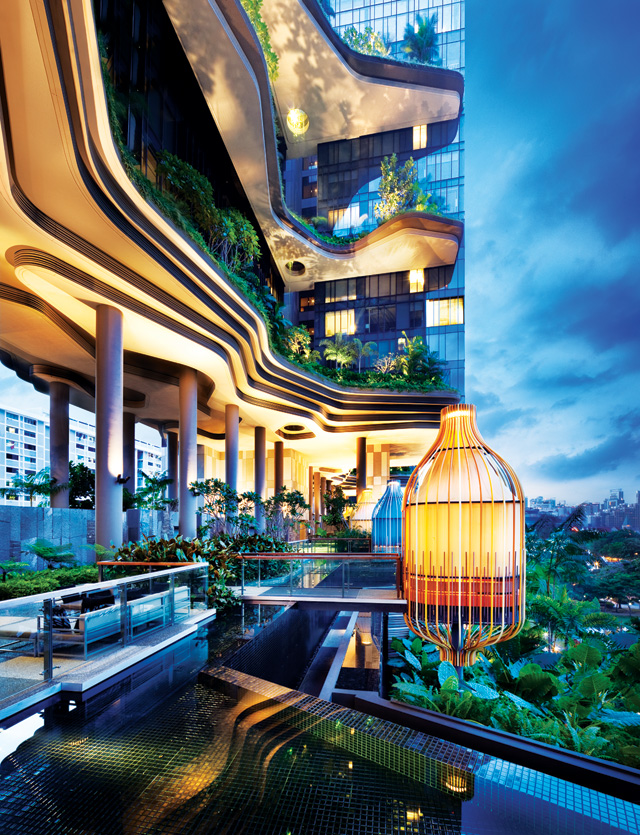 Back to the island
One thing that Singapore does very well indeed is good, old-fashioned fun, and nowhere is it more concentrated than on Sentosa Island. Yes, it's sanitised. Yes, it's rather corporate. But it's also pretty easy to forget about all that when you're steaming down a racetrack carved into the hillside on the Skyline Luge or hurtling through corkscrews on the Battlestar Galactica dual rollercoaster at Universal Studios Singapore.
Best milkshake… ever?
Tired of Southeast Asian milkshakes that go heavy on the ice but light on the milk? Fret no longer dairy devotees, Fat Boy's the Burger Bar is churning out some of the best shakes in the region. Thick, malty and richer than Tony Fernandes' and Donald Trump's imaginary lovechild, start with chocolate as your base and then add all manner of extras – peanut butter and Oreos are a good bet – to bulk it up into a true tastebud buster.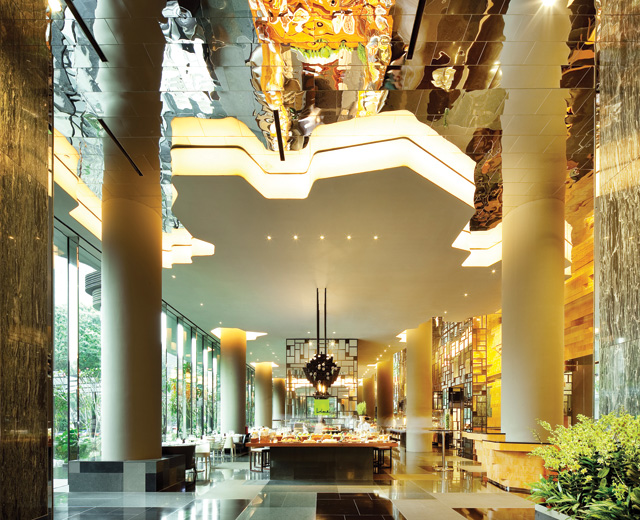 Cooking with a conscience
The superb tom yam seafood aglio olio is not the only reason for grabbing a bite at Eighteen Chefs. Founder and chef Benny Se Teo's difficult past – he spent more than a decade in and out of prison – and his subsequent struggle to find employment inspired him to open the eatery. Now a successful chain with eight locations, Se Teo hires ex-offenders and troubled youths as he seeks to grant those on the margins a second chance.
Essentials
Tel: +65 (0)68 098 888. Website: parkroyalhotels.com/pickering. Rates: superior rooms start from SGD290 ($214) and feature views across China town and Hong Lim Park, or indulge in a spacious junior suite from SGD440 ($325). Suggested accommodation: splurge on the luxurious presidential suite, situated on the Parkroyal on Pickering's top floor, which offers breathtaking city skyline views and a six-seat dining table.