SPONSORED: A young population and low levels of market penetration mean Cambodia is an exciting place for life insurers to do business – and Prudential is leading the charge, according to David Nutman, the company's new CEO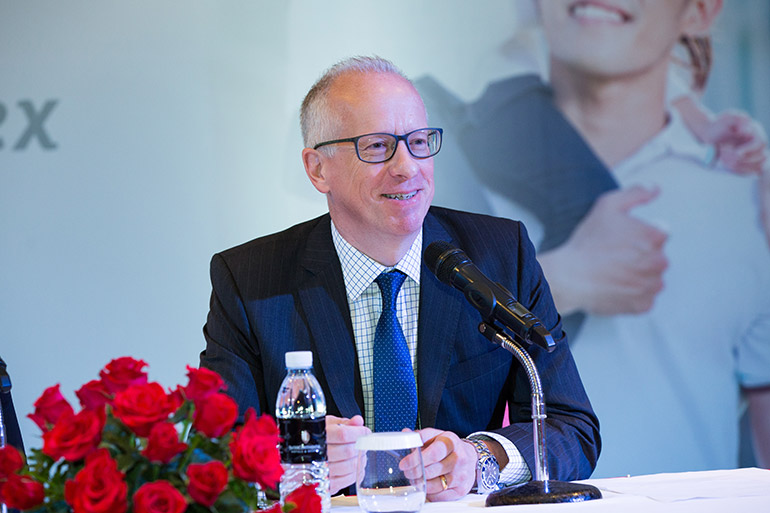 Prior to taking the helm at Prudential Cambodia, you worked as chief compliance officer in the wider Asian region. How will you draw on this experience to drive Prudential Cambodia's growth?
Compliance is all about understanding the business and working with stakeholders to find solutions; leading a company in an emerging market requires similar skills. The organisational, governance and management skills I accrued through working in compliance will help me to enhance Prudential's ability to meet the protection needs of Cambodian families.
Given that close to 70% of Cambodians are under the age of 35 and there is no history of long-term financial planning in the country, how does Prudential intend to promote the benefits of life insurance in the Kingdom?
We are working closely with the government to promote the importance of good financial planning and have specifically targeted the country's young population through our schoolawareness programme, Cha-Ching. The programme is aimed at children aged seven to 12 and involves animated music videos, as well as online resources and activities that teachers and parents can work through with children.
We also have a strategic distribution partnership with ACLEDA Bank, which gives us a country-wide presence through their network of branches, as well as around 2,000 agents working in Phnom Penh, Battambang and Siem Reap provinces.
What's more, we develop strong relationships with our customers to ensure that our products closely align with the needs of Cambodian families. Ultimately, protecting the financial wellbeing of individuals and families is in our DNA.
In an increasingly competitive Cambodian market, what makes Prudential stand out from its competitors?
We have worked hard to ensure our shared values of trust, respect and integrity are represented throughout our entire company. As a result, our customers recognise the superior quality of our staff and products and understand that we will put their needs first. Furthermore, we are able to reach more customers through our partnership with ACLEDA.
According to the Insurance Association of Cambodia, gross premiums of life insurance grew to $8.9m during the first quarter of 2016, an increase of 123% compared to the same period last year. To what extent is this rate of growth sustainable?
Underpinned by favourable demographics and an impressive annual GDP growth of 7%, Cambodia's potential for future growth is significant. Not only is the population young, the country's middle class is growing. Coupled with the life insurance market's low penetration, these demographics bode well for the industry's future growth.
The World Economic Forum on Asean 2017 was held in Cambodia in May. What does this say about Cambodia's economy?
Hosting the forum provided Cambodia with a fantastic opportunity to demonstrate its investment opportunities and impressive economic potential to an international audience. It was a welcome boost for the country and allowed it to learn from and exchange insights with experts and delegates from further afield.