Authorities have seized $276,721 worth of exotic tortoises at Kuala Lumpur International Airport in the latest high-profile animal trafficking incident to hit the Southeast Asian nation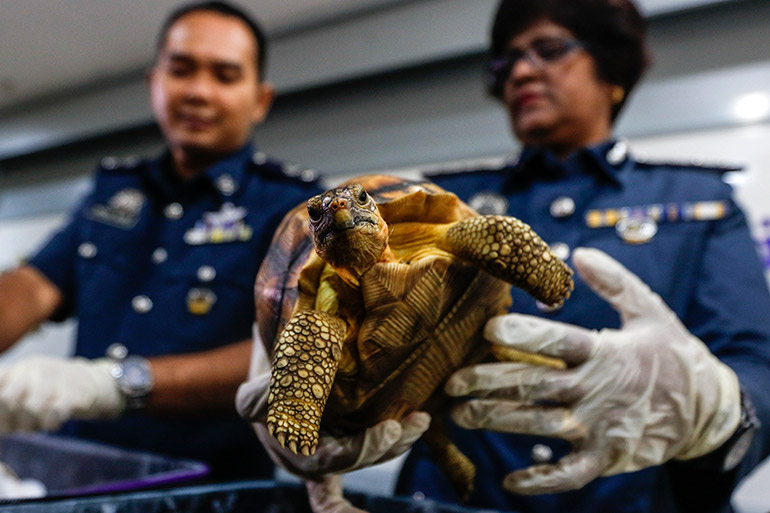 Malaysian authorities have announced that they foiled an attempt to smuggle 330 exotic tortoises worth $276,721 into the country from Madagascar in boxes labelled as "stones."
According to Malaysia's deputy customs director Abdull Wahid Sulong, 325 Indian Star tortoises and five Ploughshare tortoises were packed into boxes and flown in from Antanaviro Airport in Madagascar via Etihad Airways on Sunday.

"This is our first case involving the Indian Star and Ploughshare species. The tortoises that are usually smuggled into the country are the smaller Black Pond type," he said, according to the New Straits Times. "We had one case in 2015 and four cases in 2016. They were hand-carried and flown in from Dhaka."
The case is still under investigation and authorities have yet to make any arrests, Abdull Wahid added.
Malaysia has long been a major transit point for animal trafficking, but in recent months, the government has made efforts to crack down on the trade in endangered species. Two weeks ago, Malaysian authorities seized 700 kg of pangolin scales imported from Africa in the largest seizure of its kind ever recorded in the country.
Pangolins are now the most trafficked animal in the world, with demand largely driven by Vietnam and China, where they are believed to be an aphrodisiac and able to cure diseases, such as asthma, arthritis and cancer.
The exotic tortoises are generally kept as pets, selling for up to $4,000 each for a full-grown adult.