With new property projects in the pipeline, Myanmar's sky-high office rents are likely to head back to earth
By Andrew Gulbrandson and Andrew Langdon
After last year's frenetic rush into Myanmar's property market, it is time to take stock of the country's gradually evolving commercial real estate landscape, and to look at what is in store for 2014 and beyond. In early 2013, the new Foreign Investment Law was passed, providing a basic framework for multinational corporations to begin investing in Myanmar in earnest.
While the contents of the law are largely devoid of guidelines specifically related to the real estate sector, its passing has enabled large multinational enterprises such as Coca-Cola, Unilever and Nissan to expand into the country, generating new demand for high-quality office and industrial space, particularly in and around Yangon.
As Myanmar's economic heart, Yangon accounts for about 22% of gross domestic product and houses nearly all of the country's modern office and retail space, as well as most of its luxury hotels, foreign diplomatic missions and international schools.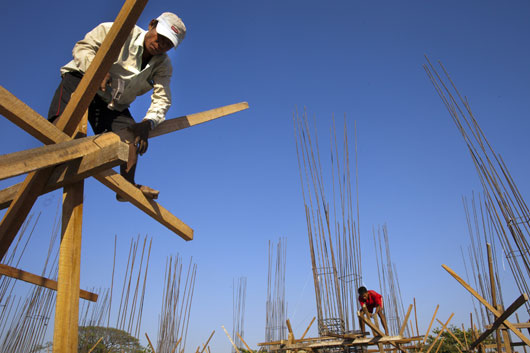 Prior to 2013, the office and hotel markets were closely intertwined, as major international organisations such as the United Nations opted for upscale hotels for both office and living purposes, securing attractive rental rates. However, with the recent onslaught of interest in Myanmar from international companies and foreign tourists following national elections in 2011, the limited supply of office space and hotel rooms has driven rates to new heights and has begun to reshape office market dynamics.
In mid-2013, average daily room rates at upscale hotels in Yangon, such as the Park Royal Hotel and Traders Hotel – previously home of the UN – eclipsed the $200 mark, more than double the rates in early 2012. As hoteliers began seeking higher room rates from the growing number of foreign tourists and with existing office and living leases expiring, foreign firms and organisations were forced to secure alternative space.
The rush of new corporate demand along with the relocation of existing organisations combined to drive gross rents in Yangon's three modern office buildings – FMI Centre, Centrepoint Towers and Sakura Tower – to levels as high as $100 per square metre per month. This is roughly double the rents that were achieved in 2011, with occupancy levels increasing despite the rental increase.
Yangon's office market began to moderate in the latter half of last year, with average rents reportedly at $70 to $80 per square metre per  month in the three central buildings. While rents are still roughly six times higher than comparable space in neighbouring Bangkok, occupancy is still running as high as 80%. The moderation in rents has been driven by several key factors.
First, newly completed space within Centrepoint Towers has opened up while, at the same time, new non-prime space has come online or will early this year, adding to the overall supply.
Second, some firms that arrived in 2012 have chosen not to renew their leases —which only last one year and must be paid for in full upfront — and to either relocate to different premises within Yangon or to base operations in Bangkok and have executives and key staff commute as needed, in an effort to reduce costs.
Third, some firms that arrived early have found that Myanmar's business climate is not yet mature enough to support operations and have chosen to pull out of the market, if only on a temporary basis.
Looking forward, based on projects in the pipeline, the current supply of modern office space of about 60,000 square metres should rise threefold by 2017.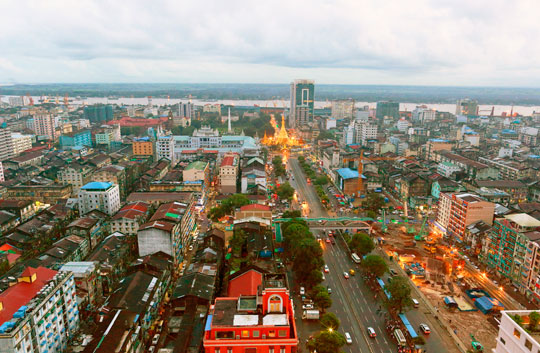 As new projects come online, rents should follow recent trends and continue to moderate. The degree of success in developing the Thilawa Special Economic Zone (SEZ), situated 25 kilometres to the southeast of downtown Yangon and slated to begin construction early this year, should substantially influence office demand, particularly from Asian multinational firms specialising in trading, construction and manufacturing.
From an investment standpoint, it is anticipated that 2014 will bring new clarity to the market in terms of land use, zoning and building codes. Yangon's Comprehensive Land Use, Zoning and Urban Design Working Committee is expected to release the city's first set of comprehensive development guidelines mid-year, while Myanmar's National Building Code is expected to be finalised by the end of the year.
These new guidelines will allow investors and developers to make more well-informed decisions as they choose whether to lease office space in existing buildings, acquire development rights for existing buildings to retrofit for office purposes, or to invest in greenfield projects.
Based on the foregoing, it is expected that Yangon's commercial real estate market should be robust throughout 2014 and into 2015 as a new round of national elections approach, the results of which are expected to shape investor, developer and occupier sentiment into the medium term.

Andrew Gulbrandson is a manager at Jones Lang LaSalle's Research and Consultancy Group, and Andrew Langdon is senior vice-president, Indochina, for Jones Lang LaSalle Hotels. Jones Lang LaSalle is a services and investment management company specialising in real estate