For Myanmar, this year will be all about adding the final touches to economic reforms ahead of its all-important 2015 elections
By Philip Heijmans
It was a sight to behold on a cloudy November day in Thilawa on the outskirts of Yangon.
Standing on a levelled dirt field covered in red carpet, businessmen in suits and ties or traditional longyis smiled and shook hands between grandiose Roman columns adorned with flowers, while colourful balloons ascended over giant blue excavators. Below, a ribbon was cut, breaking ground on the anticipated Thilawa Special Economic Zone (SEZ).
Reaching this day had taken longer than expected – the SEZ was plagued by delays and controversy over forced relocations and unsettled compensation – but experts agree that the 2,400-
hectare, $150-million joint-venture project with a Japanese consortium of conglomerates including Sumitomo and Mitsubishi is one of several new developments that will bring the once closed-
off Myanmar into an era of economic growth.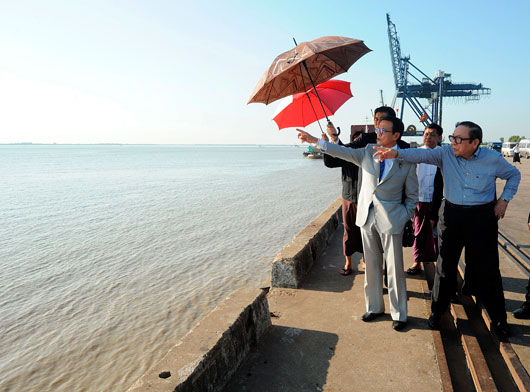 "It is important that job opportunities can be created by receiving investments from abroad, so that the people of Myanmar can enjoy the fruits of its reforms," Japan's parliamentary vice-minister of economy, trade and industry, Yoshihiko Isozaki, said during the event on November 30 last year.
With the project slated for completion ahead of general elections in 2015, there is indeed a lot to do with regards to legislation and infrastructure in Myanmar if the country plans to stay on track with expectations, making this a critical year for continuing the pace of reforms and producing tangible benefits to the economy.
In the country's largest private infrastructure project to date, Norway-based telecommunications firm Telenor and Qatar's Ooredoo plan to launch part of their multibillion-dollar nationwide network in the second half of this year, after their bids to establish mobile networks were successful last June.
Last year saw the introduction of regulations for the telecoms sector, and the government said that operator licences, which are stalled in negotiations, would be finalised before the end of 2013. Once issued, thousands of communications towers would be constructed with the hope of reaching 80% of Myanmar's population of 60 million by 2015.
As of July, only 7% of the country had access to mobile phones, according to government data.
"We will deliver on our commitment to launch services six months after the effective license date and roll out our network as quickly as possible thereafter," said Ross Cormack, CEO of Ooredoo Myanmar.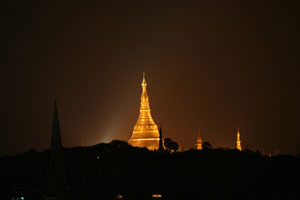 "We have seen very progressive and promising signals from the government that… [legislative reform] will happen, and we continue to support and encourage them in their bold and ambitious efforts to create such a framework for the industry," Cormack said. Ooredoo pledged to spend $15 billion on its network infrastructure during its 15-year licence.
With new legislation in place and telecom services on the way, the government is currently working on a series of other investment rules and regulations that would allow foreign investment in other sectors for the first time in more than 50 years of military rule.
"I believe in 2014 we will start to see some action in the banking and insurance industries in terms of JVs (joint ventures) and new financing from overseas," said Alessio Polastri, managing partner at Yangon-based legal advisory firm Polastri, Wint & Partners. "New rules will make it easier for foreigners in those industries to operate in Myanmar."
Currently, foreign banks and insurance firms are not allowed to operate in Myanmar, though the government stated that it will allow both to enter the market as wholly independent entities come 2015. Several foreign banks are waiting in the wings with representative offices, including Malaysia-based CIMB Bank, Singapore's DBS Bank and Japan's Sumitomo Mitsui Banking Co, while even bigger names in the insurance sector now have offices in Yangon, including ACE, MetLife and Prudential.
"People won't come to Myanmar for the sake of investing in Myanmar, they'll come because there are opportunities to exploit," Polastri said.
This year, the government will also adjust the recently enacted Foreign Investment Law, which will make it easier for foreign businesses in the service and manufacturing sectors to start a business, while a new mining law is set for an overhaul.
With Myanmar's admittance to the EU's generalised system of preferences last April, garment exports in the 2013-14 fiscal year are already on course to nearly double the $700m generated the year before. Manufacturers Heineken, Carlsberg, Siam Cement Group and Nissan Corp, among others, have meanwhile poured millions into new plants in Myanmar that will open
by 2015.
"The trading sector has been thrust into the limelight" with recent debates over confusing import regulations, "so clarification and legislation could be quite immediate," said Jeremy Rathjen, vice-president of research at Yangon-based investment group Thura Swiss.
In the energy sector – the country's most promising and potentially lucrative area – the Ministry of Energy will this yearcontinue to whittle down the list of applicants currently bidding for tenders on the 30 offshore blocks.
As of the latest round of applications in November, 30 companies, including global energy giants Daewoo, PTTEP, Total, Chevron, Gail India, Hawkley and Petronas, were still in the running. That list will get smaller with the next bidding round expected in April.
For all of Myanmar's efforts, however, some foreign companies are hesitant to enter the market as laws are often rushed and capricious, while passage of other laws is taking longer than promised, Polastri said.
Nevertheless, rapid economic expansion in Myanmar led by energy and commodities exports, foreign investment, services and construction has the Myanmar economy poised to grow 6.8% next year, compared with just 5.1% growth in Asean, said the World Bank.
Foreign direct investment, meanwhile, is on course for another record year after reaching $1.8 billion in just five months of the 2013-14 fiscal year, outpacing $2.7 billion in FDIs for all of last year, which in itself was a 42.1% increase year-on-year.
But there are risks to Myanmar's growth, and continuing the trend of reforms in 2014 may prove to be the country's biggest test yet ahead of general elections and the formation of
the AEC.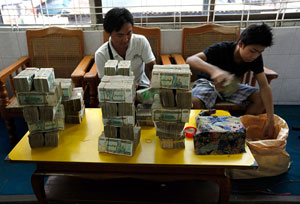 "In particular, one challenge could be maintaining the current momentum of reforms. Externally, risks include a continued decline in global commodity prices that would hurt commodity-exporting countries such as Myanmar, and a slow-down of investment in China," the World Bank stated recently in its Myanmar Economic Monitor report.
The World Bank warned that the country would also need to address  worsening exchange rates against the greenback as well as high inflation, which as of August reached 7.3% due to higher food and housing costs.
"The nominal exchange rate between the kyat and the US dollar […] raised concerns about its negative impact on Myanmar's export competitiveness especially as inflation was also rising," the World Bank stated.
The country has other problems, too. Currently, only 29% of Myanmar's population has access to electricity, while major cities such as Yangon experience frequent rolling blackouts. To make matters worse, consumption is growing annually at 15% and costing the government $190m per annum in subsidies despite recent loans totalling $200m from the World Bank and Asian
Development Bank to develop several power plants.
The penultimate moment for consumers may come this year, as the government announced in November it would raise electricity prices 43% for most households come April. The announcement follows an attempt in October to raise prices, but the plan was shelved due to a massive public backlash that resulted in nationwide protests. Activists have said that any increase in electricity costs would lead to further demonstrations.
"In order to ensure the financial viability of the power sectorm[…] either tariff rates need to be increased, or even greater government subsidies, paid for by taxpayers, will be required," said Jong-Inn Kim, lead energy specialist at ADB. With much reform still on the table, Rathjen of Thura Swiss likens 2014 in Myanmar to that of the night before a big boxing match.
"I see 2014 as the preparation stage before the main event. We could see a lot of volatility as people start to prepare for the election," he said, adding that investors will have to assess the risk of getting in on the ground floor of Southeast Asia's last frontier.
"People are really looking more at 2015 – that's going to be the real test."