Martin Lansard quit his job at Google and moved to Cambodia to pursue Aniwaa, a website that helps people navigate the world of 3D printing, as a full-time career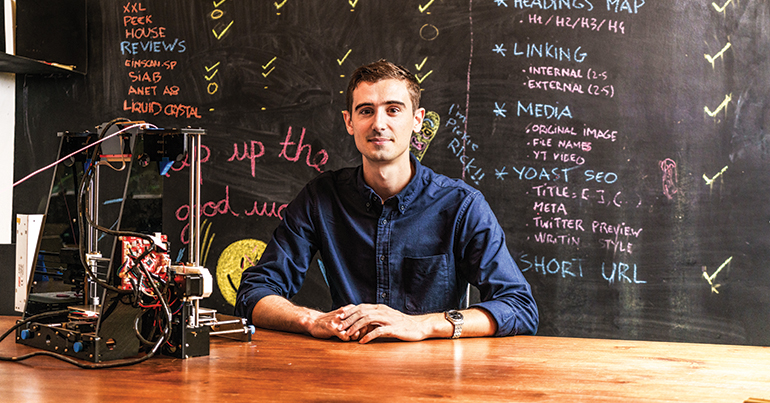 Martin Lansard co-founded Aniwaa, the world's largest 3D printer comparison website, in 2013 while working as a marketing manager for Google in New York. Initially a side project, the website soon developed into a viable long-term business opportunity that Lansard decided to pursue in Cambodia – a move that continues to pay dividends.
Why did you set up Aniwaa?
We felt that it was difficult for people interested in using 3D printers to learn about how it all works and what you can do with it. All the information was pretty much there, but it wasn't all in one place.
Why did you relocate to Cambodia?
My fiancée and I were both working at Google and wanted a life change. I had Aniwaa, which I wanted to give a good shot, and my fiancée, who is French-Khmer, always wanted to come to Cambodia… It was easy to integrate into the local ecosystem as a startup. People are super-friendly, they speak English well and the country is booming… I think it's quite an attractive place for startups that want to be big in the local market, and there are quite a few now in various industries. But even for startups that want to have a world-class website or offer a world-class service, I think Cambodia is a very attractive place.
What is the state of 3D printing in Cambodia?
In Cambodia, you still have access to very cheap manual fabrication techniques, so there's less incentive to use 3D printers. The big bet in Cambodia is education, using 3D printing to explain how to launch a product from the conceptualisation to the modelling and 3D printing to the marketing and selling.
You just received funding from Smart Axiata's Digital Innovation Fund. How will that help Aniwaa expand its operations?
It's a huge milestone for us, because we've been bootstrapping the operation for the past three or four years. But it worked out well because it gave us the time to validate the model and to generate some revenue. The partnership will give us fresh capital to grow our team.
This article was published in the January edition of Southeast Asia Globe magazine. For full access, subscribe here.
Related reading: