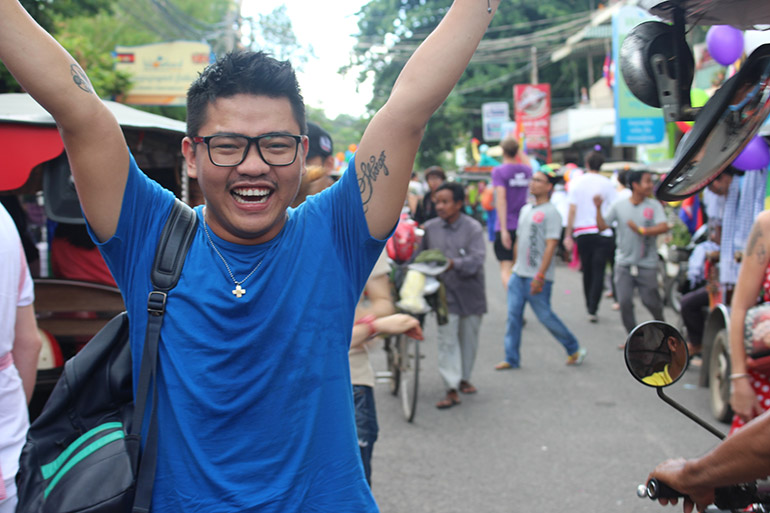 Four men dressed in drag sprinting through Phnom Penh's Toul Tom Poung market have caught the eye of a local fishmonger. Instead of using her cleaver to chop the head from a river fish, she pauses to stare as the group passes. Beside her, a fruit seller hawking mangoes laughs, and shoppers pull out their phones to take photos.
While it's the novelty that has the market ladies talking, for a moment, Cambodia's LGBTI community is visible.
Ensuring the community was seen and celebrated was top of the agenda for Vichet Nou, the organiser of Cambodia's 10-day Pride festival.
Under the theme 'I am what I am', the festival ran from May 12 – 22, with the tuk tuk race on May 20 one of the final acts on the calendar.
A record 64 teams braved torrential rain to complete a two-hour scavenger hunt across the city, solving puzzles that led them to a series of checkpoints at gay-friendly bars and restaurants.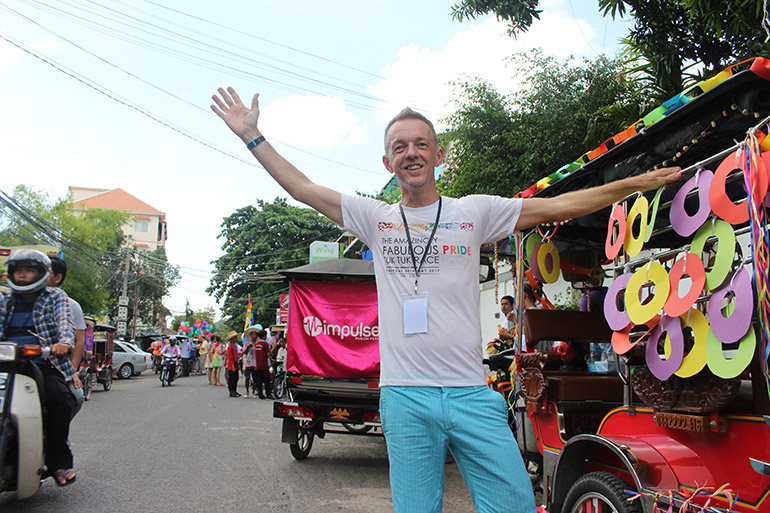 European expat and former school teacher David Hunt first came up with the idea for a tuk tuk race shortly after moving to Phnom Penh 11 years ago. In 2012, he remodelled it to run as part of Pride week, and went on to coordinate the event with fellow expat Ali Shankonie.
Despite the weeks of preparation that went into this year's event, they were blown away by the overwhelming response, arriving at the starting line to see "just a wash of colour and diversity".
"The effort that went into those tuk tuks and those costumes," Hunt said. "If you've had bad experiences with family or with the community, it means a lot that 300-plus people come out in support of this."
While many of the competitors this year were also expats, more than 120 were Cambodian, including winners Sopheap Chuk and his team from the Space Hair Salon and Bar.
As the winners, they chose to donate the $775.50 raised on the day to Prumsodun Ok & Natyarasa, an organisation starting Cambodia's first gay dance company.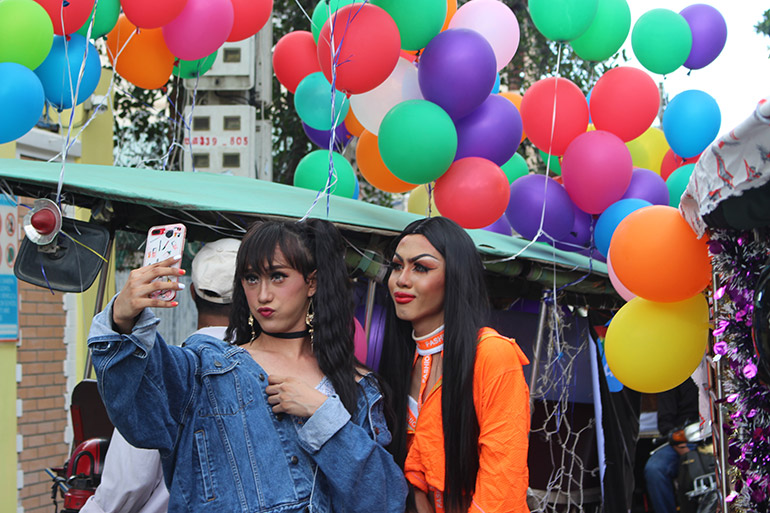 But while four times as many people took part in this year's race compared to last year, most Cambodians still view homosexuality as a 'phase' that people grow out of, according to Nou, the organiser of this year's pride.
He told Southeast Asia Globe that he had to explain "what being gay was" to his family when he came out at the age of 22, and that, despite knowing he was gay, older relatives still expected him to marry a woman one day.
Notwithstanding his family's struggles to understand his sexual orientation, he believes coming out to his family was "a pretty good experience" overall.
"[My dad] said: 'You're still my kid… whoever you are going to pick as a boyfriend or a girlfriend, just pick a nice one,'" he said.
But other gay friends had a much tougher time, particularly when confronted with the pressure to get married.
Some felt compelled to hide their sexual orientation and marry a woman, rather than come out; others waited until they were no longer financially dependent on their families before revealing their sexuality.
According to Nou, the best way to change attitudes is by shining a light on the successes of those within the LGBTI community.
The fact that he's gay but also, at just 25 years old, a successful graphic designer would come as a surprise to many, he said.
"I want to show them that gay people can do something. When they see [that] they will [think]: 'Oh that guy is gay, I didn't know he could do that job,'" Nix said. "I want to make the community visible in this country."