Southeast Asia Globe picks five issues we expect to be top of the news agenda next year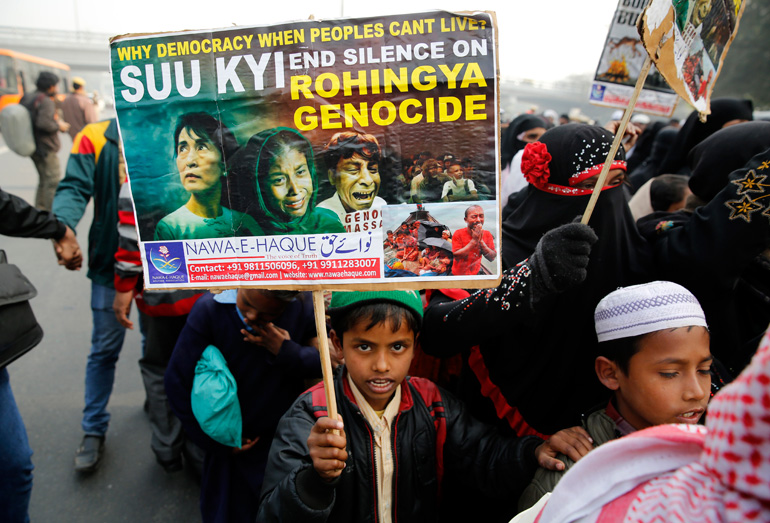 Troubled waters in the South China Sea
The restless impasse over the disputed territories in the South China Sea was shaken in the waning days of 2016 with the revelation that both China and rival claimant Vietnam had been secretly gearing up for a potential armed conflict that could devastate the Asia-Pacific region. On numerous occasions since August, Vietnam has been exposed fortifying its outposts with mobile rocket artillery launchers, extending key runways capable of launching fighter jets and maritime surveillance aircraft, and most recently, undertaking clandestine dredging work feared to be a precursor to further militarisation. In December, further satellite photos released by a US think tank showed what is believed to be heavy anti-aircraft armaments and fortifications on islands occupied by Chinese forces. With the US apparently reluctant to intervene even after the recent seizure – and subsequent return – of its own maritime surveillance drone caught off the coast of the Philippines, and other Southeast Asian claimants pushing for one-on-one talks with the superpower instead of combined international pressure, China's unrelenting expansionism in the Asia-Pacific shows little sign of abating in 2017.
Tragedy continues for desperate Rohingya
As tens of thousands of stateless Rohingya pour across the border to Bangladesh in the wake of Myanmar's brutal military crackdown on Rakhine State's Muslim communities, they carry with them stories of indiscriminate torture, gang-rape and slaughter at the hands of government forces. Ostensibly a retaliation for a series of attacks on border police in October by Rohingya extremists, the brutal assault has left the international community reeling as satellite images show hundreds of homes burned to the ground by Myanmar's military. Already, the crackdown has strained relations between the primarily Buddhist nation and Muslim-majority Malaysia, with the latter's Prime Minister Najib Razak accusing Nobel prize winner and de facto Myanmar leader Aung San Suu Kyi of presiding over a genocide. With Bangladesh also bringing pressure against Suu Kyi's government to repatriate the hundreds of thousands of Myanmar citizens living on the borders of Bangladesh – and little sign of a regional solution from other Asean countries – the woman once seen as the shining light of Myanmar's future now finds herself torn between a nativist push to expel the Rohingya and an international community urging an end to a mass murder that many fear is beyond even her control.
Cambodia's opposition struggles on
With Cambodia's exiled opposition leader Sam Rainsy sentenced in absentia to a further five years in prison for a Facebook post, the long road to the upcoming commune and national elections is expected to see Prime Minister Hun Sen continue to lash out at political dissent amid a rising tide of anti-government feeling. Rainsy, who lives in Paris, will likely spend the lead-up to next year's June commune elections struggling to remain relevant after his deputy Kem Sokha's own six-month exile in their party's headquarters came to an end this month with a royal pardon and subsequent reconciliation with the prime minister. With Rainsy forbidden to return to the Kingdom, it will fall to his deputy to rally support for the opposition ahead of the elections in the face of a ruling party that has clung to power for decades with a loyal rural voter base and the unquestioning obedience of the nation's military and police.
Judgment day for Najib Razak
With Malaysian Prime Minister Najib Razak having survived almost two years of fierce international pressure over continuing allegations that he siphoned more than $1 billion from the nation's 1MDB state development fund to pay off political allies, the spectre of a general election in 2017 may finally see the reigning UMNO coalition driven from power by a nation sick of corruption and graft. Although the general election is not due until midway through 2018, Najib revealed in a fiery speech earlier this month to UMNO delegates that the polls could open within as little as six months, saying that the coalition would "fight to the death" to hang on to power. Having weathered the initial ruptures within his own party by firing senior UMNO politicians accused of criticising their leader over the scandal, Najib still possesses the overwhelming support of the party's strongest division chiefs and is unlikely to be challenged from within his own ranks. The coalition, which has been in power for almost 60 years since independence, is overwhelmingly supported by the nation's largely Muslim, ethnic Malay majority.
Death of TPP rocks region
Once heralded as the crown jewel in US President Barack Obama's economic legacy, the proposed Trans-Pacific Partnership (TPP) is widely expected to crumble following his successor Donald Trump's pledge to kill the trade deal on his first day in office. The free trade agreement, which extended between the US and 11 nations across the Pacific Rim, including Malaysia, Vietnam and Singapore, came under heavy fire during the US presidential primaries as candidates from both parties savaged the TPP for damaging the US' crippled manufacturing industry and outsourcing jobs to other countries. The TPP's death is a blow to outgoing President Obama's oft-referenced 'pivot to Asia', and some analysts fear it will force Southeast Asian nations to turn to the China-inclusive Regional Comprehensive Economic Partnership instead, jeopardising the US' influence in Asia-Pacific. The US' abrupt backflip on the TPP has been met with dismay in Southeast Asia, with Singapore President Tony Tan Keng Yam uniting with Japanese leader Shinzo Abe this month in stressing the urgent need for the TPP's ratification. Vietnam, which was predicted to benefit from the TPP to the tune of an 11% jump in GDP by 2025, is expected to push for alternative free trade agreements to offset its losses from the treaty's failure.