Last month, Duterte had called off the 160,000-strong police force from the drug war saying they would only be asked to rejoin should drug use begin to rise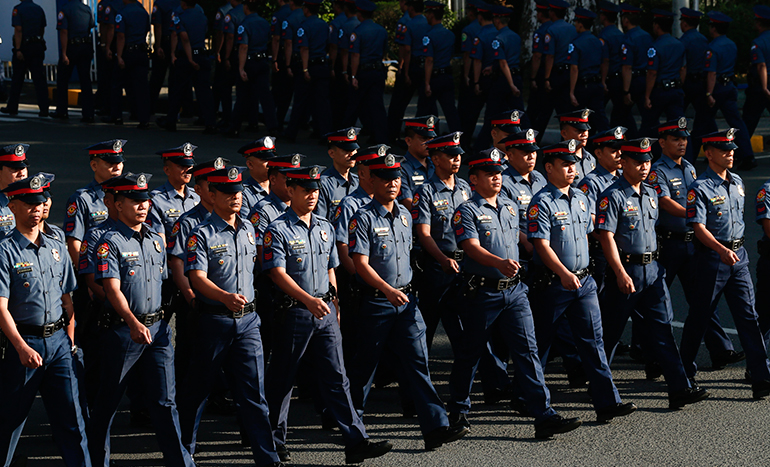 After declaring last month that he would withdraw the Philippine National Police (PNP) from the country's anti-drug campaign, President Rodrigo Duterte has gone back on his word and is now ordering the police force known for abusing their power back into the Philippines' bloody drug war.
Back in October, when the police force was called off, Duterte had said he would only reinstate the PNP should the country start to see an increase in crime and drug use, something his spokesman said the country was witnessing during a press conference on Tuesday.
The president's spokesman, Harry Roque, clarified that the PNP would be called back to assist the Philippine Drug Enforcement Agency (PDEA) with "anti-illegal drug operations" but that they would not resume Project Tokhang, the Guardian reported.
"They can participate now, whereas in the past, they were told they cannot do it," Roque said.
After a growing sentiment of opposition pushback against Duterte's anti-drug campaign and facing accusations of police abuse, the president decided to shift his policy and made the announcement on 12 October that the PDEA would be taking the reins from the PNP.
Since Duterte's anti-drug campaign began last year, human rights watchdogs, such as Human Rights Watch, have put estimates of the number of people killed at as high as 12,000, though the police records indicate a much humbler figure of just 4,000.
In response to the accusations of police abuse, the PNP has argued that they were only acting in self-defense against suspected drug users and drug dealers.
This recent recalling of the police force will mark the second occasion that the police force has been asked to rejoin Duterte's anti-drug campaign after being dismissed.
The last time the national police force was called off was back in January 2017. The discharge came after an officer who was said to be part of the anti-drug campaign strangled a South Korean man to death in front of the police headquarters, sparking a public outcry against the accountability of the agency.
At the time of demoting the PNP, Duterte described the force as being "corrupt to the core". But not two months later they were called back into the action with many groups expressing concern that little had been done to actually cleanse the police force of their corruption.
In a move to ease the country's critics of possible exploitation, the police force said they would be taking measures to improve the force's transparency.
"PNP will utilise body cameras, will put more focus on internal cleansing, allow other sectors to join/witness the ops for transparency," a PNP spokesman said in a statement to CNN.