Bahrun Naim, Indonesia's Isis commander, has been named on chatrooms as being suspected to have died while fighting for the Islamic State in Syria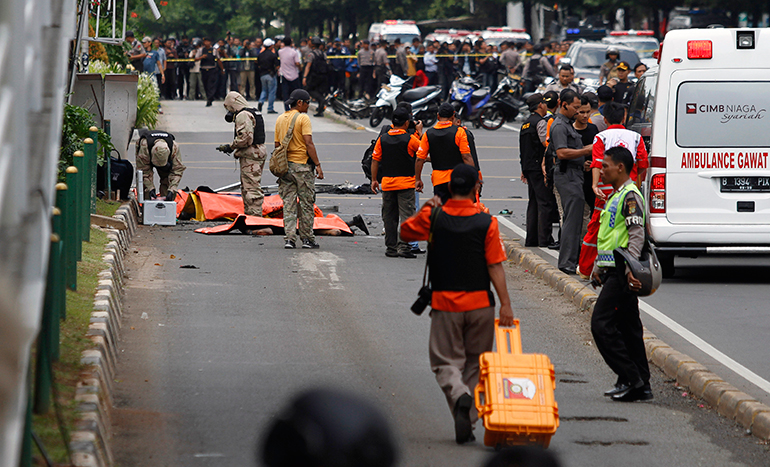 Internet group chats known to be hotspots for Jihadist communication were swarming today with information that Indonesia's Isis commander Bahrun Naim had died in Syria, leading police and security forces scrambling to verify the news that, if true, would be a substantial blow to pro-Isis groups in the country.
Indonesia's national police spokesman Martinus Sitompul told Indonesian news portal Detik that information was first relayed to the police via social media and that coordinated efforts with the Foreign Affairs Ministry, the Indonesian police ambassador in Turkey and Interpol were being undertaken to trace the source of information.
"We are seeking confirmation on this piece of information. We have worked in coordination with the Foreign Affairs Ministry, and all the access that we have," he told reporters on Monday. "We're still checking."
In much the same manner, a second Indonesian police spokesperson, Inspector General Setyo Wasisto, told news organization Tempo that Bahrun's death "has not been confirmed yet".
"Bahrun is currently overseas, so we contacted our connections overseas to monitor him. But we are not aware yet whether he is dead or not."
Bahrun has long been considered one of the leaders of the militant group's presence in Indonesia as well as the mastermind behind a series of recent terrorist attacks. Last year, Bahrun was heavily linked to a number of bomb explosions that erupted around Jakarta as well as suspected involvement in a plot to fire a rocket at Singapore's Marina Bay from the Indonesian city of Batam.
Whilst verification of Bahrun's death would be a major blow to the organizational structure and power of pro-Isis groups in Indonesia, according to counter-terrorism analyst Jasminder Singh the death of terrorist fighters in foreign battlefields is extremely challenging to confirm.
Singh told the Straits Times that most commonly the families of those killed are the first to share the news. He also confirmed that Anies Prijo Anshorie, Bahrun's family attorney, had said that Bahrun's family was simultaneously trying to seek confirmation of his alleged death, which is a strong indication that he may still be alive.
"For instance, when the Malaysian militants were reportedly killed, their families were the ones that usually shared the news, which were later confirmed by Special Branch."
If Bahrun's death is confirmed he will follow in a series of prominent Indonesian Isis leaders perishing in the Middle East in the last year. In March, Indonesian militant leader Bahrumsyah died on a suicide mission in the war-torn country, while just four months earlier Abu Jandal al Yemeni Al Indonesi was executed in a US-led international alliance attack in Iraq.