Building new prisons to house the hordes arrested in Philippine president Rodrigo Duterte's fierce crackdown on the drug trade will do little to address the fundamental failings of the justice system, human rights workers have said.
Philippine officials confirmed yesterday that the government will allocate funding for new correctional facilities to cope with the thousands of men and women filling the country's chronically overcrowded jails that have been widely condemned for their lack of food, space, sanitation and safety.
Human Rights Watch deputy Asia director Phil Robertson said Duterte's war on drugs is having a devastating effect on a justice system already straining to cope with the number of criminals in detention.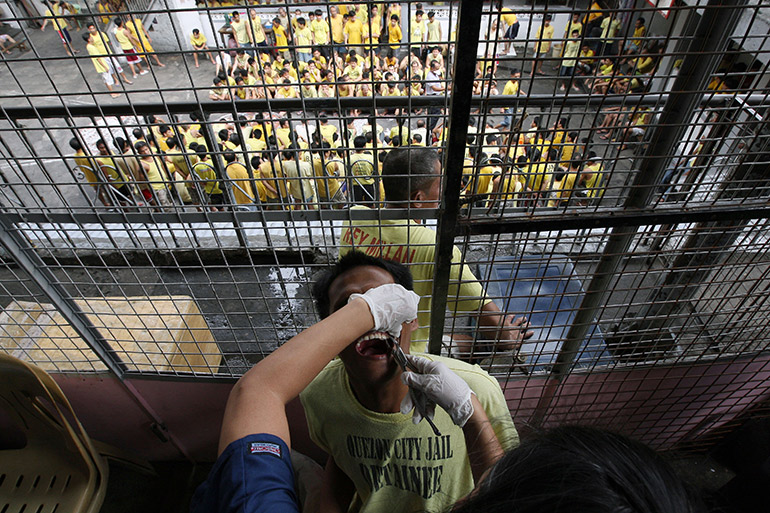 "It's been disastrous," he told Southeast Asia Globe. "What you're facing is many people being rounded up and placed in an already overburdened correctional system which is serviced by courts that are, frankly, paragons of inefficiency."
Robertson pointed to the widespread lack of bail for non-violent offenders as a key failure of the Philippine justice system.
"You end up with people facing long periods of pre-trial detention and effectively denied bail, which they should be allowed to receive," he said.
The officials' announcement comes just days after a series of harrowing AFP pictures of conditions inside the overcrowded Quezon City Jail sparked international outrage. The photographs showed thousands of near-naked men – who have to sleep in shifts on the concrete floors of the prison – living without access to basic sanitation.
Quezon City Jail was built more than 60 years ago to house a maximum of 800 inmates. Today, there are almost 4,000.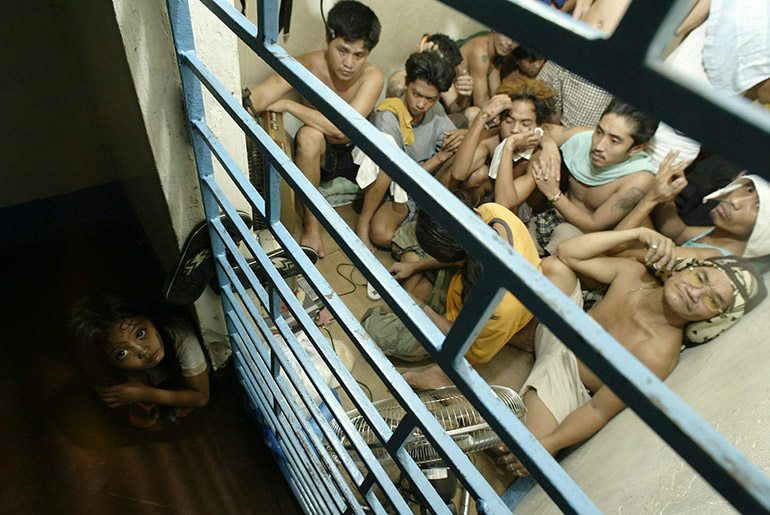 "The prisons are undoubtedly overcrowded and in need of urgent reform, with prisoners facing conditions which do not meet international standards," said Ritz Lee Santos III, Amnesty International Philippines chairperson.
Although Philippine interior secretary Ismael Sueno told AFP that Duterte was committed to the rehabilitation of the swathes of criminals arrested in his drug crackdown, Santos said there was little real evidence of reform.
"The president has mentioned that he will do something [to address the] current situation in the prison cells," he said. "However, we have yet to see tangible [progress] as far as the prison management system here in the Philippines."
Robertson said that the government's announcement was an unsustainable solution to a problem rooted in the entrenched inequality of the Philippine justice system.
"The situation's getting worse day by day because more and more people are being arrested in this broad drugs crackdown," he said. "Saying they'll build something that won't be open for a year or two doesn't really help solve the problem today. And the way things are filling up in the current correctional facilities, by the time these new places are open they're going to be full of people as well. So they need to be thinking beyond a bricks and mortar approach to the problem."
Santos said the overcrowding within correctional facilities made it difficult for criminals to leave prison as functioning members of society.
"One key goal of prison is rehabilitation," he said. "There are [existing] schemes within the prison system, but these are undercut by the poor conditions."