It began with a Rolls-Royce and ended with a beautifully bleary-eyed breakfast at the Peninsula Bangkok
By Jemma Galvin
Let me tell you about the very rich – they are different from you and me," said Rolls-Royce in a slogan from 1960.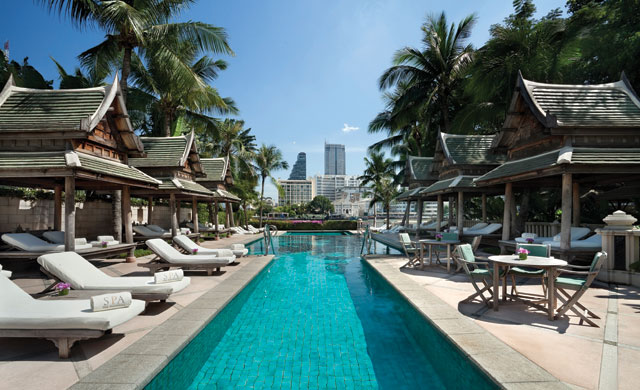 Indeed, the Rolls-Royce has been a symbol of status and stupendous wealth for decades. A little known story tells of Elvis Presley signing a contract with film producer Hal Wallis in 1961. To celebrate, he dropped some serious coin on a Rolls-Royce Phantom V from a car dealer in Beverly Hills, only for his mother's pesky chickens to peck away at its glossy paint job when he got it home. While most might have seen this as an opportunity to serve wings for dinner, Elvis instead opted to repaint his Rolls, four or five times, no less.
Truth be told, it is difficult not to feel somehow superior when rolling in a Rolls, widely considered the world's most luxurious car brand. Sheepskin underfoot, butter-soft leather underbutt, and roads seemingly constructed of candy floss undertyre, it is an experience only a lucky few will ever get to relish.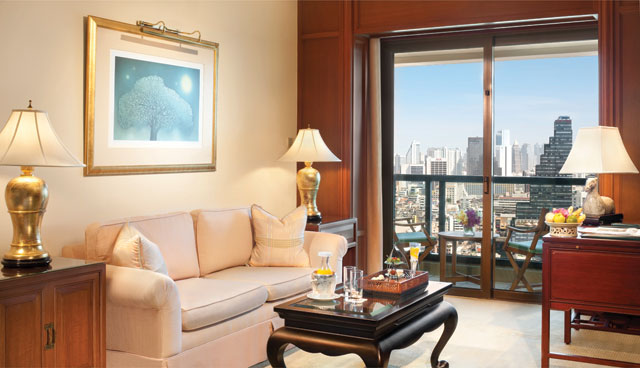 It is but one regal pleasure the Peninsula in Bangkok offers its discerning guests, though one doesn't have to leave the hotel's grounds to enjoy treatment fit for royalty. The Spa is a heavenly scented oasis of dimly lit hallways, tranquil treatment rooms and a whirlpool overlooking the iconic Chao Phraya river, all set within a three-storey, colonial-style building. The location would have been quite fitting for one of Elvis's wild soirées, in fact, if he had ever got the urge to relocate across the Pacific from Graceland.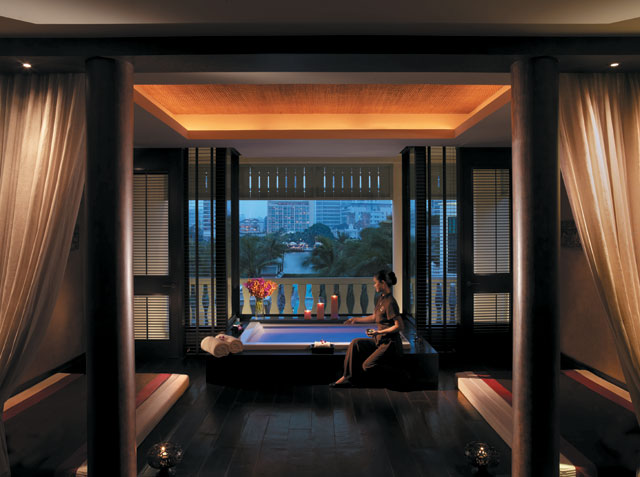 Each and every guest room at the Peninsula commands a wonderful view of the Chao Phraya and the humming city just across its busy waters. Some have balconies where
a fine dining experience can be savoured alongside a cool twilight breeze.
Décor in selected rooms, such as the Thai Suite, meld distinctly Thai touches, including gorgeous silks and Buddhist motifs, with state-of-the-art technology and home comforts.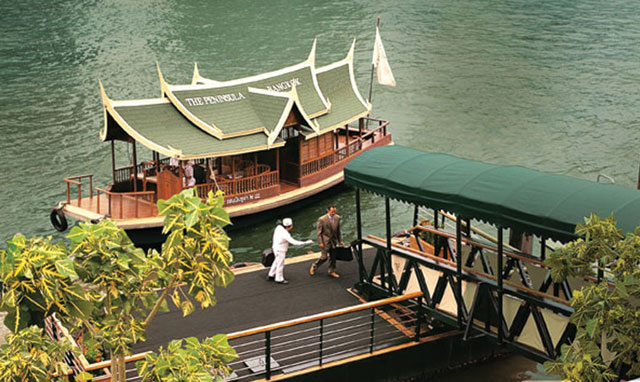 Should one consume a little too much magic fizzy pop on a debaucherous night in the City of Angels, the Peninsula's breakfast spread is guaranteed put a rose back in every cheek the morning after. Served riverside, two levels of dishes from around the globe – eggs benedict, nasi goreng, aloo paratha – are ripe for the picking while delicious fresh juices and an array of delicate teas and aromatic coffees come in unlimited supply. 'Tis much like the unlimited supply of elegant service available at each and every turn during a stay at the Peninsula Bangkok.
***
In the ghetto
Step back a few decades before Elvis's time and give prohibition the flick at Maggie Choo's. Nestled behind a dinky Shanghai noodle shop, it is a decadent underground establishment, decked out like a suave gentleman's club from the swinging 1920s. Perch atop one of the lush leather sofas and let the witty conversation flow. Men may choose to entertain a bevvy of beauties, in true Presley style.
Thrifty threads
Rot Fai Market is an open-air bazaar where vintage and antique finds will have shoppers suited and booted in no time. It encompasses three zones: the Market Zone, the Warehouse Zone and Rod's Antiques, where all items – from classic cars and Coca-Cola memorabilia to French chandeliers and vintage leather jackets – are guaranteed to be genuine. Located on Srinakarin Soi 51, just behind Seacon Square shopping mall, it is open from sunset until midnight every Thursday to Sunday.
Fancy flicks
Be transported to a bygone era at the Scala Theatre in Siam Square. Built in 1967, it has just one screen and about 900 red velvet seats, not to mention bargain-priced tickets and popcorn. The cinema is a lesson in Old-World glamour, with its domed-ceiling entrance adorned with large, hanging Art Deco flowers made of bronze and its jacket-and-bow-tie-wearing ticket-tearing man.
The lovely bones
And now for something completely different. The Bangkok Forensic Museum is located inside the Siriraj Hospital on the west bank of the Chao Phraya and displays the bodies of accident victims, murderers and even the dried corpse of a madman who was known to eat the livers of small children in the 1950s. Ewww. Check out the 35kg human testicle that was affected by elephantiasis for something a little more light-hearted.
Essentials
Website: bangkok.peninsula.com. Tel: +66 2861 2888. Rates: from $520 per night for a Deluxe Room to $4,290 a night for the Peninsula Suite. Suggested accommodation: check in to a Grand Deluxe Suite, from $1,070 per night, and enjoy splendid vistas of the Bangkok skyline and a living room complete with a dining table that simply begs to host an intimate cocktail hour.
Keep reading:
"Northern exposure" – The verdant environs of Chiang Mai and Chiang Rai are at the centre of Thailand's latest tourism drive