Pauline Cheung has worked in hospitality for 20 years. As a frequent flyer and group sales and marketing director for Plaza Premium Group, which runs independent airport lounges and airport services worldwide, she imparts her advice on ensuring a smooth journey
How often do you travel for business?
This role requires extensive travel due to the nature and coverage of the business of our group. I have taken 18 flights over the past six weeks, and this offline interview was carried out on my flight from Toronto to Calgary.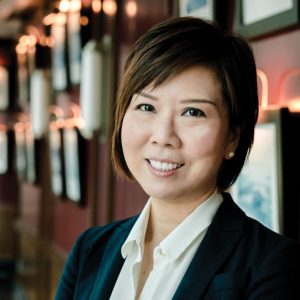 What has been your most rewarding  business trvel experience?
Eating. I'm a foodie. I love to try all kinds of food although I don't eat much. Business travel brings me a lot of different eating experiences and I learn a lot about different food cultures. 'Work hard and eat hard' describes me the best.
Do you have a favourite airport?
Apart from Hong Kong International Airport, which provides one of the best airport experiences in terms of convenience, comfort, efficiency and quality of services, another personal favourite is New Chitose Airport in Sapporo, Japan. This airport is like a huge mall that combines four elements: shopping, dining, entertainment and relaxation. Due to its location it offers a variety of Hokkaido fresh seafood cuisine and fruit. I love to dine at the Hokkaido noodle hall and I can't make prompt decisions on which type of Japanese noodle to eat, as there are too many to select. The airport onsen [hot spring] is also a plus.
What is your favourite lounge within the Plaza Premium Group and why?
It is a very difficult question for me, as there are so many breathtaking Plaza Premium Lounges such as those in London Heathrow, Hong Kong, Kuala Lumpur, Singapore, Vancouver, as well as our newly opened one in Winnipeg. The high ceiling at Winnipeg airport allows daylight to filter through windows from both sides of the departures hall, which brightens up the whole lounge. I was told that winter in Winnipeg can be a bit of challenge (i.e. temperatures of below -30°C). I can't wait to see what kind of scenery there will be during the heavy snow season. It must be amazing to see sparkly snowflakes clinging to the floor-to-ceiling windows on both sides.
Do you have any tips for ensuring that a trip has a smooth, well-planned schedule?
While some may believe a company's administration department is the key to a smooth schedule, very few actually know there are some good meet and greet service providers available to bring you from kerb to apron, and from apron to destination. Some can even plan a full travel itinerary for you to ensure your seamless travel experience.
What must-have items do you pack?
My Plaza Premium Group name card and my company Blackberry. The reason is that these two items cannot be bought on the road if I missed out on bringing them for the trip. Other items like books, lipstick, hand cream and snacks can be bought easily anywhere.
How do you keep comfortable when flying?
As I am in the airport hospitality industry, I have usually had wonderful food and beverage at independent airport lounges well ahead of my flight. After getting on board, the only thing that I have to take care of would then be wearing cotton socks to keep my feet warm and comfortable.
Which technological items do you find the most useful when travelling for work?
A Blackberry, although everyone says it is very outdated now.
How do you deal with jet lag?
I'm a very lucky person, as I don't get jet lag at all. My body and mind can just adjust easily according to the destination's time zone so I can sleep when night falls and I can wake up when day rises. Most of my colleagues are very jealous of my special "capability".
How do you ensure you look smart and meeting-ready when travelling?
I always make good use of arrival lounges. They not only offer me nice drinks to stay fresh and hydrated after a tiring flight, they also have a powerful hot shower to keep me refreshed and honeycomb seating with extra privacy for my final review of meeting materials. Finally, by putting on a pair of my favourite high-heeled shoes, I know I'm ready for any upcoming meetings.
What is the first thing you do when you arrive at your destination?
Go to my group's arrival lounge for a hot shower and a cup of hot green tea.
Finally, if you had just one top tip for business travellers, what would it be?
Go to the airport earlier. Our lounges have a wide array of luscious food, drinks and professional massage and spa services for business travellers to chill out and pamper themselves before they go aboard. Be relaxed and recharged.
Employing more than 3,500 staff, Plaza Premium Group runs independent airport lounges throughout the region, including in Kuala Lumpur and Singapore, and is due to open in Phnom Penh this November. It also manages lounges for airlines such as Singapore Airlines, Cathay Pacific and Thai Airways, and offers airport transit hotels, meet and greet services and airport dining. For more, visit plaza-network.com.
Keep reading:
"Rising above the chaos" – The Philippines' economy has been outperforming its regional neighbours in recent years and could remain a star player despite some pressing issues