Washington will lift trade sanctions against Myanmar that have been in place for nearly 30 years. Some sanctions will remain, however, and the US is likely to retain a keen interest in Myanmar politics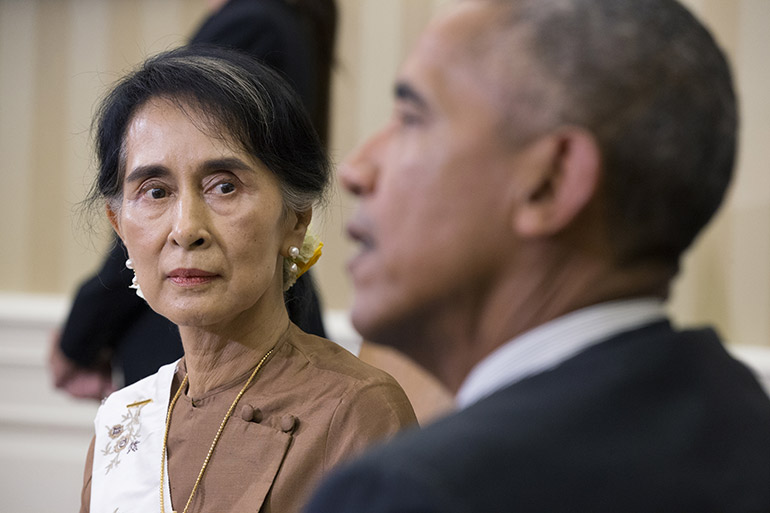 During an official visit to Washington by Myanmar's state counsellor and de facto leader Aung San Suu Kyi, US President Barack Obama announced that longstanding trade sanctions against her country would be lifted.
"The United States is now prepared to lift sanctions that we've imposed on Burma for quite some time," Obama said in the White House's Oval Office, using another name for Myanmar. "It is the right thing to do in order to ensure that the people of Burma see rewards from a new way of doing business and a new government."
The sanctions, which prevented Myanmar from having access to trade benefits for developing nations, have been in place since 1989 over human rights abuses committed by the military junta that had ruled the country for decades.
The US has progressively eased sanctions on Myanmar since 2011, when the military junta began ceding power.
Myanmar's military still has a large stake in the country's government, controlling 25% of parliament, as well as key ministries such as defence, interior, border and police. But following the landslide victory of Suu Kyi's National League for Democracy party last year, the country is seen by many to have moved from an authoritarian state to one that is more democratic.
"We think that the time has now come to remove all the sanctions that hurt us economically," Suu Kyi told reporters.
Moe Thuzar, a fellow at the Institute of Southeast Asian Studies, said that providing trade benefits to Myanmar would light a fire under the country's economy, as the National League for Democracy's economic policy "recognises the importance of foreign direct investment to get the economy moving again".
Some groups, however, have called for the continuation of sanctions against Myanmar, citing human rights abuses still being committed against the country's Rohingya Muslim minority group.
A group of 46 NGOs circulated a letter they wrote to Obama on Monday calling for the president to uphold the sanctions.
"To lift sanctions prior to tangible change for suffering communities would be a disservice to those vulnerable peoples who deserve international protection," the letter stated, according to Reuters.
Addressing rights groups' concerns that the lifting of sanctions would remove Washington's leverage to prevent human rights abuses in Myanmar, Thuzar said that such discussions would still occur, albeit through "bilateral interactions and consultations which may take place at different levels and not necessarily out in the open".
Some sanctions against Myanmar will remain in place, including a 'blacklist' of roughly 100 companies and individuals with links to the former military junta, as well as on the country's illicit jade and ruby trade.
A senior administration official also said that a longstanding arms embargo against Myanmar would remain in place "in order to ensure that the military remains a partner in the democratic transition", according to CNN.
Speaking to reporters, Obama did not specify a timeline for the sanctions to be lifted, other than saying that the process would occur "soon".