Myanmar will have a promising road ahead if it takes advantage of recent economic reforms, says the IMF's managing director, Christine Lagarde
Myanmar's integration into the wider Asian economy will benefit the people by reducing poverty and providing strong economic growth, the International Monetary Fund's managing director, Christine Lagarde, said during a brief visit to the country in December.
"Myanmar today is undergoing a great opening, taking its rightful place at the heart of Asia, the most dynamic and innovative hub of the global economy," she said, applauding government reforms such as adopting a managed floating exchange rate and removing exchange restrictions as well as the rise in spending on health and education.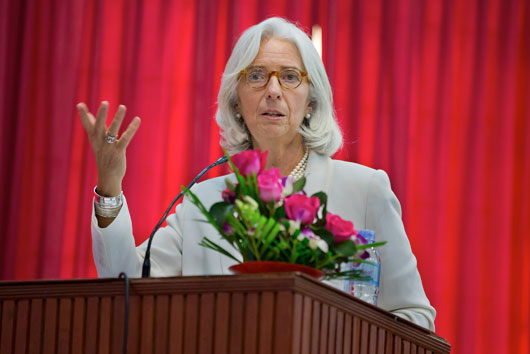 Still, expenditure on healthcare in Myanmar is only 1.5% of gross domestic product (GDP) and spending on education just 1.7% of GDP – both the lowest ratios in Asean. In the current fiscal year, the country's economy is expected to grow by almost 7%. The share of people living in poverty fell from 32% in 2005 to 26% in 2010. Lagarde highlighted development potential in manufacturing, garments, banking and tourism, and also called for greater financial integration.
"A key priority is the widening and deepening of the financial sector, so that it can better support the productive economy and get credit where it is most needed," she said. "Right now, credit is only 10% of GDP – one of the lowest ratios in the world."
At the same time, integration comes with costs too. Countries "could be overwhelmed by surges in capital inflows in
a way that threatens financial stability," she warned. But all in all, "Myanmar is truly a golden land with a golden future".