The end of a successful US resettlement programme leaves many Burmese refugees with little hope of escaping their Thai border camps

Text & Photos by Claire Luke
Three-year-old Htee Eh Taw runs excitedly back and forth on the wooden floors of his spacious new apartment overlooking downtown Albany, New York.
His polished new home differs drastically from the Burmese refugee camps in Thailand where he was born. Having lived in the camps since 1990 – when they fled persecution under the Burmese junta – Htee Eh Taw's family was relocated to the United States last month thanks to a US resettlement programme, which has relocated 62,000 Burmese refugees from Thailand since it began in 2005.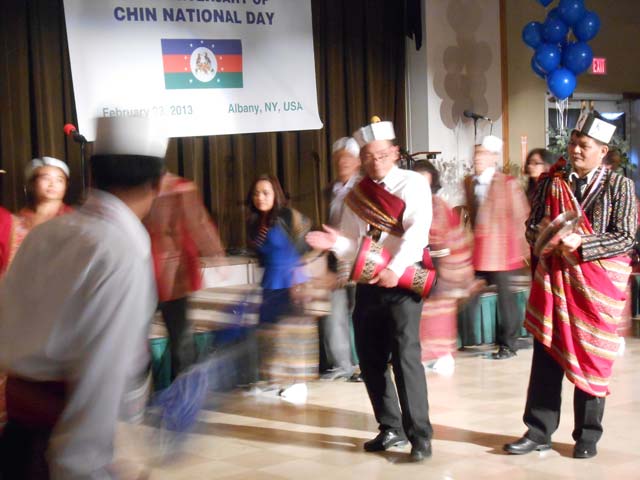 Despite around 85,000 people remaining in the camps, the programme – designed to expedite the process for refugees wanting to leave the camps on the Thai border – is coming to a close in May.
"People in the camps first need to be registered with the Thai government before they can be resettled anywhere," said Sally Thompson, executive director of the Thai-Burma Border Consortium, a relief and development agency.
Yet, fearful that people entering border camps were seeking a move abroad rather than protection, the Thai government stalled registrations in 2005 despite ongoing conflict between the Myanmar government and ethnic minorities, which continued to drive people across the border. The dwindling numbers of refugees eligible for relocation since then has led the US to draw a "natural conclusion" to its resettlement plan, said Michael Quinlan, assistant public affairs officer at the US Embassy in Yangon.
According to the Office of the United Nations High Commissioner for Refugees (UNHCR), about 23,000 registered refugees remain in the Thai border camps. They must decide if they want to relocate to the US. People in the camps are too afraid to return to their homeland, said Htee Eh Taw's father, Taw Nay Htoo, who is in regular contact with friends he left behind.
"We hear on the news that Burma is open now and changing to a civilian government, but in the ethnic areas we don't see any change yet," he said. "I don't think it is a good time to go back."
In his comfortable Albany home Htoo, 32, is lucky to be with his wife and son. Families who entered the camps after the Thai government ended registrations have been separated as they attempted to leave Thailand illegally, he says.
Htoo and his wife were persecuted for their Karen ethnicity and for being Christian in a predominantly Buddhist country.
"We were always on the run and fearful," Htoo said, recalling how the military burned their village and attacked Karen resistance groups, which have been seeking autonomy since 1949. The thought of having more freedom and a decent education for his son got him through the harsh years in the camps.
At 65%, Burmese minorities constitute New York State's largest refugee population. Last year, 331 Burmese refugees settled in New York City, compared to 3,198 in upstate New York.
Though radiantly optimistic about the 'American dream', Htoo says adjusting will be difficult.
"Everything is new… everything. So it's hard at first and adapting isn't comfortable," he said. "We need to figure out how restaurants work and how to ride the bus, exchange Thai baht to the US dollar and use laundry machines," Htoo said, recalling how he used a bucket to wash himself when he first arrived because he didn't know how to use the shower.
The differences in environments are as stark as they come, said Jen Barkan, resource manager for the Albany branch of the US Committee for Refugees and Immigrants, which helps situate refugees and provides basic social services.
"Some of these people come from subsistence farming backgrounds or have lived in thatch huts with dirt floors and are not even familiar with two-storey buildings, or seeing not just stairs, but moving stairs," she said.
Cold weather, communication barriers and post-traumatic stress disorder present the largest obstacles for refugees. Though employment opportunities in manufacturing, domestic labour, food and hospitality industries allow many the opportunity to carve out new successful lives.
Biak Hnin Sang has thrived in Albany since he stepped into the frigid New York winter from the tropics of Southeast Asia a little more than a year ago.
Hnin Sang, a 24-year-old ethnic minority Chin, says that in Myanmar he had suffered oppression all his life. After escaping forced labour, portering, abuse and arrest for refusing to attend a military meeting promoting the 2008 constitution, he escaped to Malaysia. He worked as a waiter for three-and-a-half years before registering with the UNHCR and being relocated to Albany.
Hnin Sang has adapted to American life well. He studies business administration and works at a blinds assembly factory earning slightly more than the minimum wage – enough to pay for a flat he shares with two other Chin. Hnin Sang has his favourite Asian food stores, participates in football matches like he did in Myanmar, and leads Albany's 50-strong Chin youth community. He has applied for his Green Card and in four years plans to apply for citizenship.
"I hope those refugees waiting in Thailand and in neighbouring countries get the same chance I did," Hnin Sang said.
Yet as the resettlement programme closes its door on the remaining registered refugees, Hnin Sang said: "Those who are not registered are praying for a solution because praying is all they can do."



Also view
"Out of sight" – Members of the Karen ethnic minority are still loyal to the British
"Etched in time: chin women" – gallery
"From prison to parliament" – National League for Democracy MP Phyo Min Thein discusses torture, ethnic violence and Myanmar's long road towards democracy