Editors Note: On November 20, 1945, the Nuremberg trials commenced in Germany, a series of military tribunals in which many prominent political, economic and military leaders of Nazi Germany were convicted for their crimes in World War II. Today, 75 years later, we revisit some of the forgotten participants in that war. Fighting side-by-side with their British counterparts in the push against Imperial Japan, the Karen fighters of then-British Burma were soon forgotten once the war ended. The Globe visited these men – living in poverty but maintaining an unwavering loyalty to the former colonial power – just as Myanmar was opening up to the world again in 2013.
---
Even after 70 years, Saw Polaw can vividly recall the fierce fighting he saw in World War Two Burma. He remembers the Chinese soldiers who smoked too much opium, and how the Japanese would kill them with their bayonets.
He remembers his fallen comrades, and speaks fondly of the British officers he served under, helping to drive the Japanese out of his homeland.
Every night, the 92-year-old – a member of the country's Karen minority – prays for Britain's Queen Elizabeth II.
"Until now, I have the heart of an English person," he says. "Because they introduced the Karen to God."
Saw Polaw, who worked as a driver for the British Embassy after the war, is not alone in his admiration. His friend, former Wireless Officer Saw Chitpe, 88, proudly recalls how his village in the Irrawaddy Delta was given a Union Jack after all the men of military age joined up.
"Karen people love the British," he says.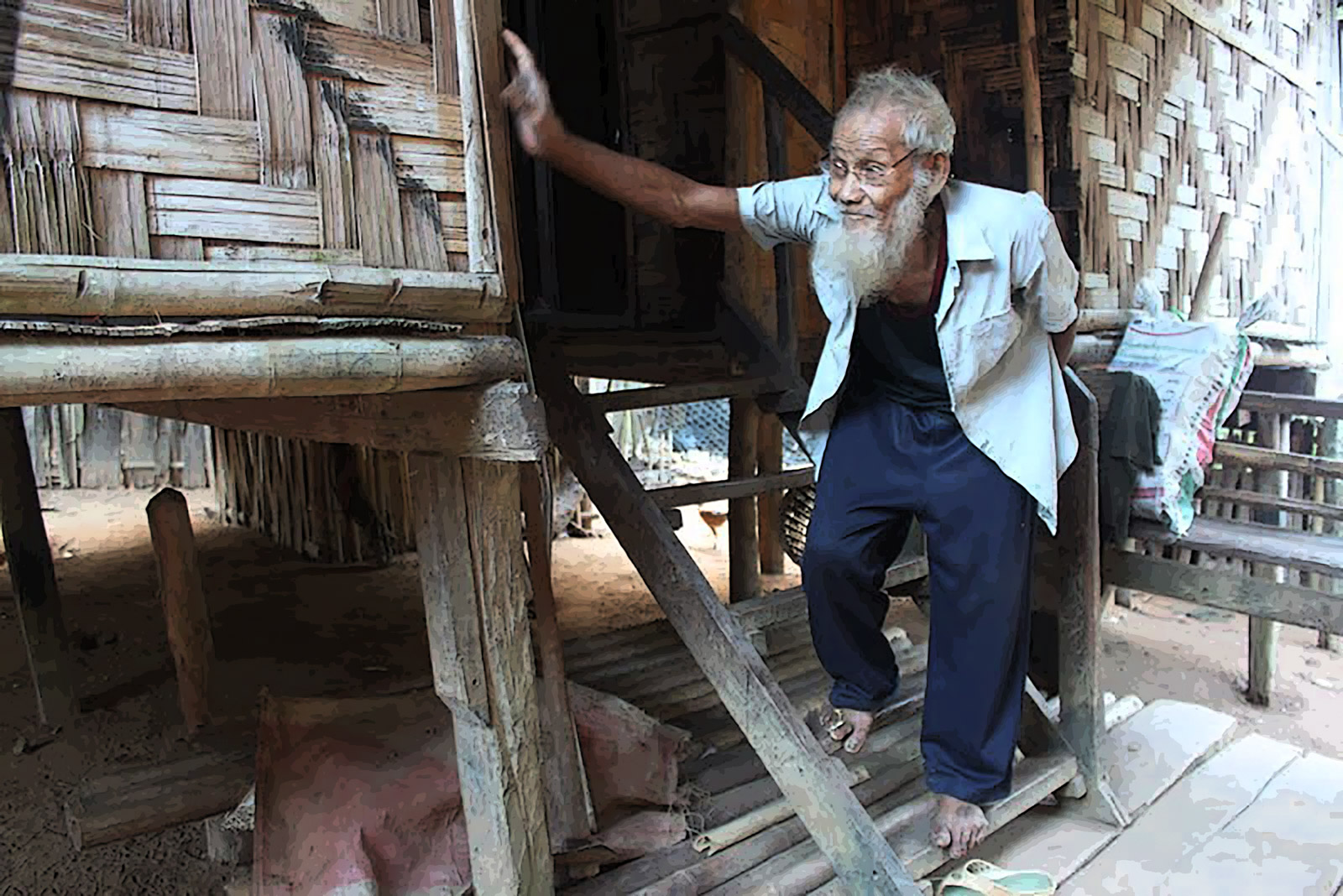 Now the two men and their remaining comrades have a new battle on their hands. Forgotten by the British government, and mostly living in poverty, they hope to raise enough money to buy a taxi they can rent out to tourists. As Myanmar opens up to international visitors after decades of isolation, they hope this will provide them with a regular income and allow them a little comfort and dignity in their old age.
The idea came from local organisers of the Burma Forces Welfare Association (BFWA), a British charity that provides a little financial aid to the veterans each year. About 300 former soldiers are on its books, and last year they each received $50.
"The majority of the [former] soldiers are very old and helpless, especially in the villages," said a BFWA organiser in Yangon, a middle-aged Karen woman who asked not to be identified. "Their lives are very hard. Now the amount they receive is enough for just one month (of living costs), but they receive it once a year only."
The Allied victory in Burma owed much to the sacrifices of such men, and came at a high cost. As the Japanese swept through Southeast Asia in 1941-42, they presented themselves as liberators from colonial rule and won the support of nationalists in Burma and elsewhere. The architect of Burmese independence, General Aung San – father of today's democracy icon Aung San Suu Kyi – led troops who fought alongside the Japanese before switching sides.
But some ethnic minorities, including the Karen, remained fiercely loyal to the British. Many Karen are Christian and they were favoured by the British before the war, forging close links with the colonial and military authorities. During the Japanese occupation, many of these farmer-soldiers volunteered to serve in guerrilla units under British officers in Force 136, a covert organisation fighting behind enemy lines. They often paid a high price for their loyalty.
Saw Yakhin, 82, remembers Japanese soldiers beating his aunt and uncle, who had sheltered two British officers. Others were tortured and killed, and although the Karen developed a reputation as brave and skilful soldiers, many lost their lives in battle.
The suffering of the Karen people continued after both the war and Burma's independence in 1948, as the new rulers, distrustful and paranoid, persecuted them for siding with the British. Since 1949, the Karen have fought a bloody war for independence or greater autonomy within Burma, now known as Myanmar. Successive military regimes have tried to ruthlessly crush the separatist movement, and human rights groups have documented numerous cases of torture, forced labour, the burning of crops and homes, and the systematic rape of Karen women.
The Karen National Union, the political wing of the liberation movement, signed a historic ceasefire with the government in January 2012, after more than 60 years of civil war. But analysts say the situation is precarious. Despite the recent moves towards greater democracy, which have been welcomed by the international community, there are still hardliners in the government and the military is viciously suppressing an armed struggle by another ethnic group, the Kachin, in the far north of the country.
An estimated 160,000 refugees – mostly Karen – live in camps across the border in Thailand, having been forced from their homelands by the fighting. Among them are approximately 100 ageing World War Two veterans, who survive on meagre rations of rice and fish sauce.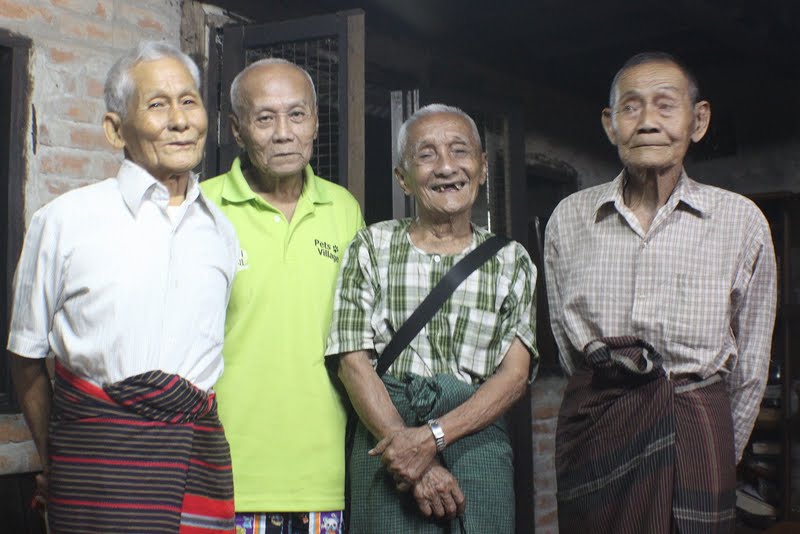 They have no pensions and their lives since the war have been as social outcasts, an existence in extreme poverty
Saw Ba Kyaw, 83, has lived in Karenni Camp No. 2 in Thailand's far north for ten years. Very frail and hard of hearing, he is bent over almost double when he walks but can still give a proud military salute.
He was only 13 when he started looking after stores for the British forces, and was then chosen to become a 'postman', carrying important messages between officers. "When I was young, I wasn't afraid of anything," he said.
He was so small that he couldn't carry a rifle, so he was given a Sten (a British 9mm submachine gun) instead and told to shoot if necessary. Once, he says, he found himself surrounded in the jungle by four Japanese soldiers, so he hid under a tree for the night. When he left in the morning, he realised the soldiers were still there, so he shot them, emptying his magazine. He heard later that three of the four died, and one survived.
Saw Thart'gay, 88, is now blind but also recalls his time spent fighting alongside the British with pride and good humour. He says a British officer called Montagu – possibly General Montagu Stopford, later head of Southeast Asia Command – wanted to take him to England after the war, but he refused the offer because he had a girlfriend in the village and was "deeply in love".
When he was a soldier, he said, the Karen people helped the British. Now they have been fighting the Burmese government for 64 years, and many have been forced to flee to the camps. He would like the British government to help "like they did before", he said, because "we are very poor".
Conditions are tough in the camps, but the 300 or so veterans left in Burma fare little better, receiving scant recognition for their crucial role in the Allied victory. Life is a constant daily struggle for many.
"They have no pensions and their lives since the war have been as social outcasts, an existence in extreme poverty," says Sally Steen, founder of Help 4 Forgotten Allies, a small British charity that provides financial assistance to the Karen veterans and their widows. "Their annual grant from the Burma Forces Welfare Association does not go far to meeting the medical care and nutritional needs of extreme old age."
Help 4 Forgotten Allies is supported by patrons including Dame Vera Lynn, a popular British singer of the 1940s who entertained troops in Burma. Steen believes the taxi project could bring some relief and long overdue recognition to the old soldiers.
As Burma continues to open up, it is finding itself back on the tourist map after years of isolation, when Aung San Suu Kyi and her pro-democracy movement urged tourists to stay away. That policy has now been dropped and Burma's diverse natural beauty and unique cultures, untouched by mass tourism, have led some to hail it as the latest hot travel destination. In 2011, it welcomed 391,000 international visitors – an increase of almost 26% on 2010. The authorities are hoping the figures for 2012 will reach one million. In an attempt to capitalise on this, Steen says, car prices are coming down in Burma and $10,500 should be enough to buy a taxi and realise the ambitions of the frail old soldiers.
So far, she has raised almost half of this amount.
Steen hopes the rest can be raised soon in order "to bring these brave old veterans some recognition and thanks for the sacrifice they made in risking their lives to fight with the Allies in the Burma campaign."