As nominees for the post of the Myanmar's president were announced today, we spoke to leading campaigner Mark Farmaner about the candidate most likely to ascend to the top spot, and what the future holds for the country

Myanmar's majority National League for Democracy (NLD) party, led by the celebrated Aung Sang Suu Kyi, has put forward two preferred candidates for the presidential position: Henry Van Thio, an ethnic Chin, and Htin Kyaw, a 70-year-old NLD stalwart and trusted aide to Suu Kyi, It seems likely the latter will be the next person to lead Myanmar, at least in designation. The country's two houses of parliament will hold rounds of votes to choose the country's new leader over the next few days, the BBC reported.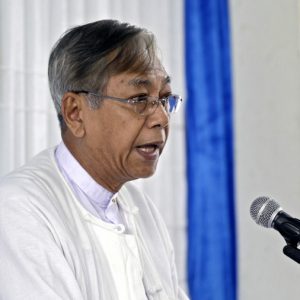 For many, Suu Kyi would have been the preferred president, but she is barred from the position under a military government-enacted constitutional rule that bars those with foreign spouses or children to take up the post. Regardless, she has vowed to rule Myanmar – also known as Burma – by proxy, declaring her intention to do so even before last November's elections in which her party won almost 80% of contested seats.
"If we win and the NLD forms a government I will be above the president. It's a very simple message," she said on November 5.
Yet, despite her party's majority and her overwhelming popularity, Suu Kyi and her new proxy president face myriad challenges, according to Burma Campaign UK director Mark Farmaner.
What's your reaction to the NLD's announcement?
There's no surprise here that Aung San Suu Kyi has chosen someone who has been loyal and close to her for many years. And we were also expecting that she would select one candidate from one of the ethnic minority groups, because she said she wanted to be more inclusive.
What's your opinion of Htin Kyaw?
He's a good choice. People are already calling him a puppet, but he's very smart – an educated man. He has a lot of experience running different organisations, so he is someone who comes with some experience. Obviously, at the end of the day, Suu Kyi will still be making all the key decisions in the government.
Do you think the military will have any tricks up its sleeve?
The military doesn't need to have any tricks up its sleeve. It has had this transition plan where it knew an NLD election victory was inevitable and it has designed a constitution to ensure that it still controls key ministries. They will still have power and influence over government, regardless of the NLD victory. There's no reason for them to make a fuss because, with the implementation of the plan, they need everything to go smoothly.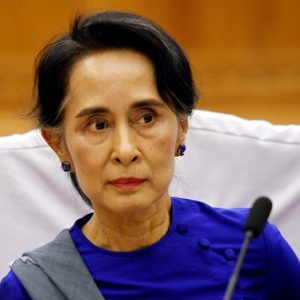 For the military, it was always unacceptable for Suu Kyi to become president. That's a red line for them and that's why they put the clause in the constitution to prevent her from becoming president. It will be an NLD-led government power sharing with the military. The key cabinet positions will be controlled by the military, the military get to choose the budget before the rest of the government and the most powerful institution is not the parliament, it's the National Defence and Security Council, which has 11 members, six of which are from the military. So for the military, their interests are protected and as long as it's not Suu Kyi, I don't think they care who the president will be.
Do you think Suu Kyi will attempt again to change the constitution in her favour?
She can talk about it, but it's hard to see how she can, because the purpose of the military's 25% of seats in parliament is solely to be able to veto constitutional change. She can't change the constitution unless the military agrees to it. The military have been very consistent and have never budged from their constitution. They were faced with internal uprisings, international sanctions and the country was falling behind, and they drafted this constitution as their survival plan to give Burma a democratic face but with their interests still protected. That's what is going to take shape when there's an NLD-led government in April.
Her inability to change the constitution has big implications, not just in terms of her presidency but in terms of one of the biggest issues, which is the peace process [with armed ethnic groups] in Burma. There's no way you can have long-term political settlements, ceasefires and peace without changing the constitution. She can't deliver that. She can negotiate peace with ethnic armed groups but anything she agrees, the military can veto. So while she's negotiating, she won't control the army and they can still attack ethnic groups. It's going to be very difficult for her to address the most pressing issues in the country.
Is there anything else you'd like to add?
At the moment there is a peace process in Burma, which requires constitutional change to be successful, and at the same time Suu Kyi is looking for a change in the constitution regarding her presidency and military representation in parliament. But these are two things that are running on separate tracks and if Suu Kyi does want to try to put more pressure on the military to bring some kind of constitutional change, then they could be combined into an overall constitutional review and that would look at the constitution as a whole, as many other countries have done. I think the problem at the moment is there are so many problems with the constitution, that there's a scattergun approach to trying to change it.