After shooting to fame with a slew of Hong Kong action films, Michelle Yeoh soon took the call from Hollywood, becoming one of Southeast Asia's most celebrated actors. Here, she talks to Southeast Asia Globe about her Malaysian roots, kicking ass and rubbing shoulders with Aung San Suu Kyi
By David Hutt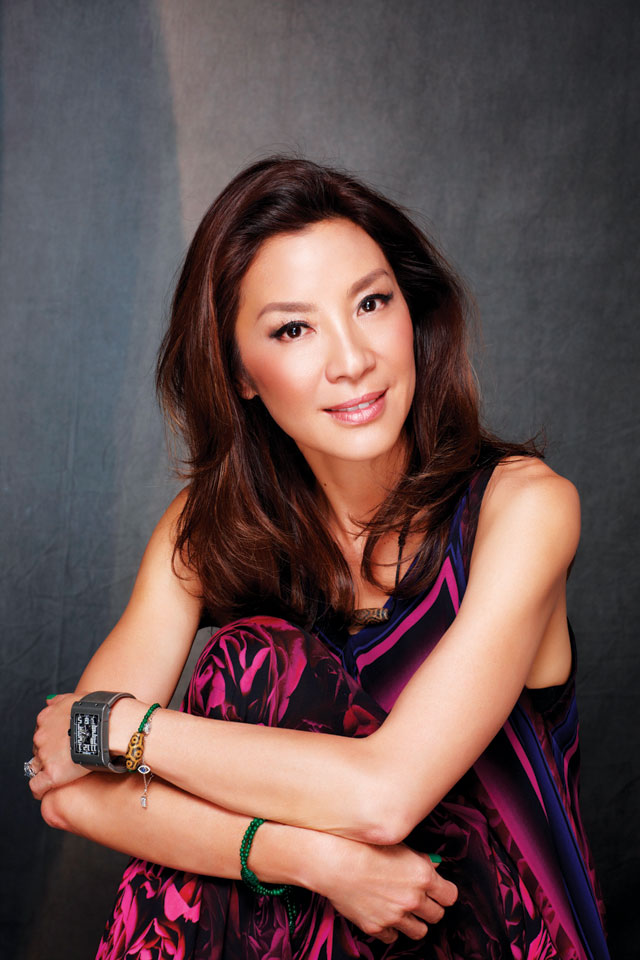 Standing out from the suited men drinking whiskey in the lobby of Phnom Penh's luxurious Raffles hotel, Michelle Yeoh has an unusual aura. There is little of the pretence or glamour one might expect from one of Asia's most celebrated actresses. Instead, she cuts a humble figure. 
"I've been visiting schools all day trying to raise awareness of the [road safety] issue," she explains. Having now finished work on Crouching Tiger, Hidden Dragon II, Yeoh is in Cambodia in her role as a road safety ambassador. In partnership with the Asia Injury Prevention Foundation, she has spent
a number of days touring the Kingdom's schools, handing out free helmets and attempting to draw attention to the issues surrounding traffic accidents, which kills an average of five Cambodians every day. "It's such an important issue and I feel happy I can at least do something to help," she says.   
A former Miss Malaysia, Yeoh got into acting after appearing in a Hong Kong television commercial with Jackie Chan. Picked up by a small production company, she displayed natural acting talent, as well as the ability to perform her own stunts. Soon she was cast in a number of action films, including an appearance as a Bond girl in Tomorrow Never Dies, which introduced her to an international audience. She followed this up with a starring role in the critically acclaimed Crouching Tiger, Hidden Dragon before turning to a more serious role as Aung San Suu Kyi in Luc Besson's The Lady.
As a Southeast Asian, it must have been daunting taking a role as one of the region's biggest female role models. How did you find playing Aung San Suu Kyi?
It was very daunting at the beginning, but I found the story very interesting, and it was a story that needed to be told. It wasn't just about politics, it was about the woman and the mother – it was a love story. And what her husband went through – wow. The film really should have been called The Lady and the Gentleman. It was about how a family remained strong after being separated for so many years. At the time of filming, Daw Suu was under house arrest, so we didn't have access and we didn't want to create any more trouble for her, so it took us a few years to piece together the different parts and interview the right people. But for Daw Suu, it was awful. She was under house arrest and had no communication with the outside world – it was worse than jail. At least in jail you have letters and you can talk on the phone. She was in total isolation.
Do you know if she watched the film?
I hope she didn't. We didn't make the movie for her; she knows the story all too well. And I think it would be heartbreaking to watch what her husband and children had to go through while they were kept apart. That was the government's intention, to break her so she would go back to England. Can you imagine?
But you know, I've been back to Myanmar since the film and I think the president, Thein Sein, is doing a remarkable job. It's not easy though, and you can't change a nation overnight.
Speaking of visiting different countries, you must spend a lot of time travelling around, but where do you call home?
Because of the nature of my work I can't really be in one place for too long. Nowadays, it seems I live in hotels. But I haven't lost my Malaysian roots. I always try to go home when I have the chance and I'm always making detours there, even if it's just for a few days. It's very important to remember who you are, your roots and your family. Malaysia will always be my home.
Do you think that, as a famous film star, you are a role model for people in Malaysia and Southeast Asia? 
I honestly don't think about myself like that. When I'm given the privilege of making a difference, such as with road safety – which has probably been my most important role – it is very important and, personally, I feel very gratified if
I can help to save even one life.
As a high-profile female, what are your thoughts on gender equality in the region?
For women in Asia it is a problem. Particularly for Chinese families, there's a [belief] that the son is more important. But I have never felt that myself. Obviously, I believe jobs should go to the most qualified person, regardless of gender. But there are the same problems in Asia, Africa, Europe – really in too many places. Things are improving, although not in leaps and bounds. In my opinion, both men and women are equally responsible for making things better. Who's creating the inequalities, if it's not us ourselves? So it has to work both ways. I think it's very easy to say it's cultural. So does that mean if it's cultural we should all just shrug our shoulders and accept it? No. We can't expect it to change overnight, but I think, at least, things are progressing. 
You are known for your martial arts skills and willingness to perform your own stunts. How have these talents impacted on your career?
I think that when I did my first action film, it propelled me into an arena where the guys said: "Wow, there's a woman doing this stuff." But I remember when I was filming Tomorrow Never Dies, the director said very firmly: "You are not here because you can do action; you are here because you can act. We don't care that much if our actors can do action shots, because we have stunt doubles. If you can't act, we can't have a stunt double for that." 
I've worked with Jackie Chan, Jet Lee, Vin Diesel, Jason Statham – some of the best action stars in the industry – but I think that, in the end, its not who you're fighting with but the reason. It's the drama.  But it's worked out very well for me, and I'm happy to fluctuate between action and drama films. 
Have you had to make many sacrifices in order to 'make it'?
When we asked Daw Suu why she was making the sacrifice, she would say: "It's not a sacrifice because life is all about choices." And every time you make a choice there are repercussions. My job has taken me away from my family and my home, but it doesn't stop me from going back to see them. My job has also given me great satisfaction. It's allowed me to do what I want to do and to see the world, and my parents have always been very supportive. As a child, we were always taught that it is our life and my parents said: "We're not going to live your life, so you have to choose the path you want to have." 
Keep reading:
"I am woman" – Angelina Jolie's life changed forever in 2000, when Cambodia captured her heart and never let it go. The former wildchild's love affair with the Kingdom resulted in her first child and here she discusses the family life that blossomed thereafter