As national elections loom, Indonesia's foreign minister talks regional diplomacy and the need for sensitivity in negotiation
By Ismira Lutfia Tisnadibrata
Standing out from the grey-suited pack in his natty pinstripes and trademark thick-rimmed glasses, Marty Natalegawa is not your regular Southeast Asian official. Contrary to type, he has been quietly shaping the region without resorting to megaphone diplomacy.
Back in July 2012, he came to the bloc's rescue when he embarked on a two-day mission to five countries in order to produce an Asean foreign ministers' joint statement, after they had failed for the first time in 45 years to issue one from their meeting in Phnom Penh a week earlier.
The 51-year-old career diplomat was called home five years ago from his post as Indonesia's permanent representative to the United Nations to serve as foreign affairs minister in President Susilo Bambang Yudhoyono's second term. The father of three and husband of a Thai-born wife originally left the country in 1976 to study in the UK for nine years. He obtained a master's degree in philosophy in 1985 and returned home to launch his diplomatic career a year later. Well-dressed as always, Natalegawa met with Southeast Asia Globe a day before Indonesia's legislative elections on April 9.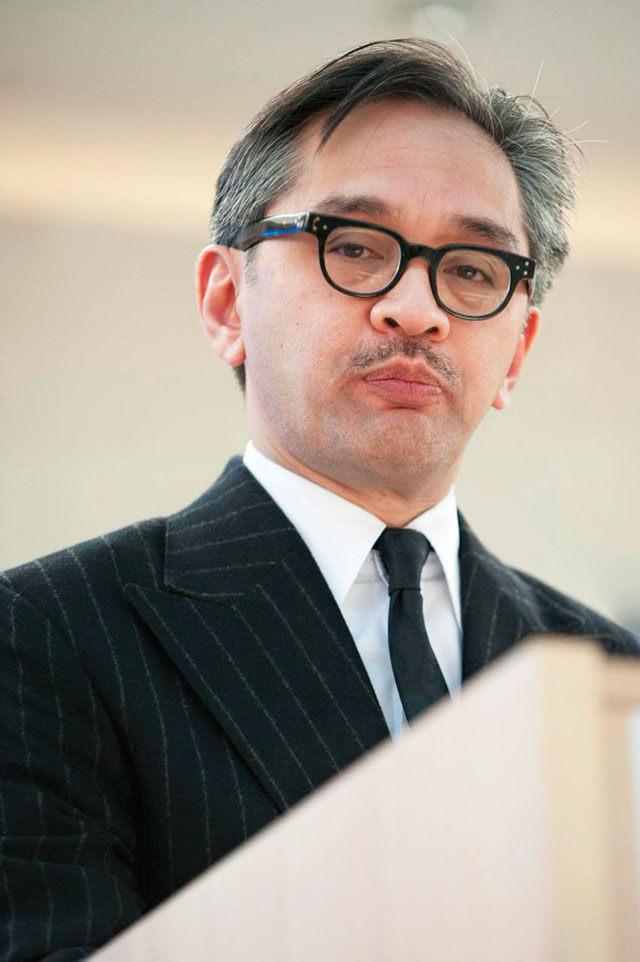 What progress has been made with the six-step process to restore ties between Indonesia and Australia? 
Indonesian-Australian bilateral relations have been on a very positive trajectory for the past ten years. In terms of the specific situation we are in, President Yudhoyono has identified six steps to get the relationship back on track. We are now beginning the second step: discussing a code of conduct. Essentially, Indonesia requires reaffirmation of the basic framework and principles of bilateral relations. Key elements in the commitment would be [for Australia] not to employ their intelligence resources in activities detrimental to the interests of the other country. That would be the kind of spirit we want to capture.
Critics say that asylum seekers are the victims in this thorny phase of Indonesian-Australian relations. What do you think is going to happen with them? 
We had similar discourse [on asylum seekers] ten years ago when we launched the Bali Process to reach a comprehensive approach involving countries of origin, transit and destination. This was in 2003, and it remains the same in 2014. We ask our Australian colleagues to ensure that whatever national policies they carry out, they are consistent with the Bali Process, which states there cannot be any unilateral measures to deal with this problem.
How do you think Myanmar is doing so far as Asean chair? 
Four months into the year, Asean remains on track on its main agenda: the formation of the Asean Economic Community (AEC). I am pleased to see that Myanmar is focusing on all three pillars of efforts to form the AEC. We have begun discussion on the post-2015 vision. Of course, each country has its own internal challenges, but I am hopeful this will not impact on community building.
One of Myanmar's internal challenges is addressing the plight of the Rohingya. Their ethnicity was excluded from the recent government census.
Myanmar is in transition to democracy, and there are certainly complications, such as the Rohingya. We have been engaged with Myanmar, on a bilateral basis, to ensure the Rohingya's interests are protected, but we are seeing real challenges now. Taking a census is very important and should be carried out with a great deal of sensitivity. The UN, as I understand, is engaged with the government of Myanmar on this process.
But even the UN has slammed the exclusion from the census… 
This is what I meant by sensitivity. It is easy to slam. I would have thought this kind of concern should be communicated in a problem-solving, constructive manner. It's very difficult to change when positions are being announced the way they are now. There is a sense of disagreement. If the UN cannot get it done, then who can?
What can Asean countries do to prevent a failure to produce a joint statement similar to what happened at the 2012 Asean foreign ministers' meeting? 
I think all of us took lessons from what transpired in 2012. The lessons that we must learn are that in any collective undertaking such as Asean, we have to be ready to compromise. That's what has made Asean successful all these years – countries being able to see the bigger interest.




Speaking of hot Asean issues, what is Indonesia's position after reports that China has staked its claim on the waters around the Natuna Islands?
The situation in the South China Sea is one that deserves our constant, collective attention. Indonesia's position is that there are three things to be recognised. Firstly, between Indonesia and China there is no outstanding territorial dispute. This has been both countries' position. Secondly, through the UN we have been seeking China's clarification about the legal basis of its so-called nine-dash line. This is unilateral. We are simply asking for the legal underpinning. Thirdly, we are not a claimant state. The claimant states in dispute have been well defined over the years. The South China Sea is the most obvious example of the need to manage potential for conflict in our region.
Malaysia has found itself in the global spotlight recently. Should there be an international code for conducting a joint operation, following the international search for the missing Malaysia Airlines jet? 
This is another example of issues that demand partnership. This happens to be air safety but, in the past, it was natural disaster. If there is anything good that can come out of this, I hope it will engender the region's different agencies to be even more cooperative in preventing such incidents and, if they do occur, to be working hand in hand.
Moving on to matters closer to home, what do you hope for from Indonesia's national elections next month, in terms of support for foreign policy? 
There hasn't been much global media attention for elections in the world's third-largest democracy. It must mean there is a sense of regularity. It's no longer a drama. From a foreign policy perspective, the elections are very important to demonstrate to the rest of the world that Indonesia is a vibrant and increasingly influential democratic force. Our concerns as a ministry are to ensure that we have active foreign policy constituencies. However, we need synergy to ensure that although views may differ, once policies are adopted we can work towards their effective implementation.
So how can Indonesia maintain consistency in the foreign policies that have been laid out in the past ten years if the next government has different ideas? 
As a professional diplomat, I have to say that President Yudhoyono has been a foreign policy president. He has shown tremendous vision on foreign policy matters. It has been a huge asset for Indonesia's foreign policy to have a president who is very hands on. In terms of the next government, it's always about combining change with continuity because commitments made by one state to another extend beyond government tenure. No doubt the next government will have its own priorities, but the foreign ministry is the constant as an institution. The new government will have to hit the ground running, as there will be Asean, G20 and APEC meetings shortly after it is inaugurated.
What do you plan to do if you no longer hold a ministerial position? 
That's the least of anyone's worries! It's not a worry for me and it shouldn't worry anyone else [laughing]. I've been carrying out these responsibilities at the discretion of the president, in this case President Yudhoyono. Where I will be should not be of concern to anyone.
Keep reading:
"Sharing is caring" – Are Indonesia's young digital natives amusing themselves into a state of political antipathy, or will the latent capacity of social media be unleashed in next year's elections?
"Shaking up the party" – Many Indonesians are hoping that Joko Widodo will spearhead a new era of clean politics once the current president wraps up his maximum second term in office
"A new low" – By taking a ministerial role, former graft crusader Paul Low is putting his integrity on the line