While an increasing number of women hold senior corporate positions, true equality
remains a long way off
By Jan Wiehler
On the eve of International Women's Day back in March, former US secretary of state Hillary Clinton made a clear statement. Achieving equality for women "remains the great unfinished business of the 21st Century", she said in her speech at the United Nations headquarters in New York City. "When women and girls thrive, entire societies thrive," she said.
The speech once again turned the spotlight on gender issues worldwide with equality in the workplace featuring prominently on the list of topics. At the same time, Southeast Asia has risen to the top of the table when it comes to women in senior management roles.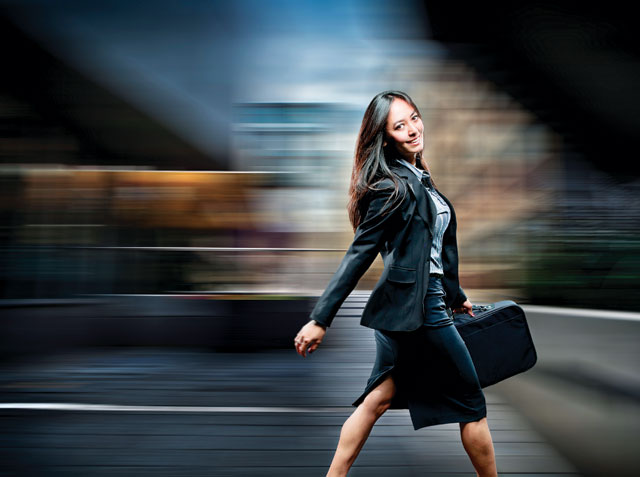 The Asean region currently surpasses both the US and Europe in the proportion of females in high-level corporate jobs. However, observers still point to significant gender gaps in the region and highlight the challenges Southeast Asia's female managers continue to face.
Worldwide, less than a quarter of executives are females, Grant Thornton's International Business Report on women's managerial roles revealed, even as there has been an ongoing debate on the issue for years. Interestingly, out of the 45 countries that participated in the survey, Indonesia ranked second with a female executive share of 41%, the Philippines came in fourth with 40% and Thailand placed sixth with 38%. The figure for Asean increased by three percentage points since last year's survey, averaging 35% and putting the region well above the global average of 24%.
"In strongly family-oriented societies in Southeast Asia, the female has always played a key role in the household, especially governing finances," said Sumalee Chokdeeanant, assurance partner at Grant Thornton, an audit, tax and advisory firm. "Over time, as business has grown, this has simply become the norm. This is evidenced by a continuing growth trend of women in executive roles here," she added. This trend "will continue as we see increased opportunities brought by the Asean Economic Community (AEC) resulting in increases in labour demand and the need to continually increase diversity in the workplace."
A different perspective, reflecting the greater society, meeting customers' needs and challenging the status quo are only some of the benefits for companies that have women in leadership roles. "Corporate leaders need to be made aware that more women in the senior management means better business," states a research note from the Asian Development Bank (ADB).
Indeed, researchers at McKinsey, a global consultancy firm, found that companies with top-quartile representation of women in executive committees perform significantly better than companies with no women at the top, with more than 47% higher return on equity and more than 55% higher average earnings before interest and tax.
However, females still face serious obstacles in making use of their career potential, depriving companies of a large share of the available talent pool. This trend is grounded in education. In many countries in Asean, female university graduates outnumber their male counterparts; in Malaysia, 57% of graduates are female. Many of these women go on to hold entry-level positions in companies, but fewer than one-in-five ever rise to mid or senior levels, as many hurdles still remain for female employees, according to a McKinsey report.
"Companies should support flexible work arrangements or offer convenient daycare services, allowing women, often the primary caregivers for children, to continue working, said Winifred Loh, SingTel's former human resources director and the current president of Aware, a gender equality advocacy group. "Companies can also go beyond the minimum legal requirements for maternity, paternity, childcare or parent care leave to employees."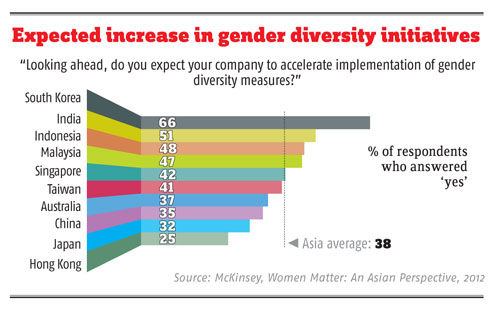 Globally, female employees earn on average 23% lower wages than their male counterparts, according to recent International Labour Organisation estimates. Across the region, the gender-wage gap differs significantly between countries, with men and women receiving almost equal pay in Thailand, while in Indonesia, women are making less than 75 cents for every dollar their male colleagues receive.
A recent survey of recruitment firm Robert Half showed that 44% of HR managers in Singapore cited social perceptions of the role of women as a reason why women are not developing careers as quickly as men. This figure surged to 71% for HR managers in mid-sized companies. Not a single manager in a large company cited a lack of ambition as a factor.
"The government should work closely with the informal community as well as religious leaders to help shift the prevailing social perceptions of gender roles," said Suryani Motik, executive director for Indonesia of WEConnect, a corporate-led non-profit organisation that empowers female business owners to succeed in global markets. The goal should be to promote "a more equal sharing of household and childcare responsibilities among men and women," Motik added.
However, while the numbers of senior female executives in the region are encouraging, this trend is not reflected at the board-level. The ADB's gender team points out that Asia's women face more barriers than those in the West when climbing up the ladder to the top ranks of corporate management. "Presently, the percentage of women on corporate boards and executive committees in Asian countries seriously lags behind the West. Women in Asia still account for only 6% of seats on corporate boards, compared with 17% in Europe and 15% in the US."
Gender equality in corporate roles is indeed an unfinished business – in Asean as much as in other parts of the world. With Southeast Asia's economic growth prospects remaining relatively rosy, and given its flattening population growth, the demand for skilled labour is set to increase. Against this background, neglecting the vast potential of female employees is something both businesses and governments can ill afford.
This means "more business development training, financial and computer literacy, for networking and alliance building" are needed, the ADB noted. "More transparent and streamlined business registration and loan application procedures, technology and infrastructure support for women's businesses will all contribute to more women effectively managing and expanding businesses in Asean."