Your March guide to culture in Southeast Asia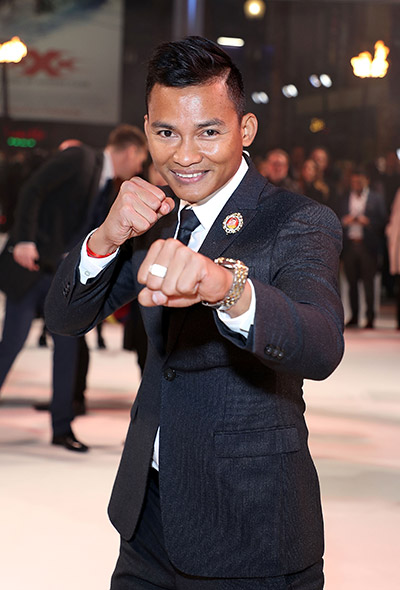 Q&A: Tony Jaa
A quick word with the Thai action movie star who made his name in the Ong Bak trilogy but has gone on to Hollywood success with roles in Furious 7 and this year's xXx: Return of Xander Cage
**
You still live in Thailand. How do you deal with fans and your immense fame there?
There are fans everywhere, but they're respectful. They don't mob me. They might come up and politely ask for an autograph or say: "Hey, Tony!" They treat me like family.
And you're quite big on social media…
Yeah, I have an official Tony Jaa Facebook page, Twitter and Instagram. I have about five million followers on Facebook. I post about once a day, and I usually answer up to 15 people every day… I answer them myself. There's no team.
Why do you feel the need to be personal like that?
They take the time to follow me, so I believe they deserve [it]. I think being connected to your fans like this is important. It wasn't like that before; before we didn't have the technology, but now the world is close together… People want to know about each other's culture and we can make new friends.
Most people know you from the Ong Bak films. Are you going to do any more of them, or more Hollywood films?
I hope to do a bit of both: films aimed at the Asian market as well as Hollywood films. But Ong Bak is done. People love Ong Bak, but we have to change. We'll keep the signature [fighting style] because I come from Thailand – with both Furious 7 and xXx, I included my signature Muay Thai style.
What are you doing next?
An action movie that starts this month that's geared toward the Asian market. It's going to be shot in Thailand but it's for the [entire] Asian market. – Angela Dawson
Coldplay's adventure of a lifetime
Even back in the year 2000, upon hearing the opening chords from Coldplay's breakthrough hit, "Yellow", it was apparent that this was a band destined for big things – although it would have been hard to predict they would morph into the middle-of-the-road stalwarts they have become. Now, one marriage to Gwyneth Paltrow, numerous political causes and more than 100m album sales later, Coldplay are still selling out stadiums the world over. Their A Head Full of Dreams tour comes to Southeast Asia at the end of this month.
When and where? Singapore, 31 March and 1 April; Manila, 4 April; Bangkok, 7 April.
To infinity and beyond
It's difficult to sum up the influence Disney movies have had on millions of lives all over the world. Many older readers will remember being wowed by the musical magic of The Jungle Book back in 1967, and there seems to be hardly a child alive that couldn't sing along to the Frozen anthem "Let it Go". Thankfully, Southeast Asian fans old and young will soon be able to witness their favourite Disney characters come to life when the all-singing, all-dancing Wonderful World of Disney on Ice comes to the region this month and next.
When and where? Singapore, 15-19 March; Malaysia, 24-26 March, Thailand, 30 March to 2 April; Indonesia, 20-24 April.
Arts soaring
Opening next month in Bangkok's Thonburi district is an achingly cool creative hub featuring a disused airplane. ChangChui, with its 18 buildings all made from salvaged materials, will be the biggest creative space in Thailand, featuring a live performance theatre and a cinema screening the latest in Thai film, not to mention an art gallery, flea market and 'exotic' garden. But the biggest draw is the plane, once part of the now-defunct Thai Sky Airlines fleet, which will house a private collection of stuffed dead animals arranged thematically to evoke Noah's ark. Patrons even have the option to dine under the taxidermied eye of a polar bear, lion or other creature in the restaurant run by the renowned team from Seven Spoons.
Visit: changchuibangkok.com
Bamboo bonanza
One of the fastest-growing plants in the world, and strong to boot, bamboo is finally beginning to catch on as a sustainable building material. And it will take centre stage at the first ever Camboo Festival held over the course of a week in Phnom Penh later this month. Organised by the Building Trust, the event will showcase natural construction methods and aims to revitalise traditional skills. David Cole, founder of the non-profit, said it was reflective of a growing industry trend: "In the field of architecture and development we are getting asked more and more to think about sustainability."
When and where? Phnom Penh 28 March to 2 April.
Migrants in focus
Migrant workers – the men and women who leave behind their own homes to build or work in the homes of wealthier individuals – are often an invisible segment of society in countries such as Malaysia or Singapore, but their presence in these foreign lands has been a major contributor to the increasing affluence of those around them. "In most of these places, migrant workers' legal and symbolic status are matters of constant negotiation, reflecting the many complexities behind the continuing nation-building processes of our times," according to the organisers of Afterwork, an exhibition now showing at Ilham Gallery in Kuala Lumpur. Across a range of mediums and styles, several artists embark on a comprehensive exploration of workers' stories and struggles.
When and where? Kuala Lumpur, until 16 April.
The resort bible
Celebrated Bangkok-based architect Bill Bensley is one of the world's biggest names in hotel design, having dreamed up more than 200 properties in 30-plus countries over nearly three decades. Now, the award-winning design wizard has released a hefty coffee table tome, Escapism, which showcases the best of his spectacular projects, from remote luxury resorts to sprawling private residences. Included within its 500 photo-heavy pages are 26 key creations, from the Istana Royal Palace for Malaysia's Sultan of Kuala Terengganu to his latest project, the Intercontinental Hotel in Danang, Vietnam. And with Escapism subtitled Volume One, Bensley – dubbed "the king of exotic luxury resorts" by Time magazine – is leaving the door open for plenty more to come.
Visit: bensley.com
Behind the lens
The Cambodia International Film Festival is going from strength to strength as the years roll by, and 2017's lineup might be its strongest ever. Plenty of international coverage was generated when former Hollywood uber-couple Brad Pitt and Angelina Jolie stopped by in December 2015, but organisers are hoping the local film industry's relative renaissance will drive the headlines this time around. Oscar-nominated director Rithy Panh's latest film, Exile, will have its Cambodian premiere while the work of other local luminaries such as Davy Chou and Kulikar Sotho – both award-winners in their own right – will also feature.
When and where? Phnom Penh, 4-9 March.