Malaysians and Indonesians alike have taken to social media to call out Masterchef UK judges Greg Wallace and John Torode for their comments on a contestant's chicken rendang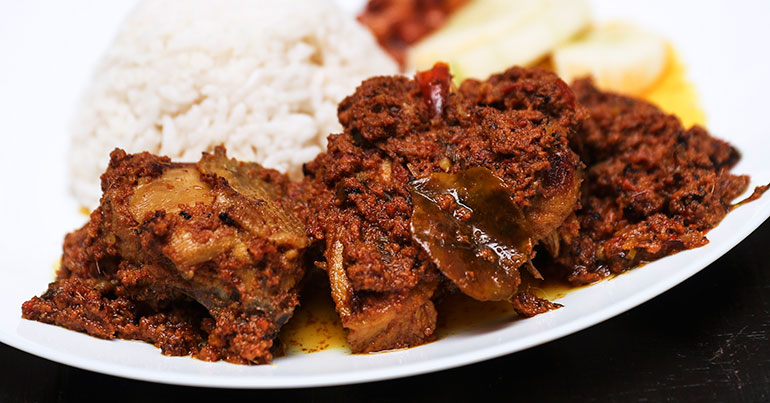 A huge Twitter storm has erupted after Malaysian-born contestant Zaleha Kadir Olpin was eliminated from the UK television show Masterchef, with judge Greg Wallace saying the skin on her chicken rendang was not "crispy".
Rendang, which originates from Indonesia and is also popular across Malaysia, is made by slow-cooking meat in coconut milk and spices until it is tender.
The comment caused uproar on social media, and even Malaysian Prime Minister Najib Razak and his main political rival Mahathir Mohamad weighed in.
"Maybe you are confusing rendang chicken with KFC," Mahathir posted on his Twitter account.
Other Twitter users have not taken the comment so lightly, criticising Wallace for not understanding Southeast Asian cuisine.
"Don't tell us how to cook a dish that comes from this part of the world when you don't have a clue," travel writer Anis Ibrahim wrote on Twitter. "Chicken rendang is never crispy."

While Torode was not responsible for the controversial "crispy" comment, he didn't do himself any favours when he took to Twitter to reply to the furore.
"Maybe Rendang [sic] is Indonesian!! Love this!! Brilliant how excited you are all getting… Namaste," Torode said.
His post drew further ire from Malaysians, who have long claimed rendang as their own, while others took offense at the chef using "namaste", an Indian word.
A Facebook page named Justice for Chicken Rendang also sprang up, featuring a petition that demanded an apology from the two judges.
The debate seems to have united Malaysians, who are braced for a general election that is likely to be called by Najib very soon. And there is nothing tender about the relationship between Najib and former Prime Minister Mahathir, who have clashed often since Mahathir became opposition party Pakatan Harapan's candidate for prime minister.
Related reading: