Human rights activists in Southeast Asia applaud Malaysia as its government takes the first step toward repealing a contentious law critics feared would limit free speech in the country.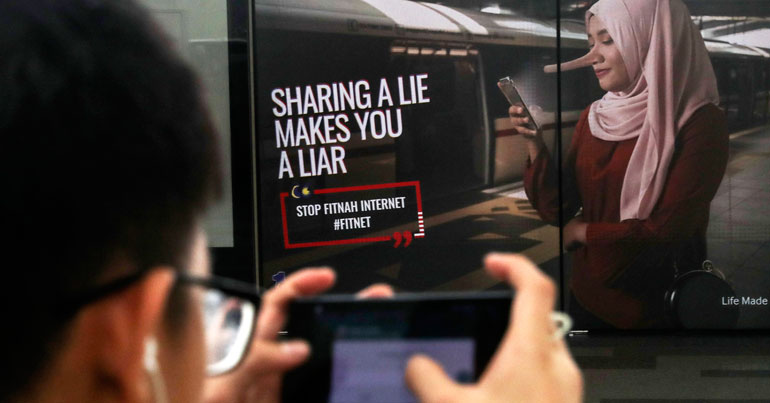 Malaysia's controversial Anti-Fake News Act, passed five months ago under former Prime Minister Najib Razak, was repealed by lawmakers in the country's lower house of Parliament on Thursday.
The law raised concerns among international human rights groups when it was initially passed in April 2018, as many believed it would be used as a tool to silence dissent leading up to the national election in May. It outlined fines of up to $123,000 and six years of jail time for citizens and media outlets convicted of spreading what officials considered "fake news".
According to Deputy Prime Minister Mohamed Hanipa Maidin, the law was repealed by voice vote after only a few hours of discussion.
"We don't need new legislations," he said, addressing lawmakers before the vote. "We already have existing laws, such as the Communications and Multimedia Act 1998 and others that can deal with this [fake news] phenomenon."
Representatives of the Asean Parliamentarians for Human Rights (APHR) have lauded the decision to repeal the law as a "landmark moment for human rights" in the country.
According to APHR board member Teodoro Baguilat, the repeal of the "wildly repressive" Anti-Fake News Law is a bright moment in the first 100 days of Malaysia's new Pakatan Harapan government, headed by Prime Minister Mahathir Mohamed.The decision to repeal the Anti-Fake News Law "not only shows that the Pakatan Harapan government is serious about its promises to strip controversial laws from the legal books, it also sends a signal to the wider region that positive human rights change is within reach," Baguilat said in an official statement.
"This is a law that was clearly designed to silence criticism of the authorities and to quell public debate – it should never have been allowed to pass in the first place," he added.
Baguilat said the country's officials should continue to address controversial laws passed and implemented under the Barisan Nasional government, which governed Malaysia for more than 60 years.
"The Malaysian authorities should now follow up and repeal all other repressive laws, including the Sedition Act," he said, referencing a longstanding law that the United Nations and human rights groups have criticised for threatening citizens' freedom of expression.
"This must also be a wake-up call for other Asean governments to follow suit and ensure their legal codes are not used to restrict human rights," he added.