The tour kicked off at sunset at the top of the steps of Phnom Penh's Olympic Stadium, with a salted duck egg and a thin plastic cup filled with ice and sugarcane juice – in a plastic bag with a handle, ubiquitous on takeaway beverages in the capital. Then guests descended to the stadium market to sample nom banh chok, a Khmer comfort food of coconut broth, turmeric, galangal, sliced banana blossom, cucumber and fresh herbs on a bed of rice noodles.
These and many more Cambodian staples are featured on the all-inclusive tuk tuk food cruises of the Khmer capital being arranged by the newly christened Phnom Penh Food Tours, from the expats who have run Siem Reap Food Tours since 2015.
Cambodian cuisine is an enigma to the uninitiated, and that's partly because of a fear of three words: fermented fish paste – or "prahok", in Khmer. Because prahok is the backbone of the cuisine, newcomers can be squeamish, and locals often aren't very helpful in breaking that fear.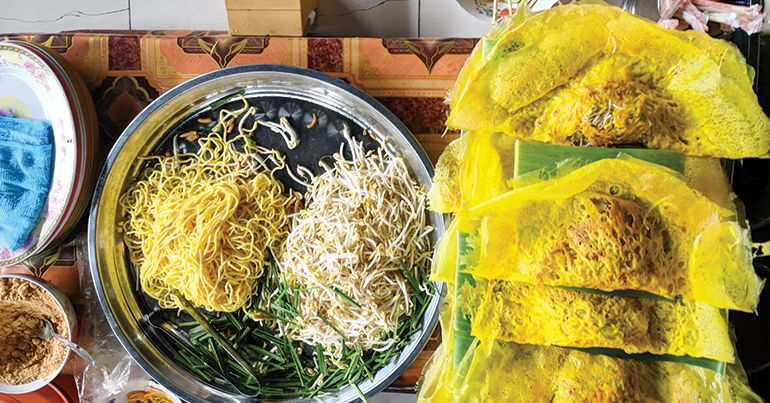 "Cambodians are careful to shield visitors from fermented fish," said Steven Halcrow, the Scottish chef who developed the tour alongside his partner, American writer Lina Goldberg. "Foreigners have gravitated away from [the cuisine] because they don't like the phrase fermented fish. Cambodians have seen that and said foreigners don't like Khmer food. That's led to a confusion about what Khmer food really is. When tourists come here, they're given a dumbed-down version of the food."
But prahok is nothing to be feared, said Halcrow, who always points out the big buckets of gray goop to guests he takes into markets.

"We always show this to people. It is very palatable," said Halcrow. "Very few people don't like it. I always use the comparison of a bouillon cube, and they're not adverse to that. Prahok is doing the same thing, providing a base for the other flavours to ride on. Without it, you have these bland ingredients sitting in a bowl."
Fermented fish is not the only thing that gives visitors the creepy-crawlies. Halcrow and crew have plenty of myths to dispel – assuring guests they're not trying out for a game show.
"We do not run a Fear Factor-style food experience," he said. "Many people who visit Cambodia expect everyone to be eating tarantulas and crickets because that is another element of the way Cambodian food is perceived around the world."
The pair's Siem Reap Food Tours has picked up accolades from the New York Times, Vogue and the British press, and they recently decided to expand to the capital, where they've been training new bilingual Khmer staff and are continually trying out new restaurants and food stalls for their guests.
Halcrow's carefully refined process of choosing which food experiences to include on the tour sounds like a culinary adventure in itself. It helps that he is fluent in Khmer, which took him two years to learn. Eventually he was able to have conversations with market vendors, food stall operators and restaurant workers. That serves him and the business well as they take their show off the well-trod tourist paths.
When choosing food experiences, they look for a few key elements: food freshness and flavour, approachability and friendliness of a place, good service, and safe food practices and cleanliness. Steaming pots are a good sign, some sort of heat source or a smoking-hot wok – "if your food's coming straight out of that, it's safe", Halcrow advised. "Also, places with a lot of people sitting around them, the food is fresh." They'll visit a location three or four times to make sure it hits all the right marks consistently before adding it to the tour.
From Olympic Stadium, the intimate food tour's two hired tuk tuks, each with its own guide – Jen, an American, and Sokha, a Cambodian-American – whisked two couples across town for the second stop, a large outdoor green space nestled in the shadow of a highway overpass. The lawn, surrounded by food carts, was filled with couples, families and young people eating street food and drinking sodas and beers on blankets provided by the vendors.
Jen and Sokha put orders in at various carts, and soon containers filled with steaming local delicacies were placed before the guests. Dishes included easy-eating comforts like grilled dried beef, water buffalo, chicken wing tips and dried squid, along with papaya salad and toasted baguette with which guests built sandwiches. And then there was more adventurous fare like skewered intestines and other organ meats – and the de rigueur stuffed frogs.
The tour continued to a quiet market to try the infamously stinky and off-putting durian fruit, a first sampling for most of the guests. Next up was an air-conditioned barbecue restaurant where guests dipped succulent pork and beef cuts into the deceptively simple tuk meric, a slurry made of salt, pepper and lime, washing it down with several iced bottles of Angkor and Cambodia lager.
Then it was back onto the tuk tuks, which whisked the diners to the final stop of the night, a lively late-night sidewalk cafe where they shared heaps of tuk kak chhous, the traditional shaved-ice dessert. They savoured the treat, drizzled with condensed milk and coconut milk, and topped with a variety of tapioca noodles, custards, jellies and sticky rice porridge, before parting ways with full bellies and, perhaps, more courageous palates.
Morning and evening food tours in Phnom Penh are $65 per person and can be booked at phnompenhfoodtours.com.