The new leader of Malaysia's opposition coalition, Mahathir Mohamad, recently stood over a crowd of his supporters at a rally in Kuala Lumpur and admitted that allowing incumbent Prime Minister Najib Razak to rise to power was the "biggest mistake" he had made in his life.
"Ladies and gentleman, I want to fix this mistake so I am trying my best," the 92-year-old former prime minister said.
But for those disaffected by the countless scandals that have swarmed Najib's tenure since he came to power in 2009, is Mahathir really going to be the catalyst for change, after having spent 22 years at the top of the political tree while ensconced in multiple controversies?
Last year, the political scene in Malaysia was rocked when Mahathir announced an unlikely alliance with the opposition coalition Pakatan Harapan (PH), vowing to rid the country of his former protégé Najib. It emphatically ended Mahathir's lifelong commitment to the United Malays National Organisation Party (UMNO), which has dominated Malaysian politics since the country's independence in 1963, and in the process set up a clash-of-the-titans showdown at the upcoming election on 9 May.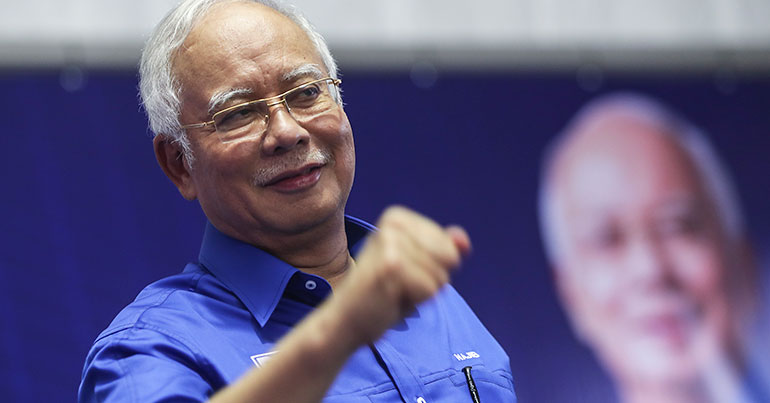 Old powers contesting old powers
Malaysia's political landscape is predominantly split between two main coalitions, Barisan Nasional (BN), of which UMNO is the biggest party, and PH. The Pan-Malaysia Islamic Party's break with the opposition coalition in 2015 and its announcement that it will contest 120 seats at this year's election has opened up a possibility of a three-way contest, but most political analysts still believe that this election will be a pitched battle between Mahathir and Najib – two old allies turned enemies, two giants of the political world.
"To some extent, it does look like old powers contesting the old powers. Will there be a big change in Malaysia if the opposition wins?" wondered Khoo Ying Hooi, a senior lecturer at the University of Malaya. "There will be change for sure, but to what extent, it is uncertain."
She added: "For Malaysia to really move forward, I would certainly hope we could do away with the obsession of personality and open up to accept new talents and personality. At the same time, also do away with the heavy reliance on partisanship, the notion of choosing between either BN or PH."
In its manifesto, PH has proposed sweeping changes to counter corruption, such as limiting the prime minister's office to two terms, restructuring the prime minister's department and strengthening the Malaysian Anti-Corruption Commission.
Although there are similarities in terms of economic policy, it strikes a notable contrast with UMNO's manifesto, which focuses more on improving the responsiveness and delivery of the public services, and includes a commitment to upholding a controversial law banning 'fake news'.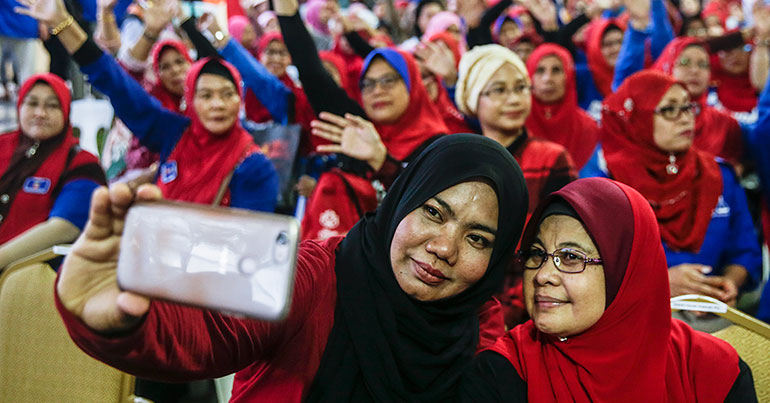 During Mahathir's time in power, the country saw a period of modernisation and economic growth, fuelled by his ambitious infrastructure projects. But he was also embroiled in numerous controversies. In 1987, 106 people were arrested under the Internal Security Act – among them activists, students and artists who were subsequently tortured in an operation known commonly as Ops Lalang. The government at the time said it had acted to prevent race riots, but that has been strongly contested by many of Mahathir's critics, who have suggested that it was used to stifle political dissent.
In a 2017 interview with the Straits Times, Mahathir said that he regretted the incident but did not go so far as to apologise for it.
"I accept the blame even though the detention was not my decision," he told the Singapore-based newspaper, blaming the incident on the police. "I am now told that detainees were tortured. I regret that the detainees in Ops Lalang were tortured. This is against the law."
Questions remain over the extent to which Mahathir has changed since his days in power. One person who has been convinced is Anwar Ibrahim, former deputy prime minister during Mahathir's reign, and the man Mahathir jailed on sodomy charges. In a statement to reporters earlier this year, Anwar, who is once again in prison on the same charge, gave his full backing to Mahathir, saying that "he is a changed man and is committed to the reform agenda".
Anwar Ibrahim
Having previously worked in Mahathir's government in various roles, Anwar was jailed by his prime minister in 1999. Upon release, he set up the People's Justice Party, which has been a constant competitor to UMNO ever since.
In a move that many have deemed political, he was once again jailed in 2015 on the same charge of sodomy. He is due for release on 8 June this year, with his new, improbable ally Mahathir promising that when he is released, he will cede his place as prime minister and allow Anwar to take up the role.
But unless he is granted a royal pardon, Anwar will be barred from politics for another five years when he gets out. Mahathir has stated that he will seek such a pardon.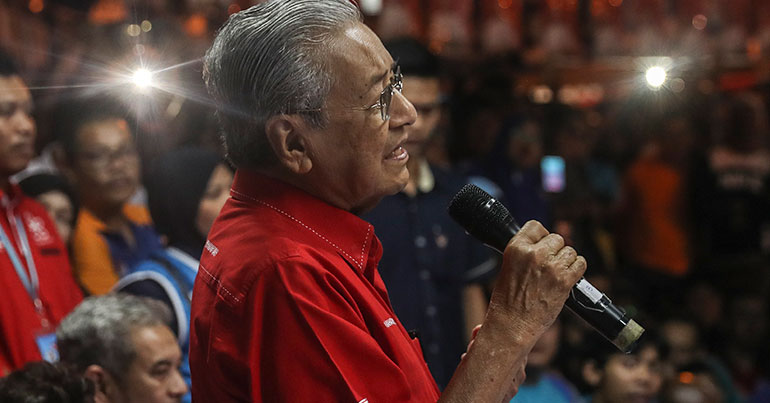 A time for change
In the previous election, in 2003, PH won the popular vote despite ultimately losing the election, as Malaysia operates in a first-past-the-post system. If the coalition can go one better this time and win, the country will be reinstating two former UMNO members.
Next week, Mahathir will learn whether he will have the chance to atone for his "biggest mistake", and once again take his place on Malaysia's political throne. Although it will be two familiar faces going head-to-head, it will also represent an opportunity for an unprecedented changing of the guard, something that has not happened in all of Malaysia's 55 years as an independent country.
"In a broader perspective, it signals that finally we get to see a change in the government for a start. Some are skeptical of [the fact that] we are still going to work in the same "regime" as it will still be Mahathir as the prime minister, and we might be back to square one with a similar style of leadership," Ying Hooi said.
She added: "But I would take a different perspective in this, where I hope we can have a much better check and balance if that happens. That then signals that the civil society groups would need to heighten up their roles and [become] a much stronger force."