Since launching its pilot programme in 2016, SolarHome has helped Myanmar find alternative energy options by providing unprecedented electricity access to underserved households. Ted Martynov, the company's CEO, broke down SolarHome's business and the energy situation in the country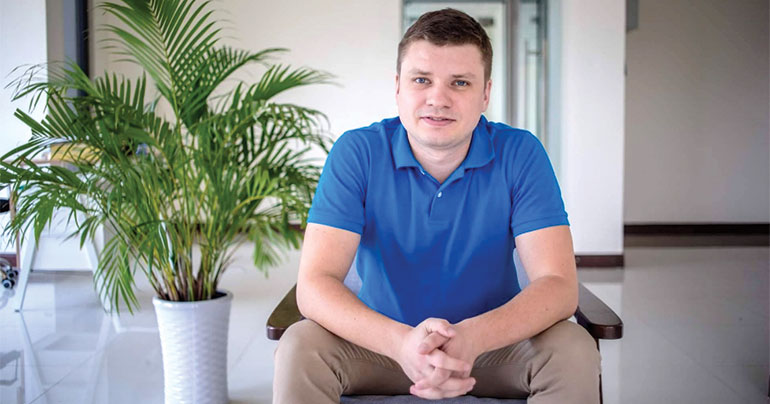 Tell us about SolarHome…
SolarHome is one of the first distributors in pay-as-you-go solar for off-grid households in Southeast Asia, starting with Myanmar. We provide affordable rent-to-own solar home systems (SHS) to bottom-of-pyramid consumers living outside the electrical grid. Using widely available mobile phones, consumers can make regular payments on their mobiles to top up their systems for two years before assuming complete ownership of their [solar home] system.
Why did you choose to do this work in Myanmar?
The Myanmar market presents a huge opportunity for us, with eight million households living off-grid in rural areas. Rural Myanmar, where over 80% of households remain off-grid, is a perfect example of a deep off-grid market in Southeast Asia, where in just the past five years, an estimated 70% of off-grid households installed low-cost, low-quality component solar home systems, or just simply a battery with some LED lights in the house.
[InspireAsean2018]
How would you describe your business strategy?
SolarHome's proposition lies at the intersection of a few highly exciting trends, such as financial inclusion, renewable energy, digitally enabled lending and Southeast Asian economic growth. The pay-as-you-go, rent-to-own system leverages a growing trend in rural communities throughout Southeast Asia: the adoption of mobile devices. Backed by our deep experience in emerging markets' consumer finance and digital payments in the Ukraine, where our co-founders are from, we're in a unique position to leverage the existing technology. High mobile ownership lowers the operational costs of reaching remote communities and gives companies like us access to a previously untapped consumer group.
[manual_related_posts]
What's next for SolarHome?
We plan to expand our product line and distribution networks in Myanmar. We are currently piloting our mobile money top-up application, which we intend to switch to from our existing scratch-card payment mechanism. Ultimately, our aim is to reach 40,000 households by the end of 2018.
This article was published in the May edition of Southeast Asia Globe magazine. For full access, subscribe here.