Luang Prabang
'The refuge of the last dreamers'
This small wonder in the north of Laos is a designated Unesco World Heritage Centre with the Mekong running right through it. It's surrounded by green hills and its colourful streets are lined with temples, colonial buildings and bougainvillea trees. It is, in the words of Marthe Bassene, "the refuge of the last dreamers"
[Brought to you by SilkAir]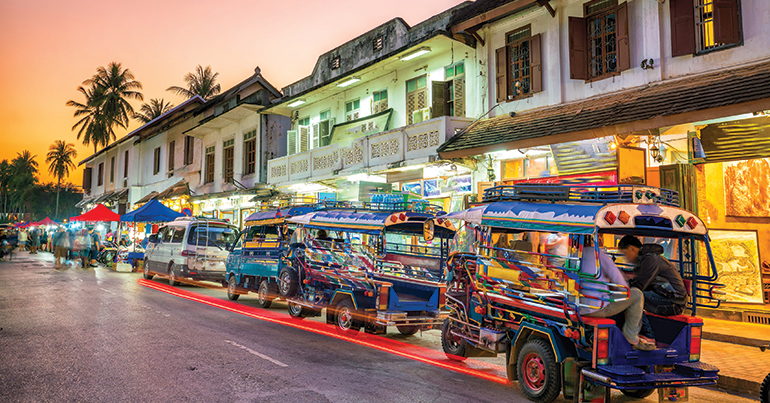 What
to do
Time often feels like it is standing still in the town of Luang Prabang, its otherworldly feel shared among travellers passing in the street. The mornings come alive as you make your way to the main drag for tak bat, the ancient alms-giving ceremony with processions of monks carrying offering bowls. The offering is usually food that will serve as the monks' daily meal. The ritual takes place in total silence and has become a major attraction for tourists – who are advised to respect local etiquette.
The Luang Prabang Royal Palace became a national museum after the overthrow of the monarchy by communists in 1975. Visitors are first greeted by a sprawling garden, and then find Lao architecture and art mixed with French colonial style. Behind the palace is a garage housing a collection of vintage cars that once belonged to the royals, near the odd sight of two old private Shell gas pumps.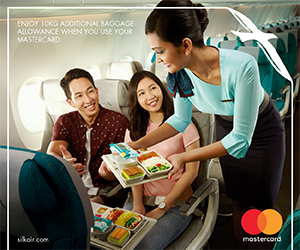 Not far from here is Luang Prabang's sacred Mount Phousi. It's 355 steps to a magical 360-degree view at the summit, which gets crowded close to sunset with visitors congregating for the money shot. Throughout the descent, you see small shrines, cave temples and imagery recounting tales of Buddha. One cave has a giant footprint that is said to have belonged to Buddha himself.
The town can be seen easily by foot or bike. Take yourself to the main street, filled with curio shops and cafes. The higher-end Lao-French restaurant Tangor stands out with its laid-back ambiance, great music and décor, and vintage posters. For authentic Lao dishes like chicken larb and or lam, head to Big Tree café, a five-minute walk from Tangor on the riverside. There are numerous alleys waiting to be explored, and you are never truly lost on the streets of Luang Prabang.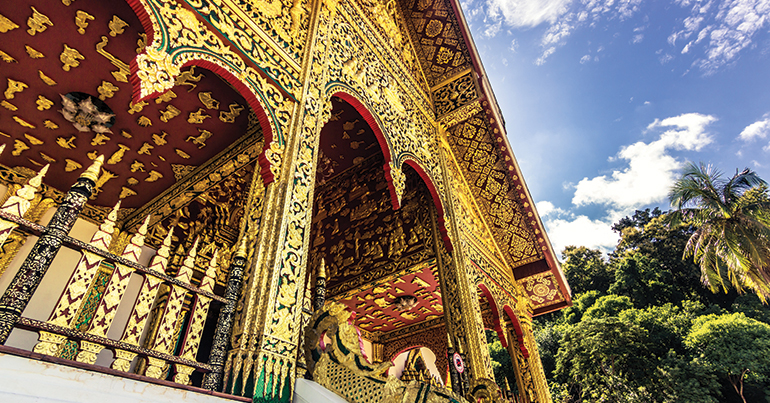 Where
to stay
Sofitel Luang Prabang is nestled in a quiet residential neighbourhood in what was originally built as the French governor's residence in the early 1900s. The property, one of the oldest in the Sofitel collection, was transformed into a hotel in 2010 and fully restored in 2015 in time to celebrate the 20th anniversary of Luang Prabang's Unesco designation. The hotel's 25 suites each come with a private garden and an outdoor bathtub under a pergola, while the pool villas have a private plunge pool. The standout main pool stuns with its amethyst tiles, reflecting both the cultural heritage and the French colonial architecture of the time. Other features include an ornamental garden where two rabbits hop around all day long, a daily breakfast buffet, a spa and a 24-hour gym. Guests take weekly cooking classes where they learn how to make Laotian dishes with produce grown on the property.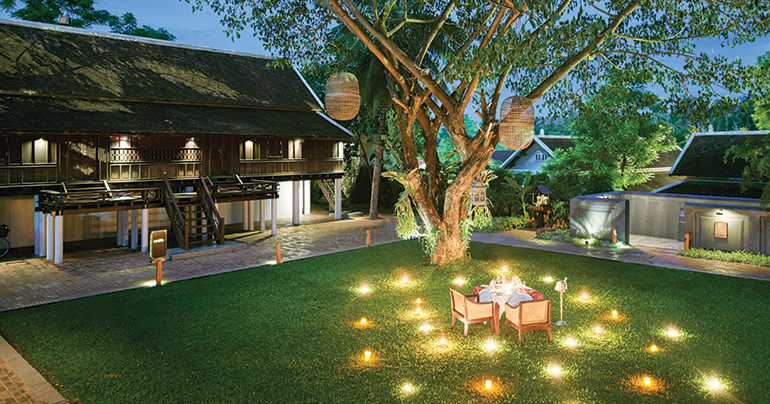 The Governor's Grill offers Western and Lao dishes centred around the ornamental garden. Guests can dine indoors or in an intimate tented area at night. Don't miss the Library, a quiet space where guests can relax with a book and vintage wine by the fireplace.
Head to the traditional Lao building that houses Le Spa's calming ambiance in three private rooms that can be booked by couples. Its pampering menu includes full-body, foot and head massages. Le Spa's skin and beauty treatments feature ancient Lao techniques along with French, Swedish and Indian Ayurveda treatments with modern products and organic Lao creations.
The hotel's location is just right: not too far yet not too near the town centre, a 15-minute stroll that takes visitors through charming local neighbourhoods. Sofitel shuttle buses also move guests between the hotel and city centre in the evening. But as a pedestrian-friendly city, the best option is to take a bicycle from the hotel, giving you free reign to discover all the little nooks and corners of this quaint town.
This article was published in the December 2018 edition of Southeast Asia Globe magazine. To subscribe to our newsletter, click here.
SilkAir and Singapore Airlines fly to the Greater China region, Japan, South Korea and all 10 countries in Southeast Asia. For more information on these exciting destinations, please log on to www.singaporeair.com/silkair
Read more exciting stories at SilkAir – A Joy to Fly!

---
---
---
Read more articles