As extreme heat settles over the region, tensions have reached a boiling point in the Rohingya refugee camps of Bangladesh.
Accounts of murder, human trafficking, domestic violence and increased militancy from armed Rohingya groups have become routine. A number of major fires, suspected to be the work of arsonists, have caused mass homelessness since the beginning of the year. And straining things even further, in March, the World Food Programme (WFP) announced a nearly 17% cut to the refugees' monthly food vouchers.
Legally restricted from getting jobs in Bangladesh, blocked from re-entering Myanmar with citizens' rights and with little chance of being resettled elsewhere, many of the roughly 1 million Rohingya living in the crowded camps of Cox's Bazar are making plans to flee by any means necessary. Besides the many who have already cast off into the Andaman Sea on rickety boats, nearly a dozen refugees who spoke with Southeast Asia Globe told of community aspirations such as obtaining false documents to integrate into Bangladesh society or even attempting to cross back into their native Rakhine State of Myanmar, despite the spiraling conflict there following the 2021 military coup.
Camp resident Abdul Hamid* said he was motivated to return to Myanmar because of his four-year-old son. Explaining that he himself has a university education, he saw no prospects for his child to have a good life in the camps and feared the consequences of staying there.
"I have a very talented and intelligent young boy and I know his future would be better if I could just leave camp," he said, adding that his personal safety was also a concern. "I fear for my life in the camps, as extremists may target educated people."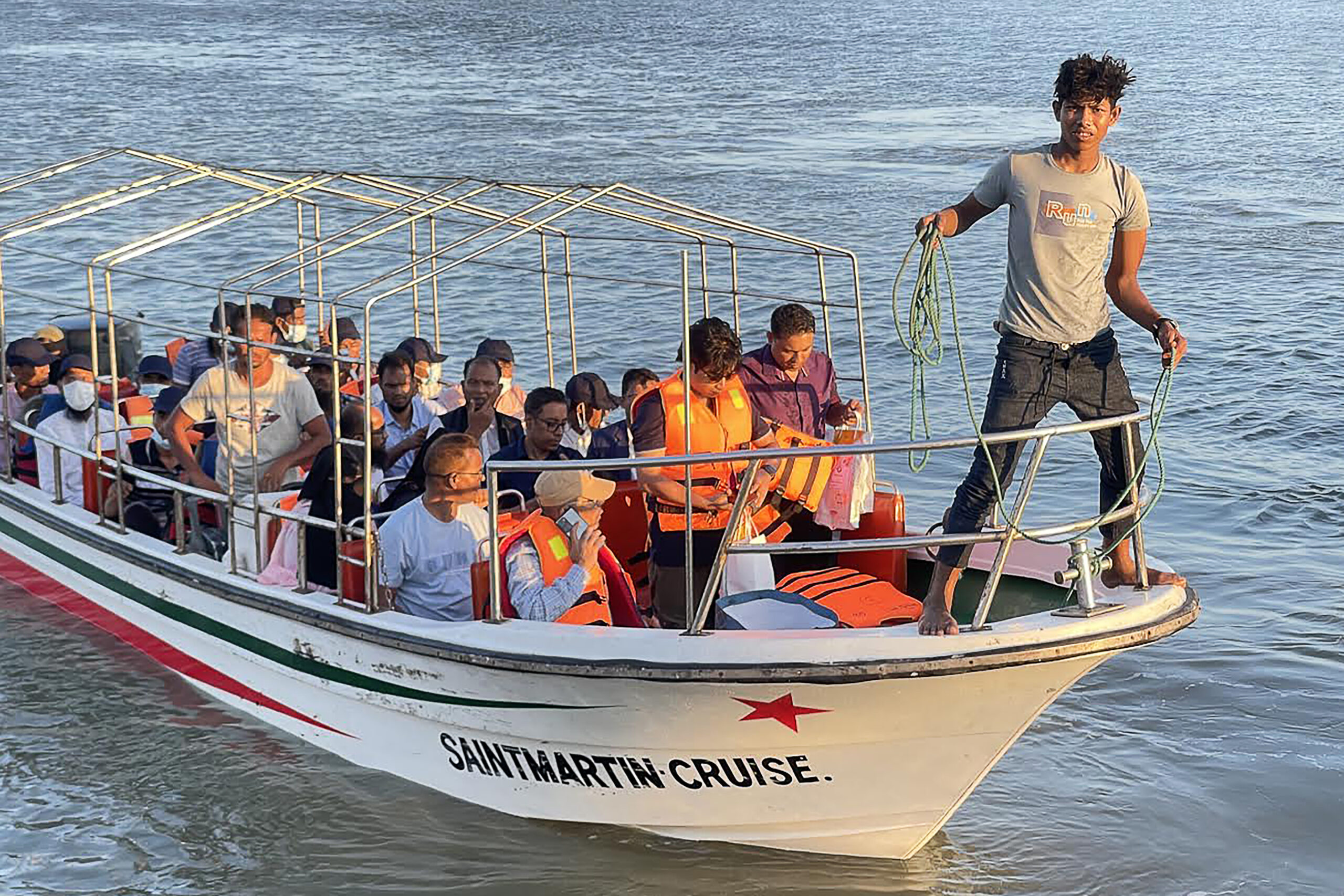 Crossing back into Myanmar was a consideration for many who spoke with Globe. But Nay San Lwin, co-founder of the Free Rohingya Coalition advocacy group, said this is a dangerous move.
"Repatriation without guarantees of ethnic and citizenship rights, the right to return to original villages, freedom of movement, and equal rights as other ethnic groups is like returning to the killing field," he said.
In 2017, more than 750,000 Rohingya fled in a mass exodus from Myanmar's Rakhine State across the border to coastal Cox's Bazar. Since then, conditions in these densely populated camps have steadily worsened.
This deterioration is paralleled by escalating hardship across Myanmar, where the ruling junta has carried out mass killings, arbitrary arrests and other abuses in a bid to defeat several insurgencies and consolidate its rule.
Plans from the government of Bangladesh to resettle the refugees in their native Rakhine State of Myanmar has been widely condemned due to human rights concerns there, particularly the military junta's continued repression of Rohingya residents. As the violence continues to escalate, the prospect of a safe repatriation feels more distant by the day, leaving those in Cox's Bazar with seemingly no good options.
Many Rohingya have tried to gain sponsorship to countries such as the U.S., but have failed. An increase in dangerous, and often fatal, sea journeys to third countries, such as Thailand or Malaysia, has been widely reported.
"There's no doubt the situation has become much more desperate in the camps, with the food ration cuts, increased violence, restrictions on livelihoods and increased Bangladesh government repression of refugees' rights," said Phil Robertson, the deputy Asia division director of Human Rights Watch. "These factors certainly play a major role in pushing more Rohingya to risk the perilous sea voyage to Malaysia, where they hope to find respite from oppression and earn a living to support their families back in the camps."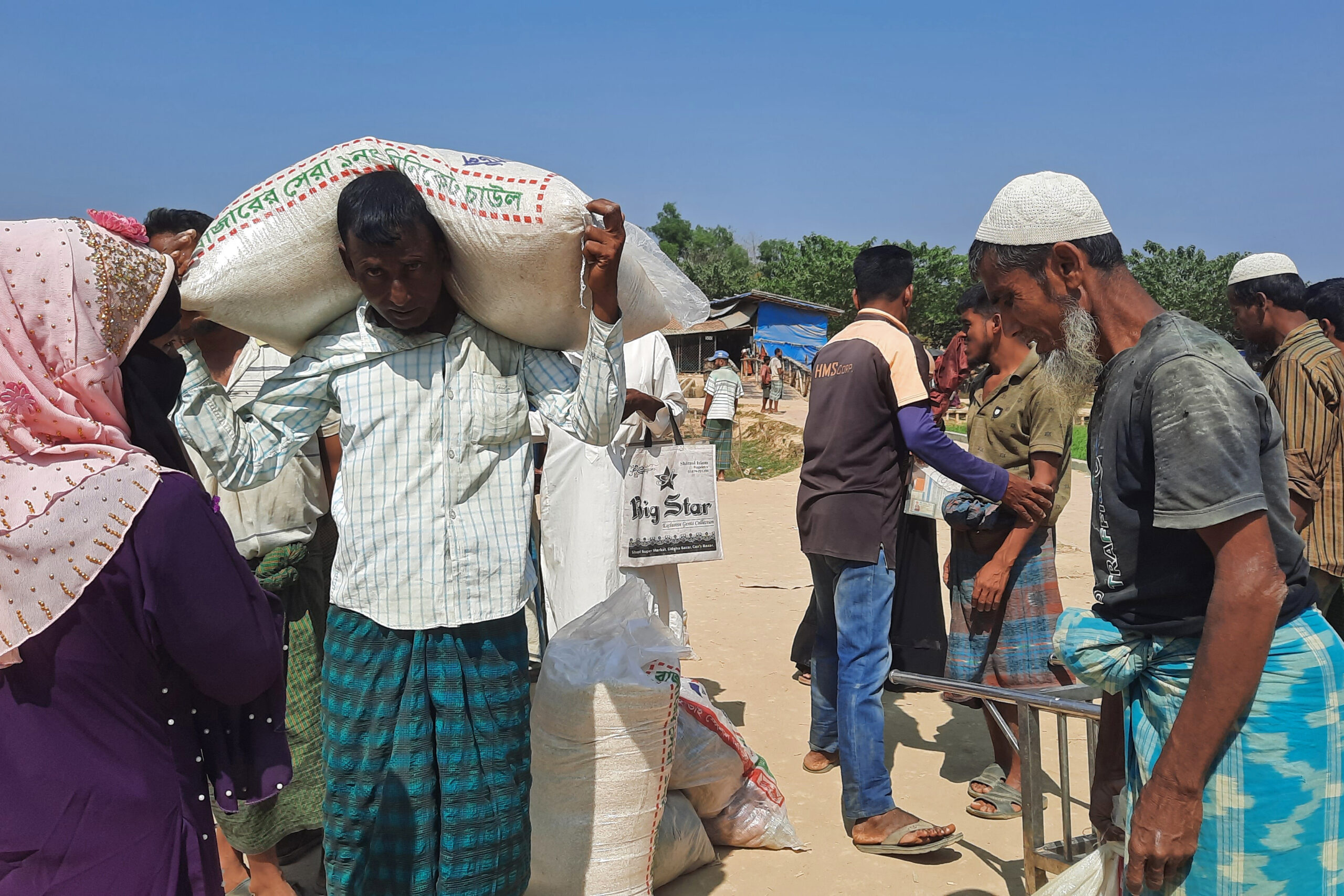 'It is normal to hear gunshots at night'
Along with the fear of forced repatriation, the Rohingya population are also worried about violence allegedly at the hands of armed groups in the camps that are increasingly battling for dominance.
In early January, a majhi – or camp leader – named Rashid Ahmed was stabbed to death.

The following day, the son of a deputy majhi, Mohammad Selim, was shot dead. Since these murders, at least seven more reported murders of Rohingya community leaders have taken place in the camps or nearby. Several more apparent assassinations may appear on Twitter but not even on the local news.
Bangladesh authorities allege the Arakan Rohingya Salvation Army (ARSA) is behind some of the killings, operating in rivalry with the Rohingya Solidarity Organisation (RSO).

"It is normal to hear gunshots at night," said Mohammad Hassan, another camp resident. "In camp, the violence of armed gangs is increasing day-by-day. The armed groups kill, kidnap, and conduct other illegal activities."
John Quinley, director of non-governmental organisation Fortify Rights and a Rohingya rights advocate, said fear is "palpable" among camp residents – and directed both at militants and authorities alike.
"Our team has documented human rights violations by [the Armed Police Battalion] in Cox's Bazar including arrest, beatings and extortion," said Quinley, adding that his organisation had uncovered murders and abductions of community leaders.
Quinley places some responsibility on the government of Bangladesh for the situation.
"Ongoing Bangladesh government-imposed restrictions on refugees legal status, freedom of movement, and access to livelihoods as well as deteriorating security situation in the camps are some of the reasons Rohingya are leaving for countries in ASEAN," he said.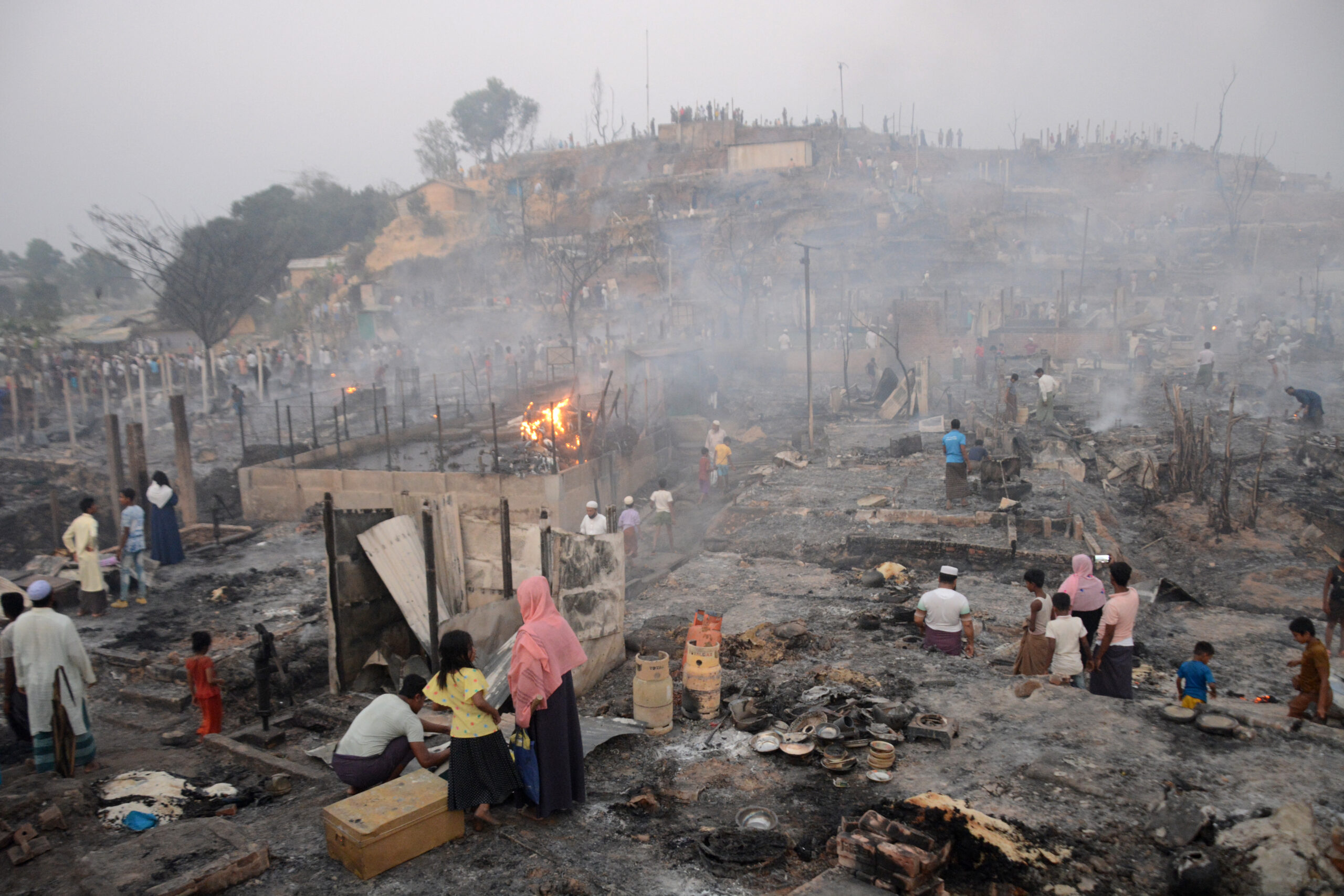 In March, massive flames ripped through the Balukhali camp in Cox's Bazar, destroying more than 10,000 shelters.
Besides leaving thousands homeless, the fire also gutted essential services including safe spaces for women. A series of smaller fires have broken out since.
"The fire caused a lot of damage to shelters and infrastructure, which has left thousands of people homeless and without access to clothes, food and water," said refugee Mohammad Riyas. "The camp is already in such a bad way. The fire has been devastating … now we live in fear of another source of hardship."
The fires are also likely to have been started intentionally by armed groups within the camp in an act of orchestrated sabotage, adding to fears within the community. This possibility, which some investigators say is highly likely, is currently being researched.
Another strain on the Rohingya, further adding to their distress, was the WFP's February announcement that it was cutting the food aid of the refugees from $12 per person down to $10. The UN agency cited a large drop in funding internationally as the main reason for this change, as the WFP is facing a $125 million funding shortfall.
"The aid situation [in the camps] is not enough, even though the WFP says it is enough. The price of the materials is higher than before, and all are struggling to survive," said refugee Hassan.
Amin, another Rohingya rights activist residing in the camp, said the available rations consist of only rice, lentils and spices.
"We have been facing so many diseases, as we can't eat healthy food," he lamented. "We feel like prisoners eating food that is served in jails."
Given the deteriorating conditions in the camps, Amin said the refugees saw little choice but to seek other places to live.
"How would you feel in this camp?" he asked. "What would you feel in this situation? I think you would try to move somewhere else, where you felt free and safe."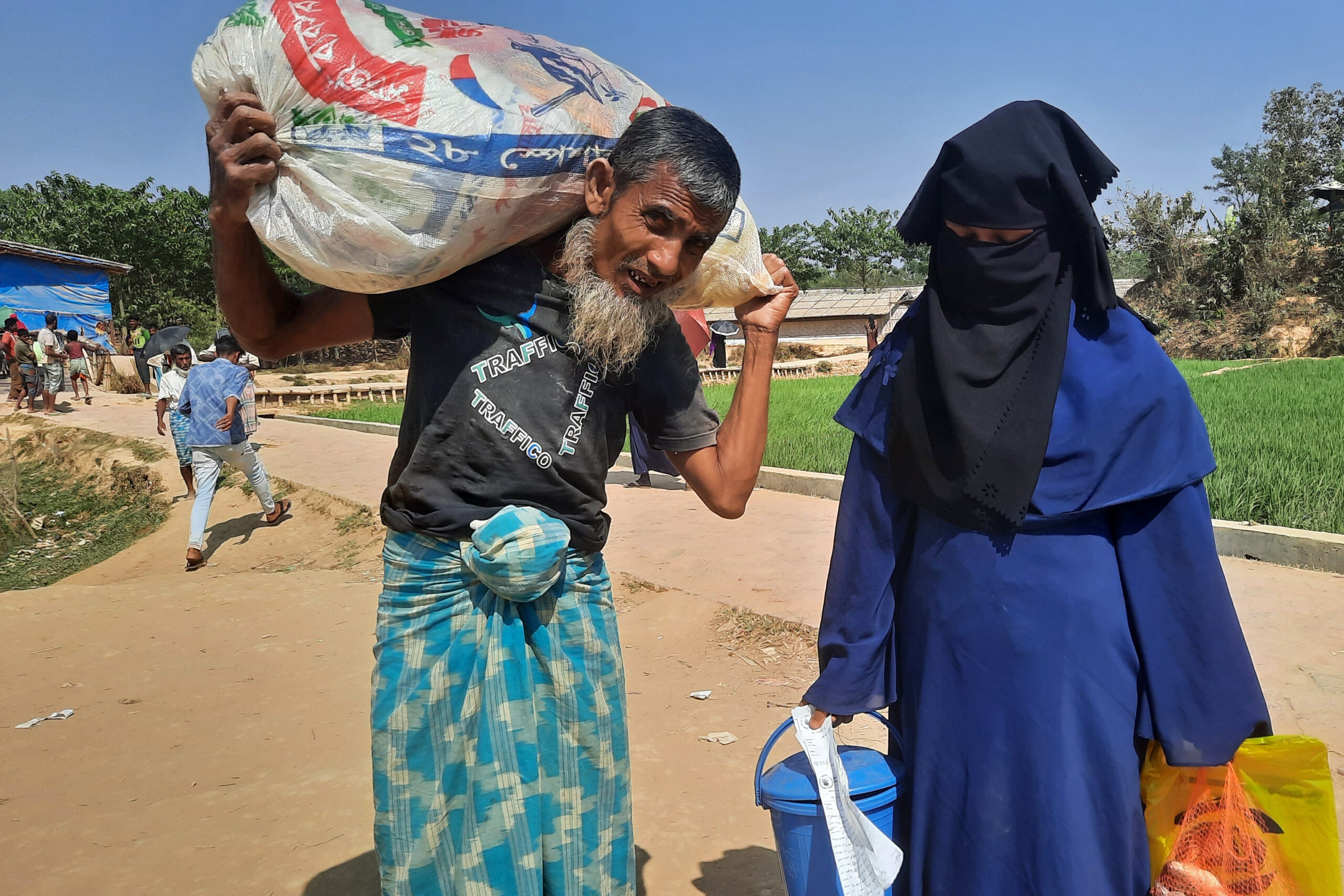 Movement with no escape
Some of the camp residents have opted to move to Bhasan Char, an island about 60 kilometers from the Bangladesh mainland.
Windswept and desolate, the island has been used since 2020 by the Bangladesh government to rehouse some of the refugees to relieve pressure in the camps.
Rohingya activist and community member Salim Islam* feels safer living on Bhasan Char. He moved there with his family in 2021 to avoid ARSA, which had yet to establish a foothold there. Salim said the militants targeted him not only for extortion but also recruitment, due to the high level of education he attained in Myanmar. 
"Most of the members of ARSA are not highly educated, so they wanted me to conduct advocacy for them," he said. "They also threatened me and my family when we refused to pay a fake 'tax'."
At the same time, life on Bhasan Char offers little in terms of long-term stability to its inhabitants. Even if the island offers some respite for now, many in the mainland camps see it as yet another bad option laid out before them.

Whether those in the Cox's Bazar camps choose to smuggle themselves back into Myanmar or board a ship to Bhasan Char or some other, farther destination, many of those who spoke with Globe were desperate to get away somehow.
"I don't want to stay here," said camp resident Aung Myint, an activist and reporter who had tried unsuccessfully to gain permission to go to the U.S. "This life that I am living, it is like a prison for me. It is like a jail. So definitely, I have to leave here. I have to."
*Some names have been changed due to personal safety concerns.
---
Dayna Santana Pérez is a researcher and humanitarian program director.