The Asean Para Games may have inspired the region's disabled athletes, but their enthusiasm is not matched with the necessary financial support
By Bridget Di Certo   Photography by Philip Heijmans
Nobody knows how many disabled people there are in Myanmar. Decades of civil war and military governments more interested in power than in people have left Myanmar's disabled population by the wayside. But hosting the 7th Asean Para Games in January saw the country develop world-class facilities and gold-medal-contending teams – all from scratch.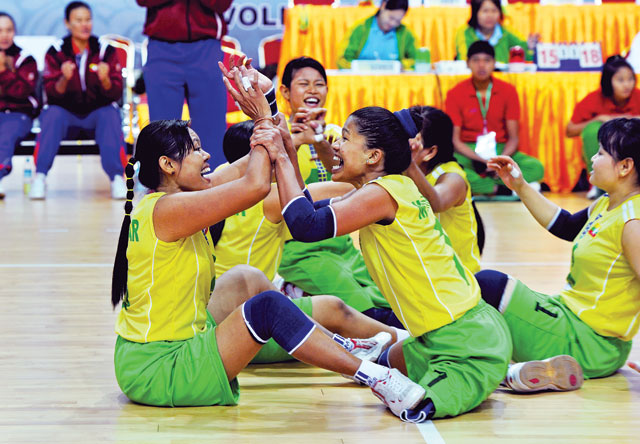 Largely due to the nation's determination to catch up to its Asean neighbours, Myanmar emerged with an epic medal tally of four golds, 26 silvers and 36 bronzes, coming in fifth on the overall tally behind Asean athletics heavyweights Indonesia, Thailand, Malaysia and Vietnam.
"Facility-wise, this [sports complex] is fantastic, world-class," Malaysian technical delegate Irene Chang says on the sidelines of the sitting volleyball final between the Myanmar and Indonesian women's teams. "Myanmar has all the equipment required, all the facilities and logistics that can be used to run international events. The only thing they need is to train and educate the local people here about how to organise these sports. They are lacking in technical ability. The people here involved in the para games are very, very new [to it]," says Chang, who also serves as the deputy secretary-general of the Asia Oceania Committee Volleyball for Disabled.
The Myanmar volleyball team ultimately loses the final but, raising her voice above the cheers of the fans, Chang points out that for countries such as Myanmar, winning isn't the only goal.
"Wherever there is a Para Games it leaves a great impact on the government and on the public in general," she says. "For example, when they held the Beijing Paralympic Games in 2008, it left a real impact on Beijing and people started to become more aware of their power to empathise and sympathise with disabled people in their community. And then the facilities were improved upon, and accessibility to those facilities improved."
The newly inaugurated Wunna Theidki athletics stadium in Myanmar's capital, Naypyidaw, provides a host of disabled sporting facilities. Spread over five huge arenas and nearly a dozen smaller buildings, Wunna Theidki was built to impress. Like the rest of Naypyidaw – the administrative hub of the country – Wunna Theidki is huge, occupying a massive plot of land that necessitates travel by bus to cover the large distances between facilities.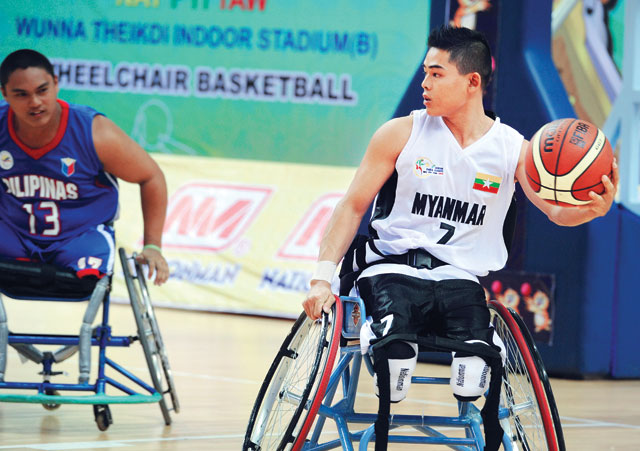 Nearly 2,000 athletes from the 11 competing nations contested January's games and, prior to the event, Myanmar did not have official disabled sporting teams for the majority of the events. The Asean Para Games are modelled on the Paralympics and athletes have mobility disabilities, visual disabilities, amputations or cerebral palsy. During Myanmar's first time hosting the games, athletes competed in 12 disciplines: archery, boccia, blindfold chess, seven-a-side football, five-a-side football, goal ball, power lifting, table tennis, sitting volleyball, wheelchair basketball and the multiple swimming and athletics events.
Myanmar's disabled have long been forgotten by a government that gives population figures for the group at anywhere between 2% and 10%. In neighbouring Thailand that figure is 2.9%. In Cambodia it is 4%, and in Laos, the World Health Organisation puts the figure at 10%. The relatively high proportion of disabled people is a constant across a region plagued by legacies of wartime bombardments, civil unrest and under-developed medical infrastructure.
Due to this state of affairs, Chang and many other technical delegates at the Para Games stressed the importance of the event, not just for the athletes competing, but for all disabled people. However, the tremendous impact that hosting the para games has had on the host country's relationship with its disabled population has not been reflected in the funding or in the promotion that disabled teams receive, Chang says.
"A lot of countries don't have the budget to send teams to the para games. Often, unless they are prospective gold medallists, they will not send anyone," she explains. "For example, East Timor didn't make it here because of financial problems. Even Malaysia, it is the same – they were being selective about who they sent."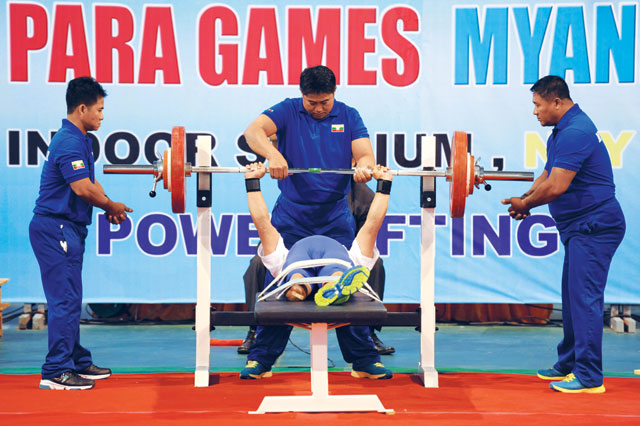 A lack of initial government funding means a lack of awareness and, ultimately, a lack of sponsors – something that has a huge negative impact on such events, according to Thai powerlifting team manager Sakhorn Somsoon.
"Every country is the same. People don't understand the para games because, as in my country, the sponsorship is very low, so the promotion is very little,"she says.
Somsoon does add, however, that recognition for the para games has been slowly improving during the decade that she has been team manager for Thailand's male and female disabled powerlifters. At the powerlifting meet, Indonesia smashed the previous games record of a 180kg lift in the 80-88kg category, pushing 191kg. A small but ecstatic crowd cheered on the victory that was televised live on Myanmar national cable television.
"We have to work very hard in this competition. Powerlifting comes from here," Somsoon says, touching her chest to point to her heart. "If you don't love it, you don't want to do it. It's not just training. You will see in every team if there is someone who is new, you can see if they have it in their heart."

Keep reading:
"Common goals" – Myanmar's female footballers battled prejudice as they developed their game, but the sport has provided empowerment and a bittersweet taste of glory