Aein Daw Bar Tha sits on a plastic chair in Thuwanna Stadium in Yangon. He is a monk from a nearby monastery, and from his seat he watches Myanmar's national women's football team complete their morning training.
"The girls are good and they play for the country. If they keep playing this well, they will soon be playing against international teams all over the world," he says.
To this end, the women's team trains hard, twice a day, for three hours in the morning and two hours in the afternoon. However, the lack of a women's league means that their matches are sporadic, despite their professional status, with their Japanese coach Kumada Yoshinori trying to organise a weekly game against youth teams from the Myanmar National League.
Aein Daw Bar Tha has been watching the girls play since 2006 and he knows a lot about them. "The captain of the team, San San Maw, is injured so they temporarily have a new captain. The captain is now Moe Moe War, [who wears] number four," he says.
Moe Moe War is in her early 30s and has been training with the national team since she was 14. The path to becoming a professional footballer was difficult: Her brothers did all they could to discourage her from playing.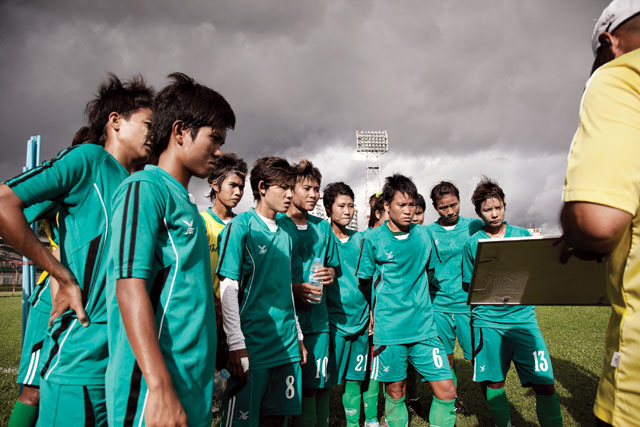 As a youngster, football was Moe Moe's main hobby and she was good at it. She played a lot in her village, often with her younger sister Khin Marlar Tun. They lived in southeastern Mon state, where it was very unusual for girls to play football. According to Moe Moe's brothers, the girls were an embarrassment to the family. It was made clear to the sisters that their interest in football would not be tolerated.
"They beat us if we played football and if our brothers knew that we were outside somewhere playing, they chased us with a stick," recalls Moe Moe, the eldest of seven siblings in her family.
Despite Moe Moe being the eldest, her brothers ruled the house. If she had followed the path they had in mind for her, she would now be at home, cooking and doing chores, maybe helping out in her parents' small shop.
Moe Moe kept playing, regardless of the beatings, and was scouted for the national team at age 14, when she was still in school. This acknowledgement only strengthened her resolve and she trained hard. Seven years later, in 2006, she was selected to play for the national side. Her younger sister also made the team. It was only once international caps came the girls' way that their family accepted their unconventional career choice.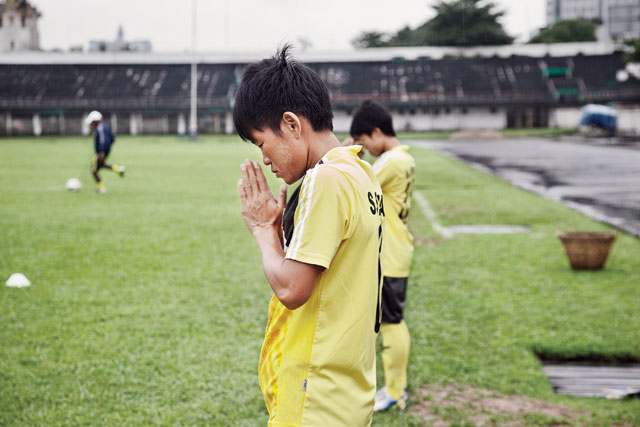 To date, the pinnacle of the sisters' career came at the most recent Southeast Asian Games, which Myanmar played on home turf as hosts in December last year. A heartbreaking penalty shootout defeat to eventual winners Thailand had many team members in floods of tears, although a crushing 6-0 victory over Malaysia in the third-place playoff secured a bronze medal for Myanmar.
Naw Ar Lo War Phaw, who wears number 12, encountered a different struggle to Moe Moe. She did not have many problems at home because, even though her mother thought it was not good for her to play, her father supported her. "My mother thought I would be too tired, but my father encouraged me and always came to watch me play," she says.
Even though it was unusual for a girl to play football in eastern Kayah State, the people of her village also supported her. The problems for Ar Lo, as her teammates call her, started only after she was scouted for the national team. Despite having spent a lot of time playing and practicing, she realised that the casual kickabouts of her formative years had not prepared her for the more tactically aware world of professional football. "I did not understand what the coach said. I didn't know football terms or the positions on the field," she says.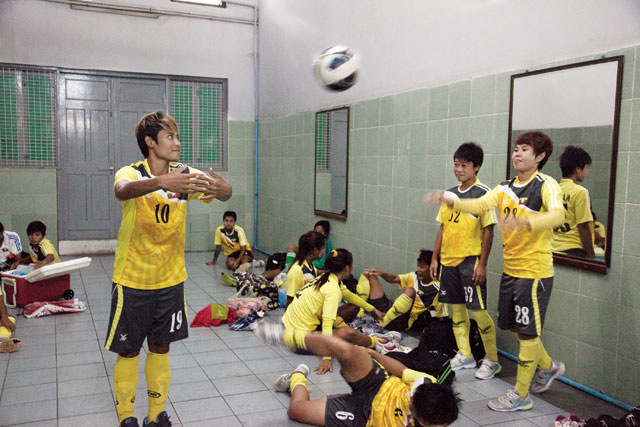 Ar Lo did not start playing football until she was 14 years old. Most of her friends at that time were boys and she played with them. "They let me play, even though I was a girl," she says. Her talent soon showed and in 2007 she was scouted for the national team at 17 years of age.
Most of the team tended to hang out with boys when they were younger, and their friends did not really see them as girls, they say. The majority of the players were tomboys and happy to be treated like one of the guys. All but two of the players have short hair, which is relatively uncommon for women in Myanmar.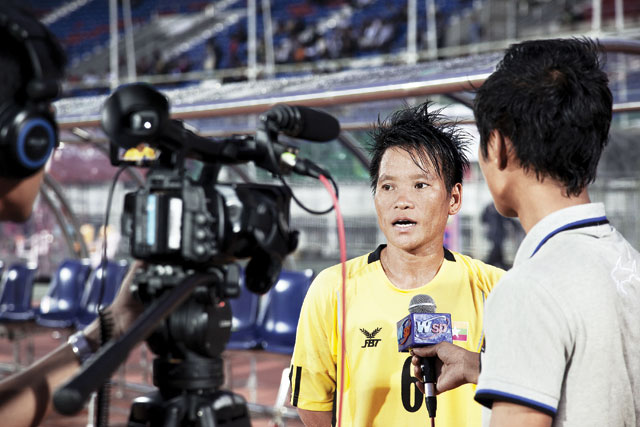 On the pitch the girls call each other a ko, which means brother in Burmese, instead of a ma, Burmese for sister. "Usually girls act like girls, but we are boyish, we want to be like boys. It's a boys' game," says San San Maw, the injured team captain.
Contrary to social expectations, most of these young women do not see themselves getting married and having children. In the future some of them hope to become football coaches; others want to go back home to live with their families.
Ar Lo falls somewhere between the two. "When I cannot play any more, I will go home to live with my family," she says. "When I go home, I always train the children from my village, including the girls."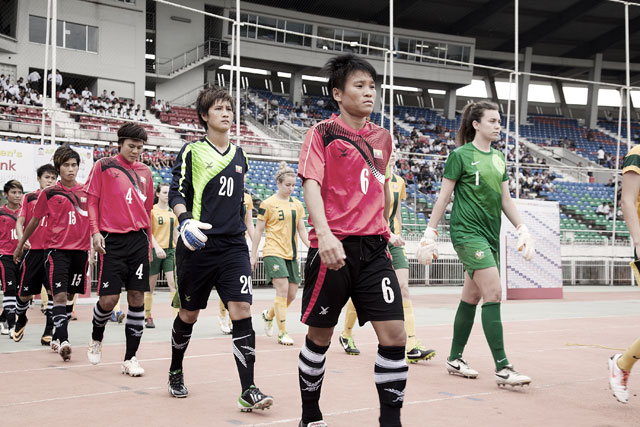 Football has given these women independence. From being told not to play as youngsters, they have become professional sportspeople and are now planning futures in and around the game. Their wages are above average, ranging from $160 to $320 a month with performance-related bonuses on top (school teachers usually earn $60 to $100 a month in Myanmar), allowing them to support the same families who shooed them away from football in the first place.
"I lived with my grandmother because my mother died when I was four and my father travelled a lot. My grandmother punished me when I played football because she thought it was not good for my future," says Mya Phu Ngon, the team's goalkeeper. "Now I send half of my salary home to support the family and the other half I use myself."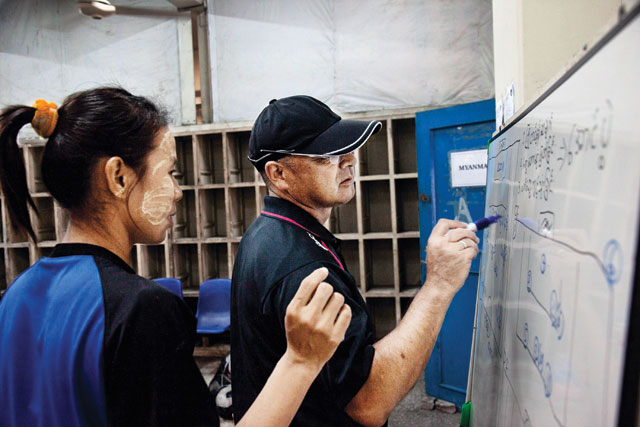 Speaking to these women, it is clear that many of them feel a sense of empowerment thanks to their careers. San San Maw is fiercely proud of her achievements. "While other girls stay at home and get married, I can show my skills and give something to the country," she says.
Moe Moe is not sure what her future holds. The independence she has gained from her income has pushed her even further away from taking the traditional route of a Myanmar woman.
"My brothers worry for me," Moe Moe says. "But now I do not have to depend on a man because I can take care of my own problems."