Mee Xaiyasongthor was only a teenager when she started questioning the daily dark feelings of emptiness that she couldn't seem to shake.
As she felt increasingly disconnected from her peers, lonely and misunderstood in her rural hometown in northern Laos, she ventured on a quest to save herself from her own terrifying thoughts.
"I started asking myself what was wrong with me," she said. "I had no friends I could talk to. I was scared of being with myself."
Mee, now a senior student of health science in the capital Vientiane, soon realised she needed help, but with no support system, she had no choice but to teach herself coping mechanisms that she learned from the Internet.
"It was then that I realised I wanted to help those who are mentally suffering and cannot find a way out," she said. "I wanted to become a psychologist."
But Mee soon learned that graduating in psychology isn't an easy option for students in Laos, as such degrees simply aren't available there.
The country's medical infrastructure is generally limited, with that for mental health especially so. Laos has just one licensed psychiatrist for a scattered population of 7 million and no specific psychology faculty at any of its three national universities – the closest students can find is educational psychology, which is more related to teaching.
Development agencies, civil society and youth-led counselling advocacy groups such as Gamlang Chai and WeCare took strides to improve basic services during the isolation of the Covid-19 pandemic. Even still, a broader lack of data or understanding about mental health conditions often makes it difficult for those in distress to find help before it's too late.
Though Mee thinks mental health support in Laos is still weak overall, she believes the pandemic was at least a turning point for awareness. For now, more concrete solutions feel far away.
"I quickly found out that becoming a psychologist was not easy here," she said. "My only choice was to start studying medicine and then apply for a scholarship to study abroad."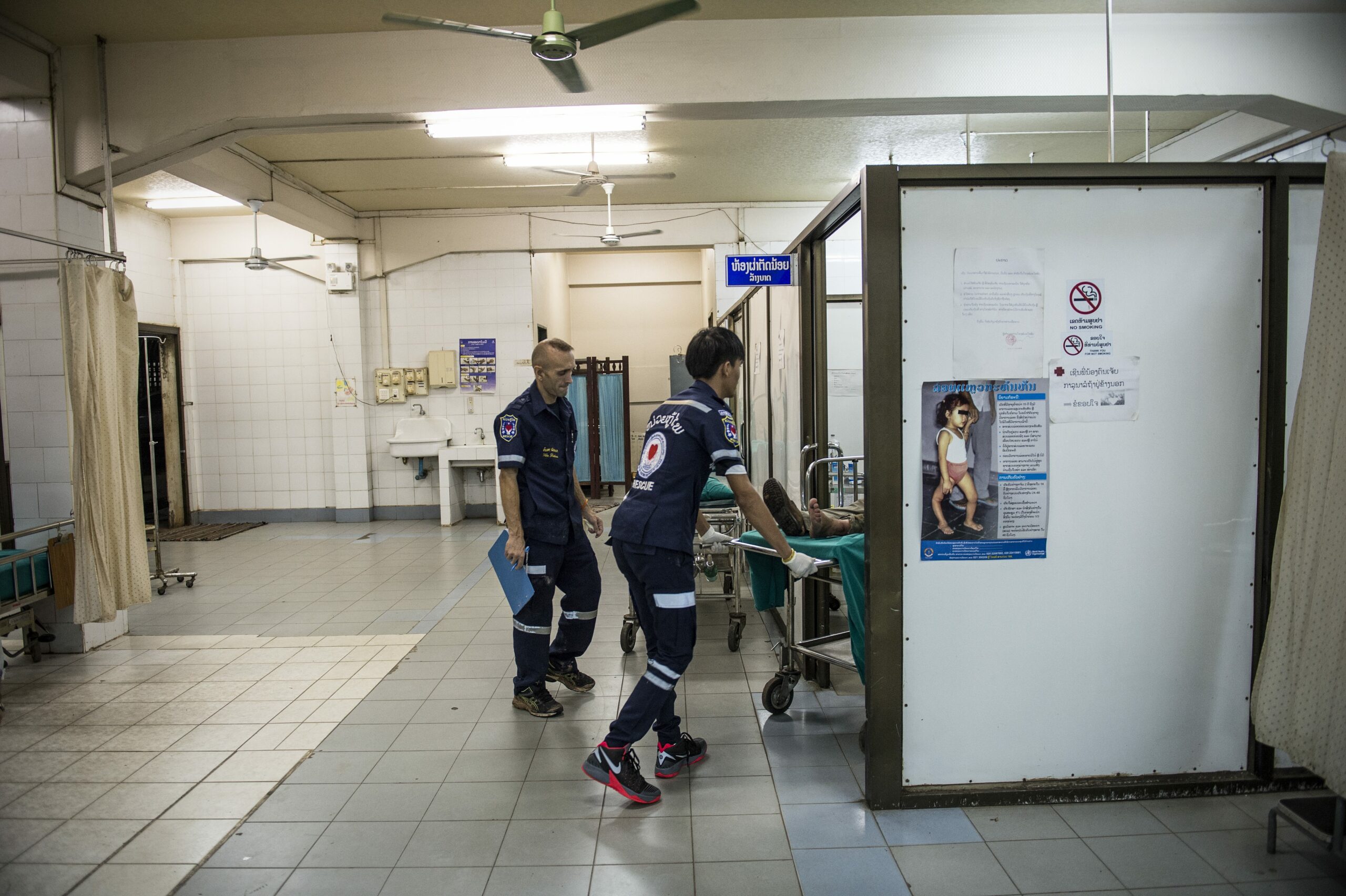 Where are the experts?
Over the past three years, the United Nations Population Fund (UNFPA) has helped foster a more robust set of hotlines for those seeking help.
Working with the Health Ministry, UNFPA collaborated with the Vientiane Youth Center, Lao Youth Union and the Women's Union to ensure longer hours and quality counselling through existing hotlines, as well as establishing new ones to meet demand during the pandemic.
"Whenever there is distress, whether physical or emotional or economic, there is an increase in the burden of mental well-being," said UNFPA Laos country representative Mariam Khan. "What we aim to achieve is to create a safe support team that is trained to provide comfort and confidentiality to local communities so they can feel comfortable reaching out."
But the biggest challenge was finding enough licensed and trained people across Laos who specialised in this field, Khan said, adding the lack of expertise became "very apparent" when UNFPA began seeking national counselling trainers.
Today, Dr Kongsy Chounlamany is one of only two people in the country – the other being retired – with a master's degree in guidance psychology, from Thailand. She's also the only one with a PhD in educational psychology, obtained with Umeå University in Sweden. With her background, Chounlamany is the vice dean of the Faculty of Education at the National University of Laos in Vientiane, and the country's sole professor of general psychology.
"The biggest problem is that even at the hospital, doctors treating mental illnesses are not psychologists or psychiatrists," Chounlamany said. "They have no professional training in mental health."
According to her experience, mental health studies have never been popular among Lao students. She said mental health disorders have mostly been considered through the lens of superstition or folk medicine, which views such conditions as the result of a mother's stressful pregnancy, or disregarded altogether.
The topic also remains strongly taboo across Laos. According to those who spoke with Globe, the result is that mental health problems are normally ignored until they become too severe or result in suicide, an act that would bring great shame to the person's family.
Although the National University opened an Education and Psychology Department in the early 1970s, it soon closed for lack of teachers and students. Only in 2017 did the department reopen its doors but, once again, the same problem emerged.
This year, the faculty counts only seven students, Chounlamany told the Globe.
Lao youth stepping up for support
Still, she thinks the field may now be starting to change.
With the loneliness of pandemic lockdowns, members of the public began creating support groups and mental health advocacy pages on social media. Meanwhile, national social services, working with international organisations such as UNFPA, enhanced their efforts in providing counselling training to medical staff and emergency response volunteers across the country.
Khan also noticed a visible improvement in mental health support since 2021.
But "as in many other cultures, in Laos talking about self-harm all the way to suicide is still considered a bad omen," she said. Medical emergency response to such cases is limited or nonexistent in most places, but she balanced that by pointing out the role of traditional support systems in steering the vulnerable away from harm.
"What is very special here is the strong sense of community," Khan said. "While the official service system might not be as well developed for crises and emergencies, there is a tendency to respond at a community level."
This approach was what inspired Valy Phommachak, a speaker for Lao Youth Radio, to co-found a community support network on social media called Gamlang Chai, roughly translated as "cheering and supporting you".
As a public radio speaker during the hardships of the pandemic, Valy felt increasingly targeted by vicious comments on social media from embittered people.
"I couldn't take more hate comments in and I couldn't deal with it alone anymore," she said. "I just wanted to shut down. I knew I needed help"
As she managed to find help through a now-dismantled volunteer organisation, Valy wanted to create a safe space for her fellow citizens struggling with mental well-being. The result was Gamlang Chai, which she and her team launched in late 2020.
Since then, they've hosted a series of Wellness Festivals, panel discussions and other events in Vientiane. They're also now looking for funds to create a free mobile app to gather all the available tools and information about mental health in Laos, including hotline numbers, breathing exercises and a list of health service providers.
"We wanted to educate people about mental health and to destigmatise it," Valy said. "I'm no expert, but one thing I know is that the smallest help can really make the difference."