Takeshi Izuka is quietly building a city of the future in the Cambodian wilderness. At the heart of it is a tech university that he says will spearhead similar planned communities globally. The Japanese tech entrepreneur started looking for projects around the world after selling Digital Forest, a leading web analytics firm he founded in 1998, when he stumbled onto an opportunity in Kirirom National Park, where he could execute his vision without the regulatory bureaucracy he would face in most other nations.
The Cambodian government gave a 50-year lease on 10,000 hectares of land to Takeshi and his vKirirom development company, 20% of which it can build on – and, six years later, his planned community is taking shape.
Among the tall pines, orchids, rare hornbilled birds, waterfalls and lakes, footpaths and the occasional wild elephant, Takeshi started a buildout in 2012 that now includes the Kirirom Institute of Technology (KIT) and an eco-resort with both modern rooms and "glamping" (glamour camping, which means you sleep on a comfy mattress inside a tent that someone else pitches for you). That's just the start. He's planning a sustainable, smart, walkable city – and a modern tech campus, an IT services company, a hospitality school, an architecture school, water parks and other tourist attractions, and home sales to help pay for it all.
"Where most people only saw trees and wilderness, I saw huge opportunities to drive innovation in education, eco-tourism and eco-living to create the Silicon Valley of Southeast Asia," vKirirom founder and president Takeshi told Southeast Asia Globe.
"The objective of my project is for Cambodia and Japan to collaborate with each other to make the world a better place," Takeshi continued. "Being Japanese, initially I wanted to make these changes in Japan, but due to its strict and inflexible regulations, it is a difficult environment for driving innovations."
Japan's average age is 50, so they need immigrant workers. It's been discussed for decades, but they haven't opened it up for political reasons, but now they're being forced to
Takeshi thinks the fast pace of change in Cambodia – which he attributes to "the fast top-down decision making… and the aggressiveness of a country with nothing to lose and everything to gain" – will help Cambodia become a tech leader in Asia.
"There's a lighter regulatory environment, so he can create his own city, he can create his own university, his own resort," said vKirirom's senior vice president, Hicki Okamoto, of the visionary behind the venture. Okamoto left behind an 11-year career at Microsoft in Seattle to help Takeshi build his futuristic city that's all about "co-living, co-working and co-nature", he explained.
KIT's first 24 students arrived in 2015, recruited around the provinces via a test that just 10% of KIT hopefuls pass. Cambodian students who are accepted get a full-ride scholarship that includes room and board, and they must commit to an eight-year program: four years of study followed by four years working for a tech firm in Japan or Cambodia at the same salary as graduates from any other school. There are currently 138 students, 16 of them from Japan and the rest from the Kingdom. In December, KIT will graduate its first class, consisting of 22 students.
"The biggest way to make social impact is through the young generation," said Okamoto. "[Takeshi] thought that university education in Japan is completely broken and they don't teach practical IT skills in Japan, so this was a chance for him to bring his innovative ideas to life, and he's proven it so far."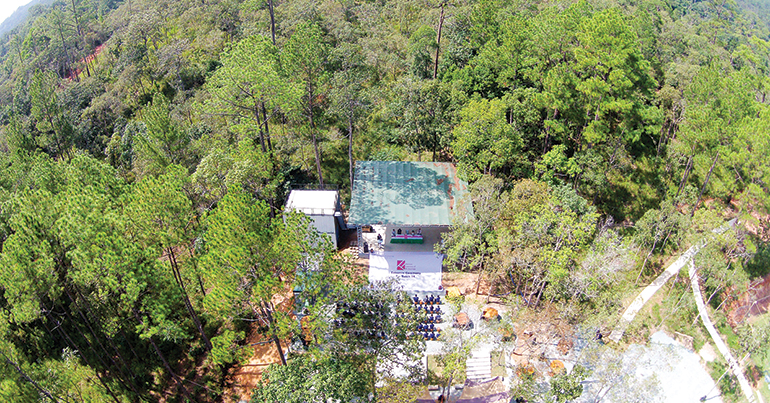 Cambodia made sense to Takeshi for an IT school because over half its population is under 24 years old, while Japan, with its aging populace, faces increasing shortages of young IT talent.
But how do you sell the idea of sending Cambodian IT workers to Japanese firms?
"Working abroad is a dream for [young Cambodians]. Right now we're focused on Japan because of the visa issues in the US with Trump and other areas," said Okamoto. "Basically one of the few areas that's opening their doors is Japan because they have a shortage of workers. Their average age is 50, so they need immigrant workers. It's been discussed for decades, but they haven't opened it up for political reasons, but now they're being forced to."
For the mostly college-age Cambodian students who attend KIT, the program offers opportunities that might not have been available to them before, including the chance to live and study in the mountains of their home country and to work at top tech firms abroad.
"When I left home to join this school, my family respected my decision. They also saw how beneficial it is to study in KIT," said student Dy Sopheak, 19. "Students are not only provided with full scholarship, but also opportunities to work in developed countries."
Takeshi plans a sustainable city and campus designed internally and not by expensive outside firms.
"The architecture has to be very innovative," Okamoto said. "For example, everything will be green, solar panels on roofs, rainwater stored underground, waste management is going to be very green as well. We won't have cars in the city, everything is either walking distance or we'll be providing an electric shuttle bus. Also, no zoning – we want people living and working and businesses to be all mashed together."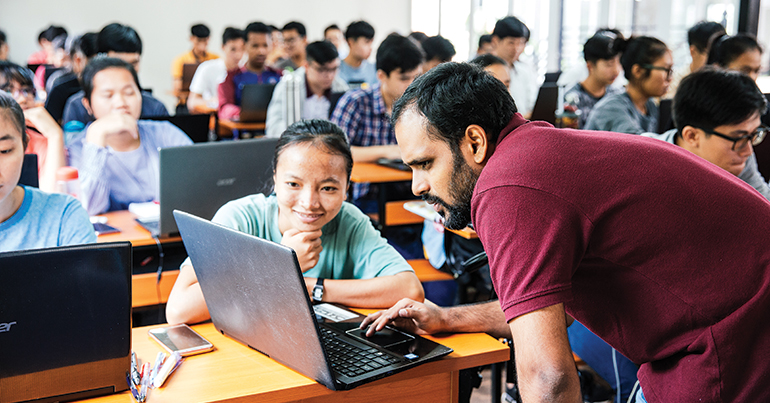 One model for vKirirom is the master-planned city of Irvine, California, which also is based around educational institutions and tech companies. And like Irvine, which was founded in 1971 and rose up from desolate farmland to become a tech and education hub, vKirirom hopes to attract leading IT companies that will bring their offices and headquarters there as Takeshi's vision grows.
To this end, vKirirom will soon launch an IT services company called A2A Digital that will bring income for the project and allow students to learn hands-on. There will also eventually be a hospitality school and an architecture curriculum to train students to run the resort and design future additions to the city.
After the four-year job commitment, I want to continue providing support to the education sector in Cambodia…I hope I can contribute and make a better change
The entire nation of Cambodia could also benefit from the program, suggest the students who spoke with Southeast Asia Globe about their plans after their commitment.
"I will still continue working [abroad], but I will surely return to my country, Cambodia, once the right time comes," said Sopheak. "My long-term goal is to establish the largest software company in Cambodia."
"After the four-year job commitment, I want to continue providing support to the education sector in Cambodia, to improve the quality and standard more by implementing some sort of technologies into it," said Huy Sophanna, 21. "I hope I can contribute and make a better change."
"I will return to Cambodia and begin my dream of modernising Cambodia's education system," said Sok Sereiponna, 21. "I believe I could develop my skills, gain as much experience as I can, then I hope that will be the key for me to enhance the education system in Cambodia, which can help push this country forward to the next step of development."
Tech will be key to raising Cambodia's economy and making it competitive regionally and globally, said Okamoto: "We're focused on IT because it's the best way to leapfrog the economy over Thailand and Vietnam and other neighbouring countries that have far surpassed Cambodia."
With a management team hailing from the likes of Microsoft, Accenture and the World Bank, visiting lecturers from universities around the world, and plans to bring millions of tourists and 100,000 residents, vKirirom has much to prove. And if it works as envisioned, Takeshi thinks the world will see more cities like this one – and it could even lead a global industrial shift.
"Communities based on sustainable development is the only way to preserve and enhance our quality of life in the future," he said. "I believe our model of co-working, co-living and co-nature can and will be replicated throughout the world. Our project is to design our university to lead Industrial Revolution 4.0."