In a short span of time, Kirirom Institute of Technology has already transformed the lives of students and helped them forge a path for their future. With the hope of developing their graduates into global leaders, the institute guarantees 100% job placement – and, with its partnerships with Japanese companies, it provides overseas opportunities for graduates, so the school's innovative curriculum is put into practice in the real world.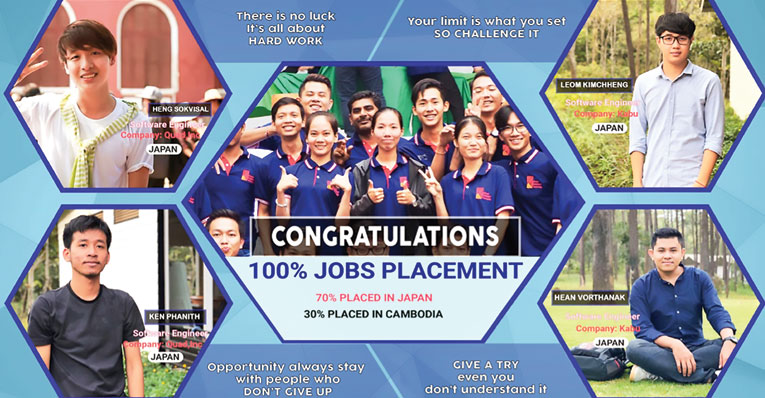 How are you able to guarantee 100% job placement for your graduates?
We have a rigorous entrance exam and interview process to ensure our students are not only the best but also hard working and ambitious. To make sure our students know the latest technological trends and skills in the industry, we develop real-world IT skills to give them a real-world experience.
KIT partners with Japanese companies that are willing to sponsor our students, which is one way our students get placement upon graduation. We are also creating our own IT services company called A2A Digital that is intended to provide more placement opportunities for our graduates.
What makes KIT unique from other universities?
We offer the most complete scholarship in Cambodia for all Cambodian students who pass our entrance exam and interviews. Our innovative academics and internships are open to hardworking students from all financial backgrounds.
Our management team includes professionals from Japan, the US, the UK and India, each bringing a vast amount of experience and knowledge on board through their experiences working for companies such as Microsoft, the World Bank and Accenture Consulting.
Recently, we had our Business Plan Presentation Day, a two-week intensive business course with Japanese CEOs and entrepreneurs and a professor from a renowned Japanese university. We also hosted an Exchange Day with students from Brown University, which was a unique learning opportunity for our students.
The school, located atop Kirirom Mountain in the Kirirom National Park, is an ideal environment for living and learning without the distractions of city life. Our students consider each other as family in and out of the classroom, so the KIT campus is like a home away from home.
What plans does KIT have for the future?
Our goal is to foster a student mindset that's attuned to disruptive technologies and global transformation with innovative courses that embrace change. 2019 will be an exciting year for us. We will be starting a new hospitality leadership and management school in January, and have plans to start an architecture school later in the year. Our innovative educational approach has made us successful and different, and we will be applying those same principles in our expansion plans.
---
For more information: www.kit.edu.kh | www.facebook.com/KITinstitute
KIT Facebook Entrance exam registration: www.facebook.com/events/422002228232226