The chief investigating officer told a Malaysian courtroom that Jong-nam met with an unidentified intelligence agent for the US just five days before his death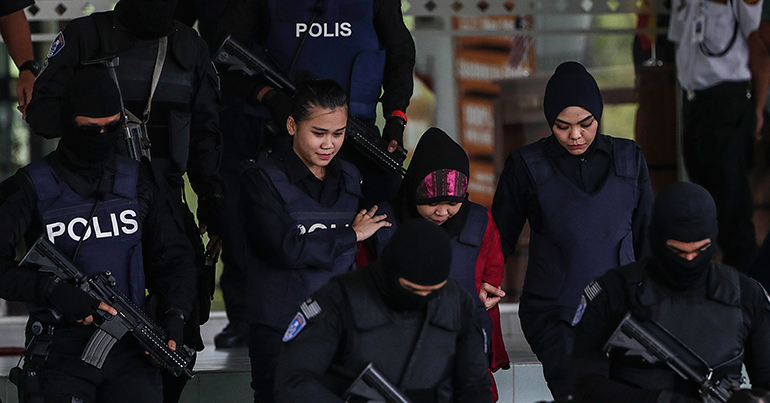 Kim Jong-nam, the elder half-brother of Kim Jong-un, met with a Korean-American, suspected to be a spy, just days before he was found dead in the Kuala Lumpur International Airport, a court in Malaysia heard on Monday.
The testimony was provided during the trial of the two young women, Indonesian Siti Aisyah and Vietnamese Doan Thi Huong, who stand accused of murdering the North Korean by smearing VX, a universally banned nerve agent, across his face on 13 February.
While testifying at the Shah Alam High Court on Monday, chief police investigating officer Wan Azirul Nizam Che Wan Aziz confirmed that Jong-nam had met with an unidentified Korean-American at a resort in Langkawi, Malaysia just five days before he was found dead in the country's airport.
"There was a meeting between Kim Chol (Kim Jong-nam) and an American man, but the police had not been able to ascertain the man's identity and whether or not he was a spy," said Wan Azirul, the state-run news agency Bernama reported.
The defense team for 25-year-old Aisyah, who had begun the line of questioning that prompted Wan Azirul's initial testimony, appeared to get frustrated when the officer was unable to recall specific details, such as the resort's name, the South China Morning Post reported.
"His demeanour, his answers were very evasive. We are quite unhappy over that," defense lawyer Gooi Soon Seng told reporters.
Motivation behind the defense team's questions were originally prompted by an article published last May in the Japanese newspaper Ashai Shimbun, which claimed that Jong-nam had met with the suspected Korean-American intelligence agent on 9 February 2017.
Evidence for this Japanese article reportedly came from the police's computer forensics report of Jong-nam's laptop, CNN reported.
In the report, it showed that the laptop had been accessed on the day of the alleged meeting between the men and that a USB pen had been connected to it, Ashai Shimbun reported.
Aisyah and Huong, 29, have been pleading their innocence since the trial started in October, claiming they believed they were taking part in a prank that was part of a hidden-camera TV show.
If the two are found guilty of intending to kill the North Korean leader's half-brother, they will be charged with the death penalty by hanging.
Four other North Koreans have been named as suspects, although the court has refused to release their identities.
In November, it was revealed in the court hearings that Jong-nam had been carrying an antidote to the poison in his bag at the time of his death.
Related reading: