KF Seetoh has been called the "Guru of Grub" due to his unwavering dedication to Southeast Asian street food. Currently at the helm of the World Street Food Congress, he gives us a mouthful about just what it is that keeps his love affair with food simmering away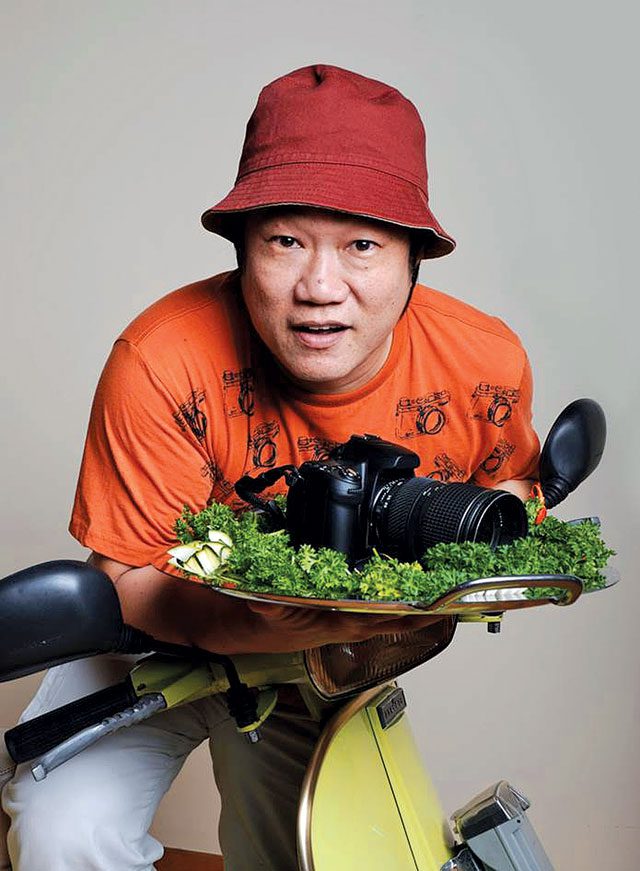 Interview by: Alison Smith
Tell us a little about the World Street Food Congress. 
The WSFC is doing what is necessary for the world's most popular food culture and taking it to another level. It is preserving its heritage and culture, professionalising the ways it operates and creating new possibilities for it in the wider food market. It is also creating entry-level entrepreneurism opportunities, including for the disadvantaged, so it is essentially a social movement centered on street food.
Why do you think Southeast Asian street food is so popular?
It's a very organic food tradition that grew out of some desperate situations to become an iconic culture. Plus, Southeast Asia is also a confluence that includes the three great motherlands of Asian flavour – India, Indonesia and China.
What Southeast Asian street food trends can you see emerging in the coming year?
More street food concepts and flavours will find their way into top restaurant menus and their products. Many cities are using this restaurant-based trend to brand themselves and stand out from the crowd.
Can you recommend a Southeast Asian street food that our readers might not be familiar with?
Lor mee – a southern Chinese Hokkien noodle dish. It consists of noodles in a decadent seafood stock that is thickened using starch and topped with seafood, crisps, meat fritters, greens and is accented with black vinegar to heighten the yum quotient.
Has there been any Southeast Asian street food that has died out in recent years, that you would like to see make a comeback? 
Yes, quite a few, but the cost involved in their production have sometimes caused these dishes to fade out. Take for example lo kai yik, a Cantonese casserole stew made using meat, offal and vegetables. It is cooked slowly over a low fire in a complex sauce featuring fermented red tofu. Many street food dishes are very time consuming and tedious to make, and not many chefs appreciate skills in the kitchen any more.
In your opinion, what is the best city in Southeast Asia for sampling street food?
I couldn't narrow it down to just one. Nasi padang (steamed rice with various pre-cooked meats and vegetables) is a reason to travel to Indonesia in itself, while a trip to Malaysia is never complete without a few helpings of Hokkien mee (fried noodles). In Thailand, I love kai yang kao niao (grilled chicken and sticky rice) and in Singapore, the white pepper crabs – if you've ever tried them, you'd know that there are simply no words to describe how delicious they are.
Burmese Mohinga (rice noodle and fish soup) was voted the Best Street Food in the world by Lonely Planet. Do you agree with the choice?
I am sure they have their reasons and used some kind of criteria when selecting it and rightly so. But it's not at the top of my list.
Deep-fried bugs and insects: madness or genius?
Genius. In a world that will have problems with agriculture and farming in the near future, they may well become commonplace. Insect tacos are already famous in Mexico.
Also view:
"Southeast Asia is unrivalled in its ability to pull off extraordinary experiences" – Mr & Mrs Smith is a specialist travel company that focuses on luxury boutique hotels. Simon Westcott, managing director and co-founder of its Asia-Pacific operation, lets us in on his travel secrets
"It's really hard for people to think of Cambodian bar workers as anything other than prostitutes" – Sex, Love and Money in Cambodia: Professional Girlfriends and Transactional Relationships is a book collating seven years of research into Cambodia's sex and entertainment industries. Dr Heidi Hoefinger is its author
"People are recognising that by appreciating art, art appreciates" – Kuala Lumpur will be awash with colour during the seventh annual Art Expo Malaysia. Polenn Sim is a member of the family behind the event, which takes place from September 19-22