Perched upon infertile stone hills amid untouched Ubud rainforest, Kayon Resort has Balinese culture, craftsmanship and natural beauty at its core
"People used to come to Ubud to heal themselves," says Putu Suryawan, the owner of Kayon Resort. Indeed, the name of this jungle-clad town in the centre of Bali derives from the local word ubad, which means medicine. And a little time spent here at Kayon, listening to the ever-present rush of the Petanu River and settling into the huge terrazzo baths, certainly has a restorative effect.
Suryawan is a self-made Balinese man who began life in the hospitality industry with a plot of 15 basic cottages on Bali's famed Monkey Forest Road. He bought the piece of land that would become Kayon in 1998 but didn't begin construction until 2013. Unbelievably, the intricate resort welcomed its first guest the very next year. The construction company certainly earned its money.
Carved into a hillside, the retreat's relatively modest size allows it to somehow feel natural amid this most rural of surroundings. "Many people don't believe we are only one year old," says resort manager Nengah Suweca. Balconies are touching distance from glistening banana trees, native bunga cempaka and paku pipid trees remain untouched and line the mossy stone steps that lead down to a riverside jetty, while an epic Ramayana relief is carved into natural stone, providinga decorative centrepiece that runs alongside virtually all of the 24 guestrooms. The relief took eight local carvers just three months to complete. Those craftsmen undoubtedly earned their pay packet, too.
Kayon's commitment to its Indonesian roots is not only apparent through its local owner, local management team and pledge to train local youths; the spacious rooms are scattered with materials ranging from Javanese white stone to baskets weaved nearby from a Balinese rattan-bamboo mix. With soaring thatched roofs on the river edge private pool villas and four-poster beds crafted from whitewashed teak, it doesn't take a great deal of effort to sink happily into one's mattress and eavesdrop on the jungle. In Ubud, mother nature unquestionably earned her wages.
(belly) rumble in the jungle
The heart of the resort is Kepitu restaurant, perched above the guestrooms with panoramic views of the surrounding jungle from every table. Menu highlights are undoubtedly the local specialties, from topot ayam at breakfast time to a classic Balinese chicken curry in the evening.
On the house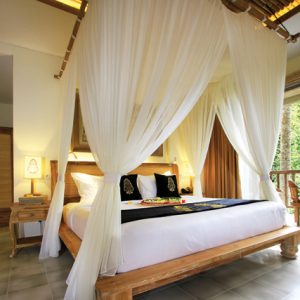 It is possible to fill entire days with Kayon's complimentary daily activities and treats. Embrace the Bali mindset with two yoga sessions per day at the rooftop yoga pavilion, join the guided morning walk through nearby rice fields and villages, or even chow down on afternoon high tea at the pleasant riverside jetty.
Get crafty
The resort is located in the rural village of Kendran, a 15-minute drive from Ubud's town centre. The journey is a picturesque one and winds through Gentong craft village, which is an excellent spot to pick up some of Bali's famed handicrafts, from brightly coloured kites to traditional masks, for a fraction of the prices charged in central Ubud.
Keeping it local
Kayon is managed by Pramana Experience, a local company that deserves a mention in its own right. Formed by a group of young Balinese who had each amassed experience in different facets of the hotel industry, they now oversee every detail of Kayon Resort from staff recruitment to quality control. With a firm eye on empowering the Balinese people and retaining the island's core traditional principle of balance, Pramana now manages an impressive ten properties all over Bali, from cottages and private villas to five-star resorts.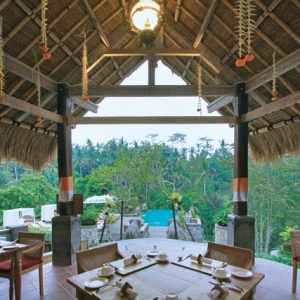 Essentials
Tel: +62 361 479 2553. Website: thekayonresort.com. Address: Banjar Kepitu, Desa Kendran, Tegalalang, Ubud, Bali. Email address: info@thekayonresort.com. Rooms: six valley deluxe rooms, 12 Kayon river suites, five river edge pool villas. Rates: published rates are $225 for valley deluxe rooms and $450 per night for the pool villas. Suggested accommodation: with huge bathrooms, a large terrace with daybed and stone water features gurgling into the private pool, the river edge pool villas are genuinely breathtaking.
Keep reading:
"The foodie factor" – The first Ubud Food Festival brought together some of the finest chefs from Southeast Asia and beyond. It provided the perfect opportunity to ponder whether Western chefs in the region should be considered dietary dignitaries or culinary colonists