Eco-cars are hitting the region's roads as governments roll out investor-friendly policies to grow the market
You don't necessarily have to be an eco-warrior to appreciate the benefits of buying an eco-car. Fluctuating fuel prices, coupled with a diminishing amount of parking spaces across polluted and traffic-choked cities, are enough reason to consider choosing a greener, more compact ride, and the region's manufacturing hubs are taking note.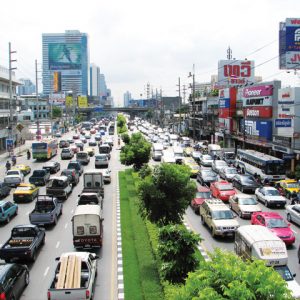 A combination of government incentives, heavy-duty investments and rising incomes has transformed the economies of Thailand, Indonesia and Malaysia into automotive powerhouses. Together, the big three now build more vehicles than Brazil and India, and are expanding their range to tap into a growing market for so-called eco-cars – fuel-efficient, low-emission vehicles. While all three countries have divergent policies, one motive is clear: to emerge as industry leaders in the automotive green field.
"In looking at the eco-car segment, you have got to look at the demographics of Southeast Asia," said Neil King, a London-based automotive analyst with Euromonitor International. "You've got urbanisation, smaller households, increased female employment rates, people having children later and rising incomes. Put that all together and it's logical to assume that eco-cars will grow."
Governments certainly think so. In recent years, Indonesia, Thailand and Malaysia have all rolled out investor-friendly policies to grow their markets. Leading the pack is Thailand. After launching the region's first eco-car policy back in 2007, five Japanese automakers – Mitsubishi, Honda, Toyota, Nissan and Suzuki – responded to the call with a combined investment of $884 million.
According to Thailand's Board of Investment (BOI), the manufacturers built 712,292 eco-cars between 2010 and 2013 while benefiting from an exemption on corporate income tax, duty-free importation of machinery and a lower excise tax on eco-cars with petrol engines under 1,300cc and those with diesel engines smaller than 1,400cc. Thailand is now onto round two with a revised policy and an additional five manufacturers eager to expand their global footprint. Joining the previous batch are Ford, General Motors, Mazda, the Chinese-Thai joint venture SAIC Motor-CP and Volkswagen. Apart from Volkswagen, whose application is still pending, all have received the green light from BOI to expand production and build eco-cars.
"Thailand is going to develop quite a high capacity of eco-cars. If everyone is making them, you have to ask who is going to buy them," said Tony Pugliese, director of the automotive consultancy firm Asia Motor Business. "These are long-term investments, and markets in Southeast Asia have a big potential to grow. The ownership rate of vehicles is still quite low in many Asean countries and there is potential to export to other markets across the globe. Automakers are looking towards the future."
Mazda has been the first to kick off production with its all-new Mazda2 subcompact – the first car and diesel model to be produced under the phase II scheme. The Japanese automaker also has plans to construct a new engine plant in Thailand's Chonburi province in order to meet the programme's requirements.
"Once you start building vehicles you have the whole network and supply chain that tends to follow and the knock-on benefits in terms of employment, road and infrastructure development. Investment doesn't just revolve around building a car. These programmes attract investment through the region," said King.
It is precisely for this reason that Indonesia followed suit with its Low Cost Green Car (LCGC) concept. "If you compare the two programmes, in terms of the fuel consumption, Thailand and Indonesia are mostly the same. But in terms of the technical specification, the LCGC is only required to meet Euro 2 emission standards, whereas Thailand has already achieved Euro 4 and is moving on to Euro 5," said Jessada Thongpak, a Bangkok-based senior analyst with IHS Automotive. "There is more potential for Thai eco-cars to be exported to global markets given the demand for higher emission standards. Thailand is already two steps ahead of Indonesia's LCGC."
While Thailand may have the edge, five Japanese players have all rolled out vehicles under the LCGC scheme in the last couple of years. The models include the Toyota Agya, Toyota's sister model, the Daihatsu Ayla, the Honda Brio Satya, the Suzuki Karimun and the Datsun Go Panca. "The LCGC is better suited for the domestic market," said Thongpak.  "While the country is dominated by MPVs – multipurpose vehicles – there are many families out there with higher purchasing power and in the market for a second vehicle. These [eco-car] vehicles are also appealing to first-time buyers given their low cost and compact size."
Whether small becomes the new big remains to be seen. According to the Indonesian Automotive Industry Association (Gaikindo), LCGC units accounted for just 14% of total Indonesian car sales in 2014 with 172,120 units sold. Still, with a population of 250 million and a low vehicle penetration rate, Indonesia demonstrates high growth potential. The same might not be said for Malaysia, which has the highest car ownership per capita in the region – roughly 350 vehicles per 1,000 people, according to Thongpak.
"The Malaysian government is too ambitious in their plans to go from some 600,000 vehicles produced to 1.2 million in the next eight years," said Thongpak. "The market growth is not very good and most of the major automakers have already invested heavily in Thailand and Indonesia."
Malaysia has been somewhat of a latecomer in luring automakers to the field. Yet the country is now bent on becoming a regional auto hub for energy efficient vehicles (EEV) by 2020 under its National Automotive Policy 2014 (NAP).
"So far, Malaysia has chosen to develop its local industry via local champions and their suppliers. However, as of now, local players have limited experience with hybrids, electric vehicles and other alternative power train solutions," said Dr Martin Tonko, a partner and automotive consultant with the international consultancy firm Roland Berger.
While the government is tackling some of the country's legacy issues with a recently revised NAP along with the launch of a Malaysian Automotive Council in March, the road to attracting investments is anything but smooth.
"Malaysia's investment criteria to qualify for tax breaks are less transparent and stable than those of Thailand. Also, manpower and local know-how in Thailand is comparably better," said Tonko. "It will be a challenge for Malaysia to compete with Thailand in hybrids and electric vehicles manufacturing."
Keep reading:
"Who's afraid of the big green monster?" – While some in Vietnam are still oblivious to the benefits of green architecture, others are working atrealising its full potential