Local and international rights groups have long levelled criticisms against Cambodia's judicial system. They say the judiciary is used as a tool of the executive to suppress and punish government detractors and those who fail to play ball in the bribery and corruption arrangements rampant across all levels of government.
A string of high-profile cases delivering controversial judgments through December and January saw rights groups call into question just what progress has been made by Cambodia's judicial system since the enormous United Nations-backed transitional authority effort in the early 1990s.
Police, prosecutors and judges are accused by these groups of soliciting bribes and implementing instructions from higher levels of government instead of delivering impartial and independent justice.
The judicial system is also dangerously devoid of properly trained and qualified legal experts, rights groups argue, pointing to huge case backlogs in almost all provincial courts. However, the Cambodian government maintains that the courts are – and always have been – impartial and independent of any outside influence.
Coming out of the countrywide devastation of the Khmer Rouge's reign, Cambodia was a country in tatters. Private property had been liquidated, intellectuals and educated persons executed, and only three-quarters of the population survived.
Cambodians seen to belong to the 'bourgeois' class, which included all manner of judges, prosecutors, lawyers and police chiefs, were targeted as part of the regime that sought to empower peasants and "base people" and decimate the upper classes.
As such, when one of the most intensive peacekeeping operations in the history of the United Nations came to the small Southeast Asian Kingdom in the early nineties, democratic government institutions, such as police, courts and prisons, were weak, if functioning at all.
The UN ushered in a series of international-standard laws and draft laws, including the Kingdom's constitution, which, among other purposes, helped develop the framework for Cambodia's judicial system.
This system consists of a Supreme Court, an appellate court, 19 provincial courts, two municipal courts and a military court. Under UN guidance, three key laws were drafted safeguarding the independence and impartiality of the judiciary through provisions such as security of tenure for judges – meaning that a judge serves a set term and cannot be removed by the executive before its expiration.
---
Since these efforts, reform has been slow and the laws remain in draft form. Local rights group Cambodian Centre for Human Rights (CCHR), conducts a Trial Monitoring Project of provincial courts of first instance in Cambodia.
Over the years this project has been carried out, CCHR said it has seen little improvement in fair trial rights, with many procedural weaknesses remaining or even deteriorating further.
The most recent November 2012 report identified improvements in handling of evidence and witnesses at the provincial level, but stressed the ongoing problem of excessive pre-trial detention. Suspects can languish in prison for up to three months or more, waiting for the charges against them to be heard by a court in what are often only misdemeanour cases. In cases concerning juveniles, 95% of people are held in pre-trial detention, contrary to international standards emphasising a more liberal use of bail provisions than applied in Cambodia.
"Whilst it is encouraging to note that the adherence to fair trial standards regarding the treatment of witnesses and the evidential rights of the accused has continued into the fifth reporting period, it is disappointing to see that the courts have done little to tackle the ongoing issue of pre-trial detention, which continues to be imposed in the overwhelming majority of cases," CCHR president Ou Virak said on the release of the most recent results of the Trial Monitoring Project last year.
In recent months a series of controversial court decisions has rocked the reputation of Cambodia's judiciary. Independent Beehive Radio owner Mam Sonando was convicted and sentenced to 20 years in prison on October 1, 2012 on charges of instigating an insurrection in northern Kratie province and inciting villagers there to take up arms against the state. Many of the witnesses supporting Sonando's plea of innocence were not summoned during the speedy trial proceedings and his alleged co-conspirators testified against the 71-year-old and later allegedly received government handouts for their cooperation in the case.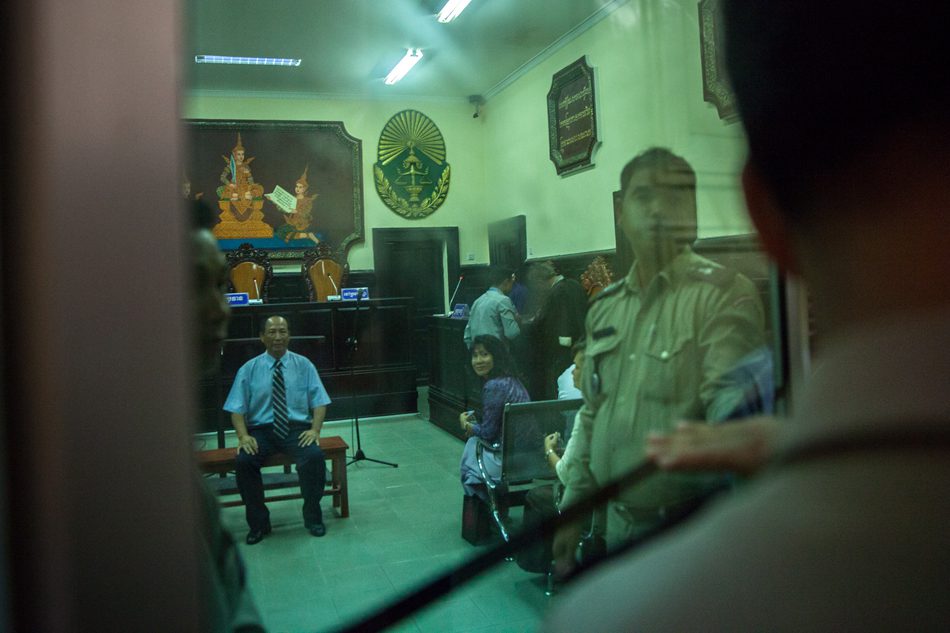 United Nations-appointed special rapporteur Surya Subedi said Sonando's conviction "remains deeply troubling". During his most recent fact-finding mission to the Kingdom late last year, Subedi said he had "intervened at the highest levels" and would "continue to monitor his case, as well as other cases that give me cause for concern".
In February 2012, three female garment workers protesting with hundreds of other workers outside a sportswear-manufacturing factory in Bavet City, Svay Rieng Province, were shot when a group of officials fired live ammunition into the crowd. The then-Bavet City governor Chhouk Bandith was later named a prime suspect in the shooting based on surveillance footage and alleged witness testimony.
Despite the seriousness of the act, Bandith was charged with a misdemeanour crime that carried only a maximum sentence of two years and was not remanded in pre-trial detention but released on bail. In December 2012, the provincial court hearing the case against Bandith abruptly dropped all charges against the former governor. After much public outcry, the Court of Appeal Prosecutor announced he would seize the case and pursue investigations.
Surya Subedi, the UN-appointed Special Rapporteur to Cambodia, issued his first report to the Human Rights Council in 2010 on the Kingdom's judicial system, highlighting a number of changes that would benefit the judiciary and the rule of law in Cambodia.
---
These changes included advanced training for judges and prosecutors, many of whom did not have a firm understanding of international law standards, the rapporteur said. Furthermore, while law school enrolments have increased in popularity, career prospects upon graduation have not necessarily kept up, law professors believe.
Admission to the Cambodian Bar Association is necessary for all practicing lawyers in the country, but due to alleged funding limitations, the Bar Association only admits a maximum of around 30 new lawyers a year, despite hundreds of graduates applying to sit the admission examination. This places a severe restriction on the number of defence lawyers available in the Kingdom, a factor that is detrimental to fair trial rights.
Royal University of Law and Economics law faculty head, Margaret Ryan said employment prospects for law graduates are limited by the dim outlook for Bar membership in Cambodia.
"Right now, Cambodia has approximately 700 attorneys and more than 14 million people," Ryan said. "The Bar Association apparently does not have funding to expand its lawyer training course."
Ryan said this would have to change.:"I think bar membership will open up because it makes so much sense that it would."
New judges and prosecutors are generally ushered into their roles under patronage from more senior judicial officers. An understaffed judicial system extends the trial process and overloaded prosecutors struggling with case backlogs find it difficult to have cases heard in a timely manner.
The government has bemoaned this process, being the first to admit Cambodia's courts are severely understaffed, but prohibitive measures on repopulating the human resources of the judiciary have not been altered or removed.
Another key problem to be combated in the rapporteur's view is the endemic corruption throughout the system, fostered by a failure to provide tenure protection for judges and prosecutors who are instead treated as civil servants and rely on patronage and political protection to keep their jobs.
"The judiciary is the main issue [in Cambodia]," Subedi said during his most recent visit to Cambodia in December. "Everything comes down to the judiciary, so that has to be addressed properly. Not only the independence of the judiciary, [but] the capacity of the judiciary."
As a developing country, Cambodia's focus has been on economic development, Subedi said. "But more people would be willing to invest serious money if the judiciary were regarded as independent, robust and able to dispense speedy, impartial and effective justice," he argued. "Economic development and reform of the judiciary is part and parcel of the same package."