With sumptuous views and a close connection with local villagers, the Samaya Ubud offers luxury with a little soul in Bali's cultural heart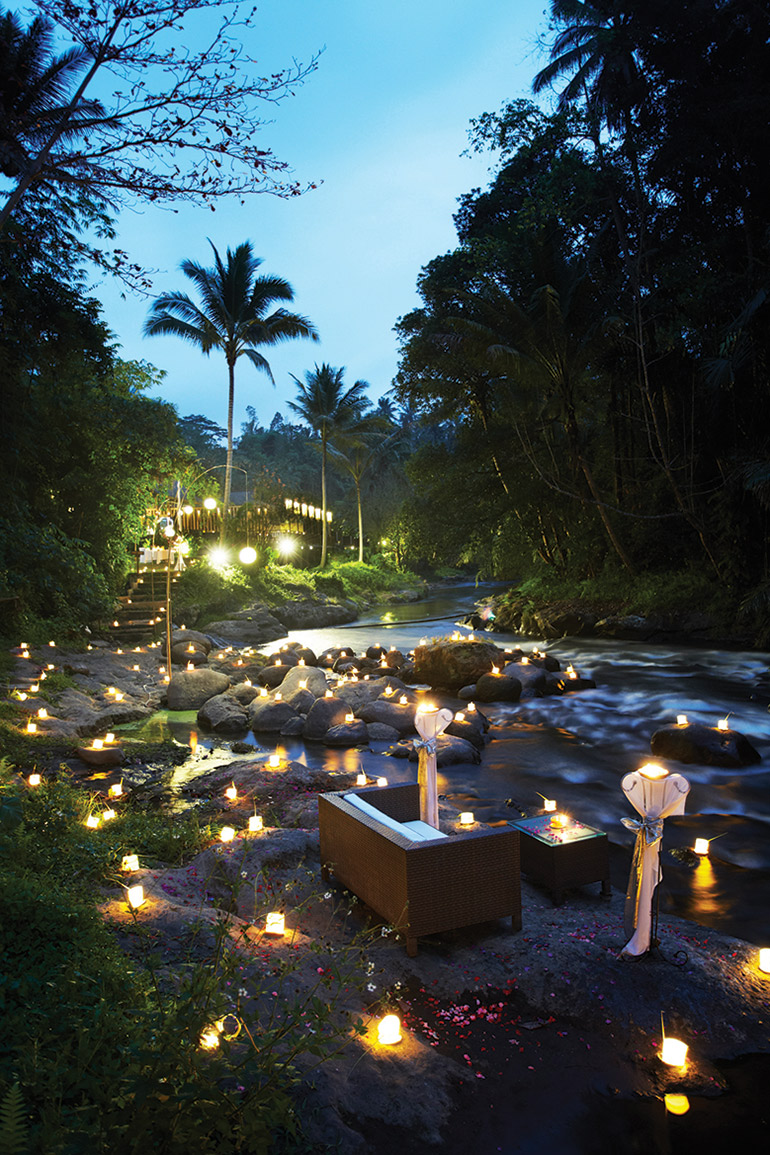 Wayan Suambara, general manager of the Samaya Ubud, is discussing how difficult it would be to turn down a marriage proposal at his resort's signature 100 Candle Dinner. "We have a 100% success rate," laughs the man who might just be the friendliest GM in Southeast Asia.
Indeed, at the resort's Swept Away restaurant, with its pastoral setting next to the whistling waters of the Ayung river, it takes a staff member approximately 90 minutes and an impeccable sense of balance to clamber over numerous wet rocks and lay 100 individual candles for what is truly a dinner to remember.
Such exquisite attention to detail comes as no surprise, however, after a few days in the company of Suambara and his team members, 70% of whom are from the local village. Throughout my stay it is common to see smiling villagers strolling around the Samaya's grounds, often to fill up water bottles from the resort's natural spring water source, and Suambara stresses how, as a local man himself, he considers it vital for the hotel to have a good relationship with those in the surrounding area.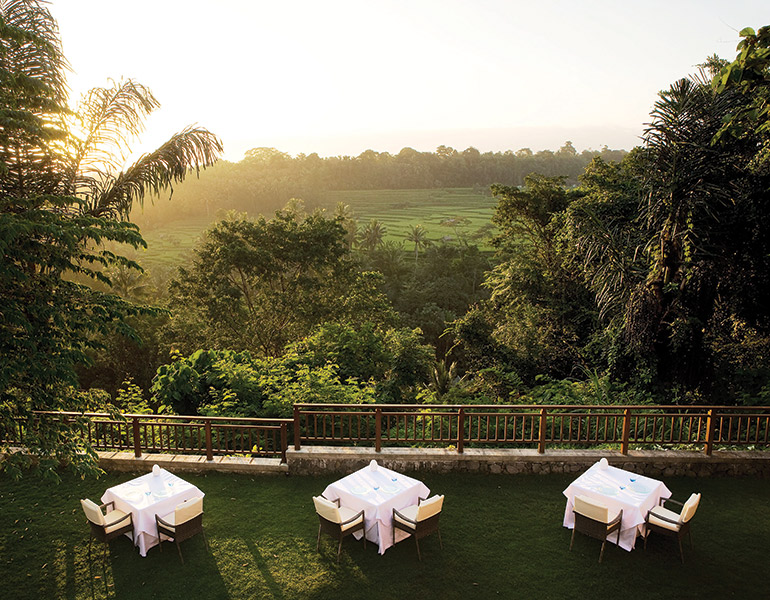 And what an area it is. Nestled about a 15-minute drive from the centre of Ubud, the Samaya's Hill View Villas and the aptly named Scene Restaurant boast sensational views of distant, towering jungle and neatly stacked rice terraces. Serenity reigns in this part of the world, and the Samaya's landscaping also tends toward the natural look, lending an enjoyably wild quality to the silvery barked frangipani trees and the ubiquitous puring plants, with their crinkled leaves a vivid flurry of reds, pinks, oranges and yellows, that line the numerous walkways.
Even with all this natural wonder, it would remain a perfectly sane decision, however, to remain ensconced in one's villa for the entire trip. Each boasts a particularly large private pool and spacious cabana crafted from merbau wood, with the whole garden framed by white orchids known as anggrek bandung. Inside, terrazzo bathrooms house outsized jacuzzis, and goose down pillows provide the basis for a preposterously restful night's sleep. After all, out here among the rice fields, the only sound is a harmony of perfect silence. 
Sensory Samaya
The Samaya's spa is perfectly perched on a riverbank overlooking the soothing rush of the Ayang river. All massages are preceded by the Samaya's signature foot ritual, which delicately eases you into treatments with roots all over the world but with a particular focus on Bali. The epic Rama and Shita couple's package includes a chocolate body scrub, Decléor relaxation massage and a milk jacuzzi among its seven treatments that last for a total of four hours.
A taste of Indonesia
Tucked away on Jalan Dewi Sita in central Ubud sits Locavore, the only restaurant in Indonesia to gain a place on the respected Asia's 50 Best Restaurants list. Whether that makes it the best in Indonesia is impossible to gauge, but it is, quite simply, outstanding. The two chef-owners, Eelke Plasmeijer of the Netherlands and Ray Adriansyah from Jakarta, are ludicrously committed to local produce and estimate that 95% of their ingredients are Indonesian. On Southeast Asia Globe's visit, dishes on the reasonably priced seven-course tasting menu included ox tongue with stark wheat beer brine and parsley roots, and high-grade rice from central Bali with snails, garlic and 64-degree egg.
Meet your makers
Bali is an island of artisans, and there is arguably no finer example than John Hardy, makers of exquisite jewellery and champions of local skill. The eponymous artist established his company in 1975 and has since created a vibrant collective with local artisans, where the focus is on preserving local creativity by adhering to, and developing, traditional craftsmanship. A visit to the workshop and showroom is a trip in itself, where an hour or two is easily spent wandering around the bamboo and thatch compound and getting up close with the artisans as they work.
Essentials
Tel: +62 361 973 606. Address: The Samaya, Banjar Baung, Desa Sayan, Ubud, Bali. Website: ubud.thesamayabali.com. Rooms: five different types of villa, including Ayung Villas next to the river, Hill View Villas perched on high and the gigantic Three-Bedroom Villas for larger groups. Suggested accommodation: coming in at a hefty 392 square metres, including a large private pool, the Hill View Villas are difficult to beat, especially after taking into account the resplendent views of distant rice fields afforded by their position near the resort's highest point.