As scandals go, it has everything. A hidden tryst with a drug-addicted driver. Dirty money from drug lords. Reports of a prison overrun with narcotics on her watch. For Philippine Liberal Party senator Leila de Lima, they are allegations that could end years of crusading against corruption, election fraud and, most crucially, the ongoing war on drugs that has claimed the lives of more than 2,000 alleged criminals in about two months.
Speaking to reporters outside a Senate committee hearing last month, De Lima accused President Rodrigo Duterte of pursuing the allegations against her to the point of obsession.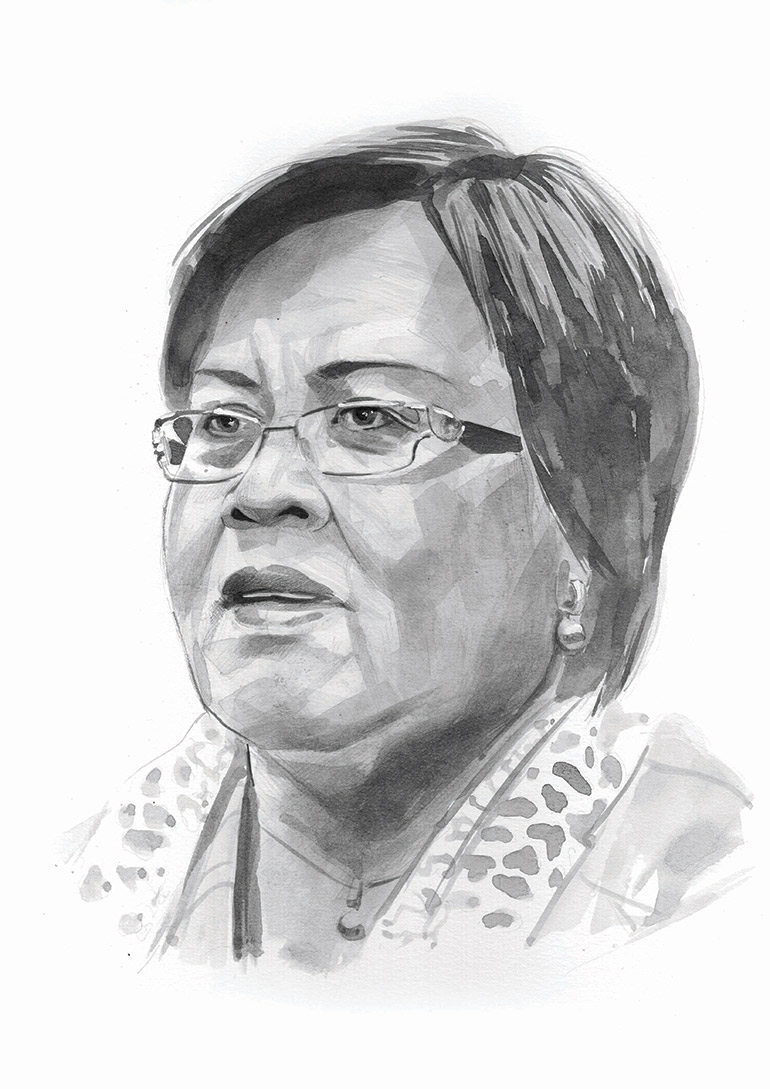 "It is as if he is afraid that if he cannot destroy me and pin me down, with all the government machinery and executive power behind them, they would simply look like impotent fools before a defenceless woman whom they have dishonoured and maligned," she said.
According to Ramon Casiple, executive director of the Quezon City-based Institute for Political and Electoral Reform, however, De Lima was anything but defenceless.
"She started out [being] known as a prominent election lawyer," he told Southeast Asia Globe. "She held her own against the mostly male election lawyers – and if you know anything about that world, it's a very rough and tumble world."
A top-ranked graduate from San Beda College of Law, De Lima quickly made a name for herself as an unyielding champion of fair and transparent elections, winning a number of critical cases for the country's beleaguered opposition. Appointed chairperson of the Philippine Commission on Human Rights by then-President Gloria Macapagal Arroyo, De Lima soon became a staunch opponent to the ongoing "death squad" killings in Davao City that took place with the rumoured backing of Duterte, the city's mayor at the time. It would not be the last time her crusade brought her into conflict with the man known as 'the punisher'.
Casiple said that De Lima's strong record as a human rights defender often puts her at odds with the overwhelmingly popular president. "She's become the darling of the anti-Duterte crowd," he said.
Tapped as secretary of the Department of Justice by President Benigno Aquino III back in 2010, De Lima wasted little time in collecting a batch of enemies through high-profile campaigns such as launching a federal investigation into allegations of abductions within the powerful Iglesia ni Cristo church.
These latest charges, though, date back to her supervision of the New Bilibid Prison under Aquino's administration. Despite regular raids on wealthy drug lords languishing in the prison, the illegal narcotics trade continued – with De Lima's expensively bought blessing, according to Duterte's allegations. Despite the severe nature of the accusations, the evidence so far presented, including bank accounts allegedly connected to De Lima's associates, has been unconvincing.
Chair of political science and history at Ateneo de Davao University Ramon Beleno III said De Lima's steadfast opposition to Duterte had made her few friends.
"Even before the presidential election, senator De Lima… has been a staunch critic of the president," he said. "She has always been a target of Duterte's supporters. Since the last election was very emotional and passionate, the attacks became worse."
Writing for Philippine news site Rappler, Ateneo School of Government's former dean Tony la Viña stressed that while he himself supported many of President Duterte's ambitions, his style of strong leadership demanded a robust opposition.
"As a governance person, I believe that it is in the conflict of ideas that the best solutions are found," he wrote. "The worst thing that has happened in our politics today is the lack of a strong opposition. Right now, senator De Lima is one of the few politicians who has stood up to play this role. We need her to continue."
For De Lima, though, it may be easier said than done.
"She's the only one speaking up against what's happening," said Rona Caritos, acting executive director for the Legal Network for Truthful Elections, adding that the recent allegations were "probably connected to that".
Caritos went on to warn that the campaign against De Lima "has a chilling effect on opposition, especially with so many people supporting President Duterte", citing a recent nationwide survey showing the president had a 91% trust rating among Filipinos.
"It's hard to be in opposition right now in the Philippines," she said.