Classic style and sumptuous drinking and dining options help this spot in the Lumpini area stake a claim as one of Bangkok's coolest hotels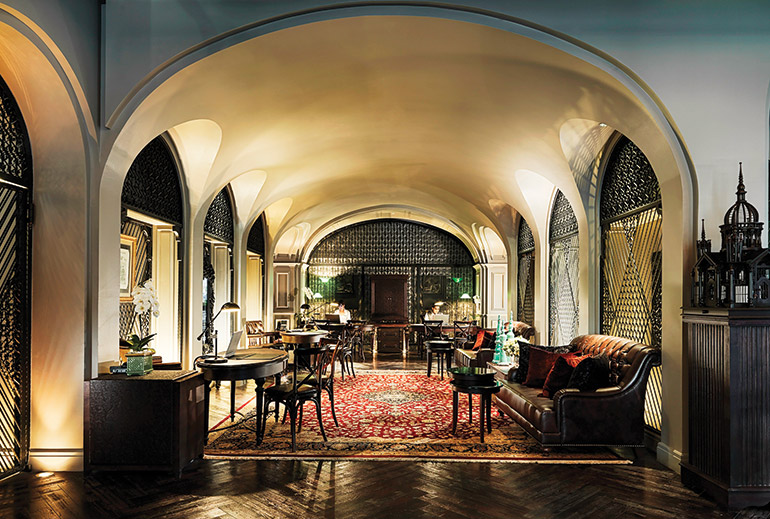 A sense of style
Jazz-inspired elegance reigns supreme at Hotel Muse, which soars over 25 floors but manages to retain a certain cosiness. The straight lines and bold shapes of Art Deco can be found throughout this award-winning design hotel, as can nods to the 'golden age of travel', from sepia globes to heftily buckled vintage suitcases. Moody lighting helps create intimate corners and a distinctly 'adult' atmosphere – although child-friendly, Hotel Muse lends itself more naturally to a refined stay for two than a jaunt with the whole family.
Full of secrets
It takes approximately three seconds to get over the rather unimaginative name of Hotel Muse's bar, the Speakeasy. First, there are the excellent drinks – from a monumental list of gins to interesting quirks such as the bacon old fashioned, made using whisky infused with bacon and truffle syrup. Then there's the Blind Pig cigar lounge, in which guests are invited to select their own silky smoking jacket before indulging. And finally, there is the prerequisite hidden staircase, which leads up to the 25th floor terrace and its impeccable views over Bangkok's twinkling skyline.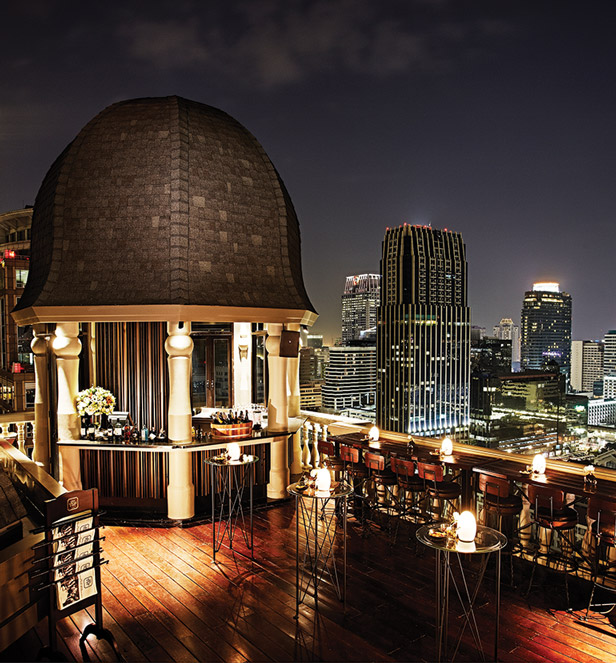 Insider tip
It might be a good idea to cross your fingers when making a booking at Hotel Muse; every day the hotel picks a guest at random to be its `muse of the day', resulting in a free upgrade to a higher room category, a 15% discount at all of the hotel's F&B outlets, as well as free-flow drinks and canapés from 4:30pm until 6:30pm at the Speakeasy.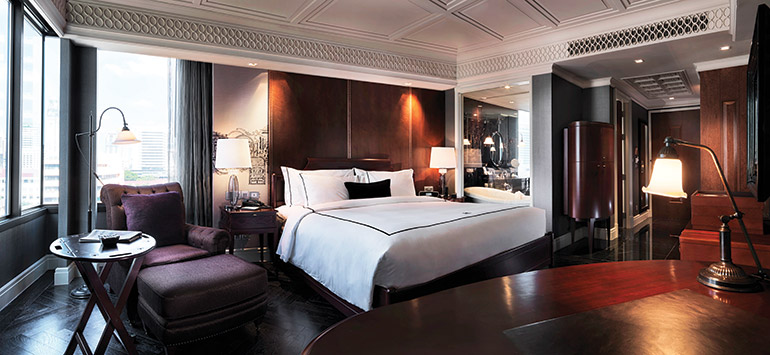 Steak and swagger
Babette's Steak House, located on the 19th floor, is not only the scene for one of the best breakfast buffets we've encountered for a while. By night, the views from its huge bay windows come into their own and the grill takes centre stage alongside yet more prohibition-era swagger, this time inspired by the hit HBO television series Boardwalk Empire. The menu is unabashedly geared toward contentment for carnivores, and we'd recommend sharing the chef's signature Stanbroke's Cattle tomahawk steak, which weighs in at a hefty 1kg.
From another era
The unmistakably masculine rooms feature bathrooms heavy on the polished black marble yet embellished with shimmering silver faucets and oversized ornamental sinks laced with floral patterns. In the bedrooms, brooding dark wood abounds, along with the all-important period touches you'd expect from such a meticulously designed hotel – from brown leather stationery drawers and travel trunks to Art Deco brass lamps and motifs stencilled on the wall. Perhaps our favourite touch, though, was the delivery of a copy of Time magazine with the first night's turndown service – a welcome aid to winding down at the end of a long day.
---
Read more articles