Outgoing Jakarta governor Basuki Tjahaja Purnama, popularly known as Ahok, will deliver his closing argument to the court next week, in a drawn out case that loomed over the election campaign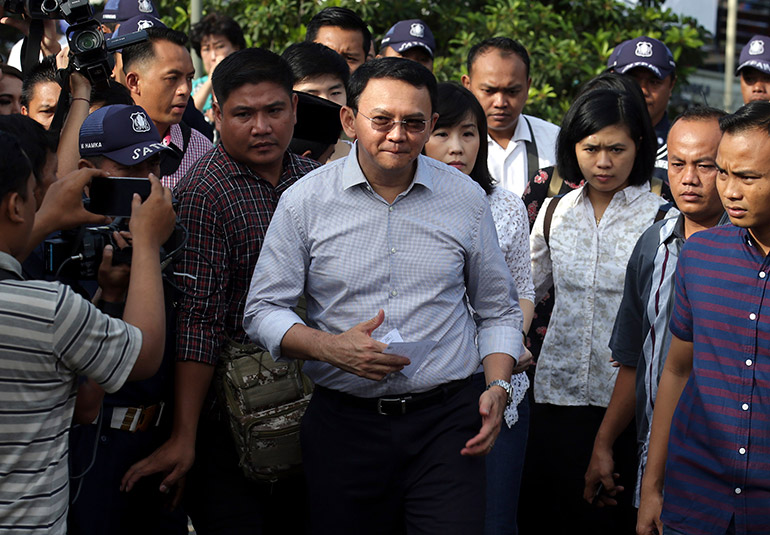 The day after Jakarta governor Basuki Tjahaja Purnama lost a deeply divisive election, prosecutors on Thursday recommended probation rather than prison time in a blasphemy case hanging over his head.
The governor, better known as Ahok, faced up to five years in prison for the offense, but in his closing argument state prosecutor Ali Mukartono said mitigating factors should be taken into account in his sentencing.
"Ahok acted politely during hearings, participated in the development of Jakarta, and the public disturbance was partly due to a person named Buni Yani," the Straits Times reported him saying, referring to a former private university lecturer who uploaded the video allegedly showing Ahok making comments insulting to Islam.
Ahok is expected to deliver his closing defense responding to the prosecutor's recommendation on April 25.
On Wednesday night, after it had become clear that he had lost a bitterly contested gubernatorial race against Muslim candidate Anies Baswedan, Ahok delivered a concession address telling people to "forget all the things that happened during the campaign", according to the New York Times.
Ahok was elected as deputy governor on a popular anti-establishment ticket along with Joko Widodo as governor, and stepped up into the city's top job when Widodo ascended to the country's presidency.
Leading the ticket in the latest campaign, Ahok's Chinese ethnicity and Christian faith left him vulnerable to attacks from Muslim conservatives and underlying racism in the country. Baswedan, a former minister of education and culture, rode a wave of populist religious anger to victory, with the help of the support from the old guard.
Many worry that the divisions deepened during the campaign will be hard to heal, having forged an alliance between the political establishment and hard-line Muslim conservatives. However, US vice president Mike Pence, who met with Widodo yesterday in Jakarta, said religion could be a uniting force.
"In your nation as in mine, religion unifies, it doesn't divide," he said.
Critics were quick to call out the inherent contradiction of the comment, coming from a senior official in an administration that has been pushing a ban on citizens of certain Muslim-majority countries.