Once named Asia's Best Female Chef, prolific restaurateur Margarita Forés is determined to prove that Filipino cuisine deserves all the plaudits usually reserved for its regional neighbours such as Thailand and Vietnam. Southeast Asia Globe caught up with her at this year's inaugural Women in Gastronomy forum in Bangkok, where she shared her passion for all things Filipino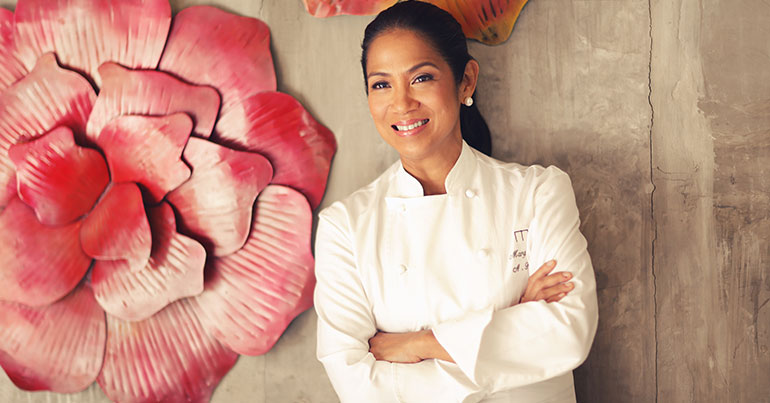 "My mission, if you like, is to raise Filipino cuisine and culture, to tell the world about it. I feel like the Philippines is Asia's best-kept secret. The uniqueness is that we are the only Latin Asians. I think that the 333 years under Spain, with a lot of it coming from Mexico, left such a mark on our people and our culture, and it's given us a dimension that you don't find in any other Asian country.
"Filipino food was always just enjoyed at home, so it's kind of nice that in the past decade there's been a slow move towards getting our cuisine and our ingredients out there. What really helped was that there was a government hand in that too.
"It's been a challenge because, unlike Thai food, which is very clearly Thai, or Japanese food, which is very clearly Japanese, with Filipino food, it's like, how do you present it? There's a little bit of Chinese with the noodles and the spring rolls, then we have valenciana, which is paella valenciana [from Spain] but made with sticky Filipino rice, or there's adobo, which is a term that comes from Mexico but we've made it our own by using vinegar in the braise – which was originally a means of preserving the dish in our very warm temperatures.
[manual_related_posts]
"A key next step for us, I think, is getting our ingredients out there. We can talk about them, and people can enjoy them if they come to the Philippines, but where can they buy it abroad? We'd like to export a lot more of the higher-quality Filipino ingredients, like better vinegars, different kinds of chocolate, we have some really great single origin coffee beans, amazing salts. This would also allow Filipinos abroad to prepare our cuisine in a more authentic way, which would be fantastic."
This article was published in the May edition of Southeast Asia Globe magazine. For full access, subscribe here.