Sponsored: International School Ho Chi Minh City is helping its students to think for themselves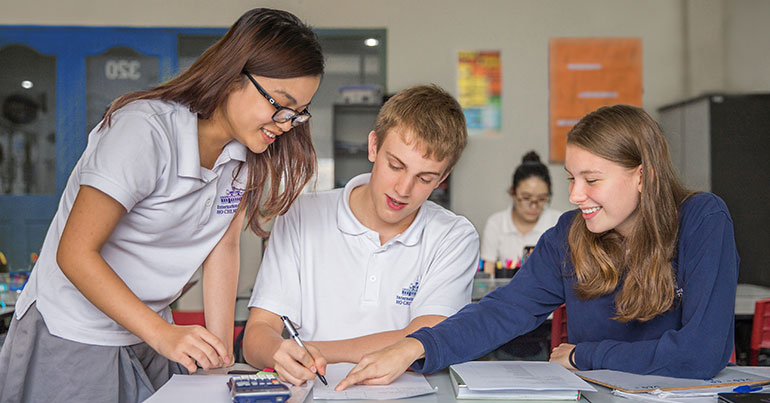 Instilling in children a lifelong desire for learning has always been admirable. But now, it is also essential. The rise of the 'gig economy', in which an increasing number of people are employed as independent contractors rather than permanent staff members, and the ever-expanding capabilities of artificial intelligence mean that students today will likely be forced to work in a range of jobs spanning multiple industries throughout their lifetime.
The International School Ho Chi Minh City (ISHCMC) understands that its role in ensuring students thrive in this future is twofold: they must inspire students to learn limitlessly and equip them with the necessary skills to do so. Consequently, the idea that students should be taught how to think, not what to think, is the foundation of ISHCMC's teaching philosophy and is found at the heart of the school's International Baccalaureate (IB) curriculum.
During early years' education, students are encouraged to learn through play in a 'makerspace' decked out with movable furniture in order to lay the foundation for an inquiry-based education that awards primacy to essential cognitive skills such as creativity and critical thinking.
In primary school, learning is connected across disciplines and to real-world situations, encouraging students both to use the full extent of their knowledge to solve problems and to develop an awareness of the world around them. This awareness is further developed in the secondary school programme, which prepares students for university by offering a broad and balanced education, whilst simultaneously explaining to students the reasoning behind such an approach.
From their primary years onwards, students also work closely with a Technology Specialist and have access to a Mac lab and green screen for video production. A new innovation centre that connects students with the nation's business community and collaborative learning areas with integrated technology at the school's state-of-the-art, purpose-built secondary campus further strengthen the school's commitment to ensuring its students develop the cognitive skills required for them to enjoy successful 21st century careers.
ISHCMC understands, however, that for a student to learn effectively, they must first feel comfortable in themselves and the environments in which they learn. The school has, therefore, installed air purification systems in many of its classrooms, with plans to install such systems throughout the whole school, and had its canteen menu re-designed by a chef who has trained and worked in Michelin-starred restaurants. What's more, every day, students engage in ten minutes of mindfulness training, which involves practices such as meditation and mindful drawing. Studies have shown that these activities boost mental performance and clarity and improve a child's overall happiness, standing them in good stead to deal with the stress of important exams and assignments in later life.
By embracing innovation, ISHCMC has been able to consistently produce IB diploma results that exceed the world average. It is this attitude of constant self-reflection and improvement that will ensure the school's students continue to be successful in the years ahead. For when the world changes, education must change with it – and no school understands this more than ISHCMC.