Isnilon Hapilon and Omar Maute, two of the Isis-affiliated militiamen responsible for the capture of Marawi City, have been killed after troops attacked their position on Monday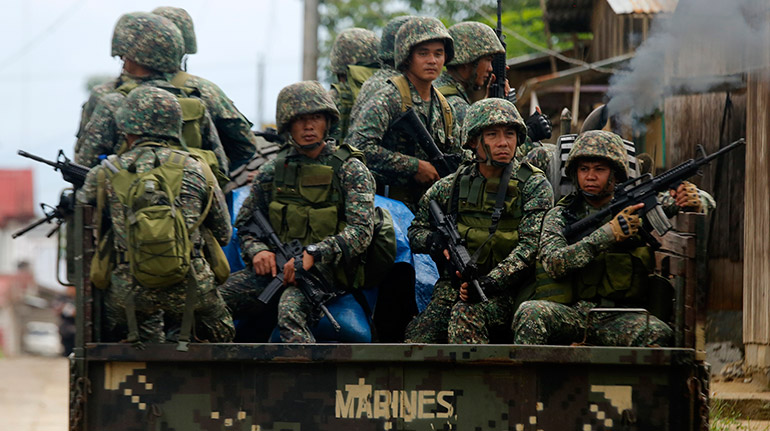 The Philippine military has killed two senior commanders of the Isis-affiliated military groups behind the deadly siege in Marawi City in an operation that defence secretary Delfin Lorenzana believes will lead to "the termination of hostilities in a couple of days".
Abu Sayyaf leader Isnilon Hapilon and Maute leader Omar Maute were killed in the early hours of Monday morning, after a hostage who had previously been held captive by the rebels helped government troops locate the building in which the two leaders were hiding.
"We have received a report from [Armed Forces of the Philippines] ground commanders in Marawi that the operation conducted by government forces to retake the last remaining Daesh-Maute stronghold in the city has resulted in the death of the last terrorist leaders Isnilon Hapilon and Omar Maute, and that their bodies have been recovered by our operating units," said Lorenzana.
The military's recent offensive led to the release of 17 hostages, according to Zia Alonto Adiong, spokesperson for the Marawi Crisis Management Committee.
Hapilon, who is listed as one of the FBI's most-wanted terror suspects, and Maute have long been in the crosshairs of the Philippine state.
Earlier this year, the country's President Rodrigo Duterte placed a reward of ten million Philippine pesos ($195,330) for the assassination of Hapilon, who is widely considered the 'emir' of Isis in Southeast Asia. Hapilon also had a $5m US bounty on his head for carrying out multiple ransom kidnappings and beheadings of US citizens. The Philippine government had also offered a five million peso reward for Omar Maute.
Lorenzana said that the deaths of the two leaders signalled that the military was just days away from bringing an end to the conflict. Lorenzana added, however, that it was too early to consider ending martial law on the island of Mindanao.
The conflict began after a failed military raid to capture Hapilon on 23 May. Hundreds of thousands of Filipinos have been displaced since the fighting broke out. The conflict has claimed the lives of 813 rebels, 47 civilians and 162 military, according to Philippine authorities.
UPDATE: President Rodrigo Duterte announced in Marawi on Tuesday that the five-month conflict had ended, just one day after government troops had killed the two rebel leaders.
"Ladies and gentlemen, I hereby declare Marawi City liberated from the terrorist influence that marks the beginning of rehabilitation" he was quoted as telling government troops by the PhilStar news site.