"He really is one of us!" exclaims Hollywood action star Mark Wahlberg of his Mile 22 co-star Iko Uwais, the legendary Indonesian martial arts action star.
The two play adversaries (at least initially) in the action-packed political thriller set in a fictional Southeast Asian country. Wahlberg plays the leader of an elite US paramilitary team who is assigned to transport a spy willing to trade highly sensitive information regarding the location of stolen radioactive material in exchange for his freedom outside the country.
Getting the high-profile asset from the US embassy to an airport 22 miles away is tricky and dangerous because not only does the spy have enemies within the state but he also is the target of assassination by local police force and a criminal gang. Uwais' Li Noor, a Special Forces officer with martial arts training in his own right, can handle himself even as he is handcuffed to a gurney and attacked by enemies inside the embassy's infirmary, and later as the ride to airfield becomes more and more treacherous, he actually assists the paramilitary team when they are ambushed on the road.
Like previous action movies directed by the filmmaker Peter Berg (Patriots Day, Lone Survivor), Mile 22 spares no expense combining compelling human story with suspense and intense action sequences. Berg remarks that Uwais demonstrated solid commitment while working on the film.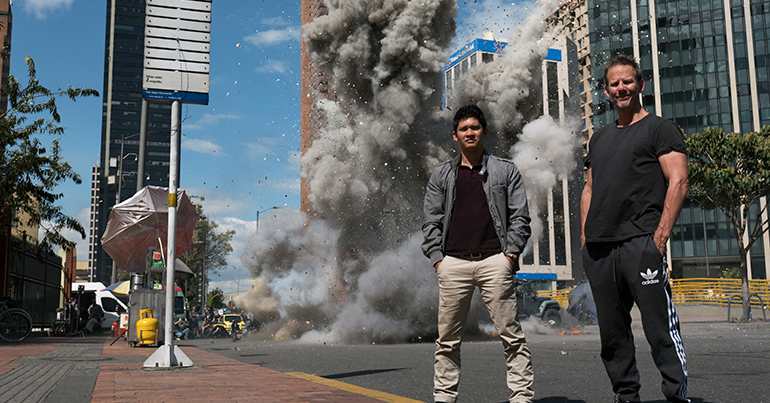 "His work ethic is extraordinary; he literally will shoot for 48 straight hours," observes the filmmaker, adding with a little dramatic flair, "then we have to turn him off."
Mile 22 marks Uwais' American film debut after starring in dozens of martial arts and action roles in his native Indonesia, where he starred in such films as The Raid: Redemption and The Raid 2. The tall, attractive martial arts master reveals a sly sense of humour during a recent interview to promote his first Hollywood film.
Can you talk about doing the stunt choreography for the intense martial arts scene in the infirmary and working with your stunt coordinators?
We were lucky to have fight coordinator Ryan Watson and his team, and my stunt (double) Sam Looc and (stunt utility) Sam Lateef. When we discussed the fight choreography with Peter Berg – the most handsome director on the planet – he trusted me and my team a lot about every fight scene. We really collaborated. This was like a new experience for me because Pete doesn't like fake (fight choreography). He wanted us to look like we were really fighting with real impacts, real punches thrown and real kicks. So, it was really easy for us to create the choreography.
What was the difference between working on this project with such an international cast and working on the projects you worked on in Asia? Do you plan to do more Hollywood films? Are you strictly interested in doing action films?
It depends on whether Peter Berg calls me again or not. The difference is just the timing. In the US, we work only about ten to 12 hours but in Indonesia, we can work [non-stop] for two days straight. I did the fight scenes in The Raid over a period of two days.
Which do you prefer—working for two days straight or ten hours at a time?
All at once. When I did the fight scene with the [Raid] crew, it was already hot. I fought with all of the fighters. But when we cut and set up and change the camera angles, it's hard for me to get up that [energy] level again. So, for me, I feel like we should (snaps fingers) "Just do it! Just do it!"
Did you and Peter Berg share the same approach towards filming the action sequences?
Yes. Nothing seems fake. Every fight scene, every action scene should be realistic and believable. It's not all about effects. (Peter) was like family, not like a boss. We were very close. There was no ego. It was an honour to work with him. We had the best time.
Would you like to do more Hollywood films?
Yes. This is really the beginning for me. It's a perfect combination between martial arts and Hollywood action. When people leave the theatre, I hope they feel it's the coolest action movie they've ever seen.