Another planeload of mostly Western tourists touches down at Sandakan Airport. The flight from Sabah's capital, Kota Kinabalu, has taken them past Mount Kinabalu, and the passengers instantly recognise the jagged peak. Many have already booked a minivan to the snaking brown Kinabatangan River, with its proboscis monkeys and pygmy elephants, which the plane flew over on its way in. The plane had circled over Sepilok Orangutan Rehabilitation Centre, and the tourists can't wait to meet the fuzzy orange orphans there. But they might not know, as they disembark the aircraft, that the airstrip where they now walk was built by almost 2,500 Australian and British prisoners of war – of whom only six survived horrors and deprivations, including a series of death marches.
Tourists who visit the Sandakan Memorial Park will discover the tragic events that occurred here during World War II, culminating in the senseless deaths of at least 1,787 Australian and 641 British prisoners of war held by the Japanese at a camp on this very site in British North Borneo – now the Malaysian state of Sabah. By the end of August 1945, those six prisoners, all Australians, had somehow managed to escape.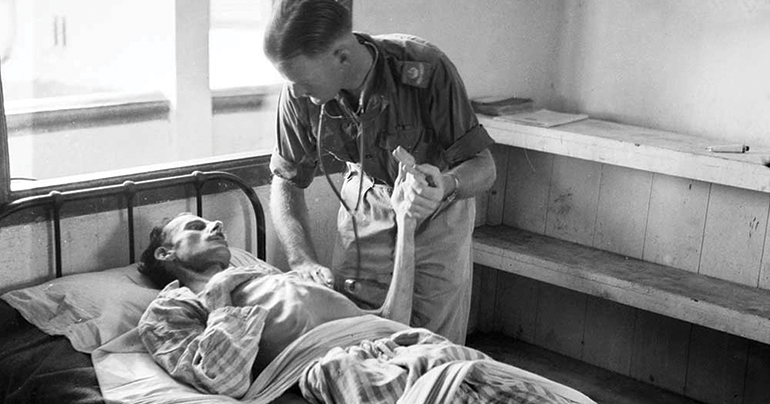 A lush tropical garden greets visitors as they explore interpretive signage around the memorial grounds. The Big Tree was a landmark of the POW camp that provided welcome shade. The buttressed roots of this giant were a place for sick soldiers to rest, and some even hid valuables in its hollow trunk. A memorial plaque now stands on the site of the tree. Inside the Commemorative Pavilion, the story of the atrocity that occurred here is sensitively explained.
After the fall of Singapore in 1942, around 2,700 Australian and British POWs were brought to Sandakan, mostly from Singapore's Changi Prison, and were forced to build an airfield to refuel the Japanese air force. Conditions in the camp were initially tolerable. But after the discovery that some prisoners, including officers, had established a secret communication network, the Japanese separated the enlisted men from their leaders, transferring several hundred officer soldiers to Kuching. Without their officers, conditions for the enlisted men deteriorated rapidly. As the Japanese supremacy in the war began to fade, food became scarcer and rations were drastically cut. Macabre torture methods for deterring escape, along with diseases and killings, became common.
By January 1945, Allied air raids had made the airstrip unusable, and with the Allies about to arrive in northeast Borneo, the Sandakan Death Marches commenced. On the first march, 455 ailing soldiers marched 260 kilometres to Ranau through marshes, thick jungle and up the steep side of Mount Kinabalu. Those who were too diseased or malnourished to keep up were shot or bayonetted. The 190 POWs who made it to Ranau lived, then died, in unsanitary, cramped conditions while being starved and ravaged by hideous illnesses.
A second march left Sandakan on 29 May with 536 POWs. Two-thirds died before reaching Ranau. On 9 June, the Japanese burned the Sandakan camp as they commenced the third march, with 75 prisoners who were barely able to walk. None made it to Ranau. Of those too ill to stand who were left behind, some were massacred while others were left to fend for themselves with no shelter or food. All of them perished.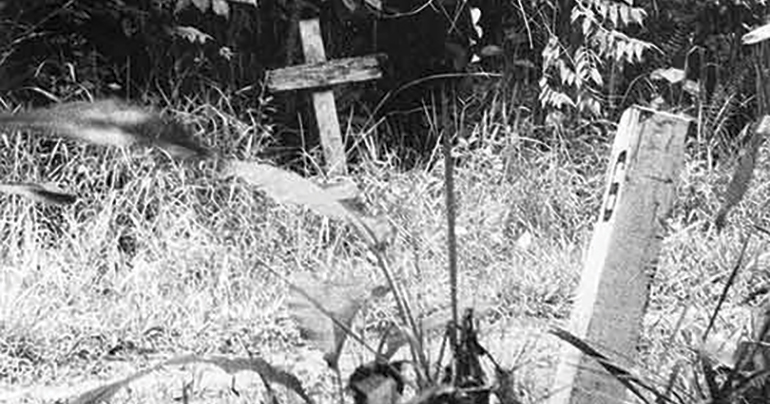 The personal accounts of the six survivors, memorialised on the walls of the pavilion, are perhaps the most poignant: "All the way along the track we smelt and saw bodies. They were Australian soldiers' bodies from the previous marches. We could recognise them – some we knew personally." Another reads: "Those who could not march in the morning would fall out and go to a spot when we moved out, after which we would hear shots… We used to shake hands with them and say goodbye, as they more or less knew what was going to happen."
The local tribes and Chinese in Sandakan were also targeted by the Japanese, and 16% of Sabah's population was killed. Amazingly, some tried to help the prisoners, risking their lives to supply food and arrange rescues. The surviving soldiers later gave credit to the local Malays for their survival.
Bombardier Richard Braithwaite slipped away from the track alone during the second march. After enduring a week of ferocious ant attacks and killing a Japanese soldier with his bare hands, he was assisted by villagers, and eventually boarded an American navy vessel.
The Allied air force frequently bombed the marchers, believing them to be fleeing Japanese. During the confusion created in one air raid, gunner Owen Campbell escaped with four others. Campbell, the sole survivor of this group, eventually found locals to help him.
During July in the squalid camp at Ranau, Warrant Officer William Sticpewich received a tip-off from a Japanese guard that all prisoners were to be shot. He and Herman Reither slipped away under the cover of darkness. Despite the care of a sympathetic villager, Reither died of dysentery. An Allied unit in the area was contacted by villagers and rescued Sticpewich the day after Reither's death.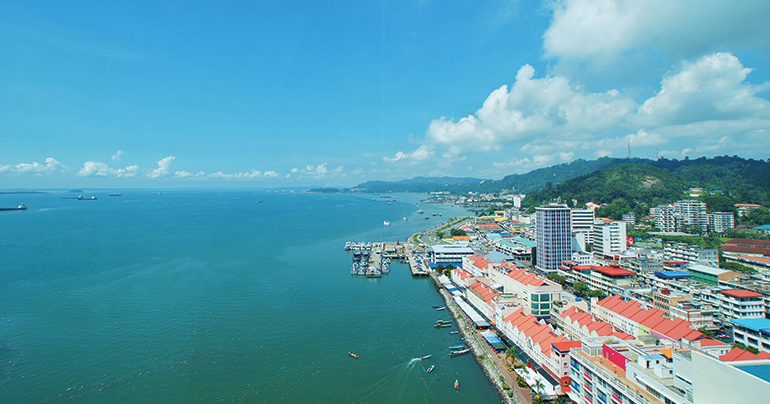 The last three survivors also escaped from Ranau. Private Nelson Short, Private Keith Botterill and Lance Bombardier William Moxham were hidden in a jungle hut by a local headman named Baragah, who had found the frail men. Baragah delivered a message to a nearby Australian unit that had parachuted in to search for any survivors. Although the war had officially ended days earlier, the Japanese in the area remained dangerous and the survivors felt they needed to leave their hut, fearing they would be recaptured and killed. Australian soldiers who'd been looking for them eventually found them.
Mick "Lofty" Hodges, a gentle giant of a man, standing 6 feet 7 inches, was one of their Australian rescuers. To the emaciated men, covered in ulcers and with limbs inflated with beriberi, he seemed like a dream. Reports state that Lofty cared for Keith Botterill for the next three weeks in the safety of camp, carrying him to the river or the latrine like a baby.
In the pavilion at Sandakan Memorial, Nelson Short is quoted, reminiscing about the moment they heard rescuers approaching: "We said, 'Hello, what's this? Is this Japs coming to get us?' But sure enough it was our blokes. We look up and there are these big six-footers. Z Force. Boy oh boy. All in green… This is really it. I cried, they all cried. It was wonderful."
To this day, the Australian War Memorial regards the Sandakan Death Marches as "the worst single atrocity against Australian soldiers."
---
Sandakan Sights
Modern-day visitors arriving at Sandakan Airport experience a very different destination, a region rich in tranquil tourist attractions and unique wildlife offerings.
Adventurous visitors can get a first-hand feel for the terrain covered in the Death Marches with several companies offering hikes that attempt to follow the original route to Ranau – for physically fit guests.
The house of Agnes Keith, the wife of the conservator of forests in British North Borneo, sits calmly on a forested knoll in Sandakan. Agnes is famous for her book Land Below the Wind and two follow-up books about life in North Borneo before, during and after the war. The house is now a museum (pictured above).
The serene Puu Jih Shih Buddhist Temple, situated high on a hill, gives a lofty perspective of Sandakan. Incense smoke wafts as visitors stroll the tiled veranda and take in the view of the Sulu Sea. Swastika-like motifs cut into hedges embody the symbol's original Sanskrit meaning: "to be good." Inside, visitors are immersed in a colour riot of reds, blues and gold and the rotund faces of laughing Buddhas.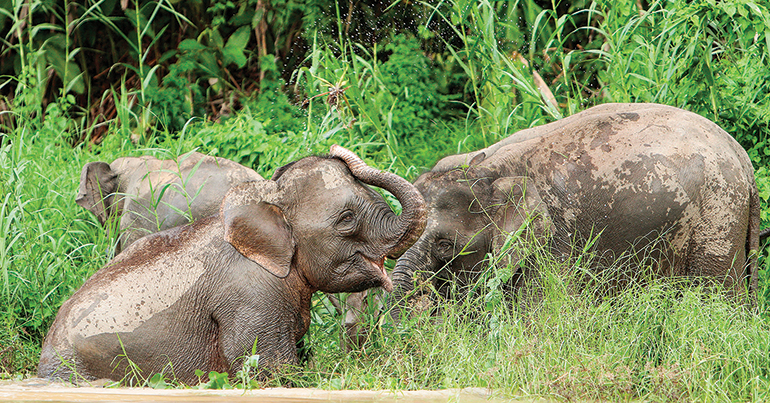 Sepilok Orangutan Rehabilitation Centre is a world-famous lifeline for animals displaced by palm oil and rubber plantations and the victims of the illegal pet trade. Rehabilitated orangutans are released here in the Kabili-Sepilok Forest Reserve and offered food to supplement their diet. Sometimes no orangutans come to take the offered bananas, a positive sign meaning the animals are feeding themselves. From an air-conditioned viewing room, tourists can always watch adorable young orangutans in their nursery learn to tumble, wrestle and climb.
Rainforest Discovery Centre is an education facility set in the forest adjacent to the orangutan sanctuary. Those who make an early-morning visit to the 347-metre-long canopy walkway may be rewarded with a glimpse of wild exotic birds, like the Diard's trogon or the white-crowned shama. An added bonus is the nonchalant giant squirrel, a gobsmacking 1 metre in length.
The nearby Bornean Sun Bear Conservation Centre cares for these smallest members of the bear family. All 42 bears in the forested enclosures were formerly pets. Adult bears are hunted for claws and canine teeth, while babies are captured to keep as pets, which inevitably ends badly. Often bears are kept in small cages for harvesting gallbladder bile to make unproven Asian medicines. The centre aims to release rehabilitated bears where safe habitats can be found.
The Kinabatangan Wildlife Sanctuary is a two-hour drive from the Sepilok sanctuaries. Visitors watch wildlife from motorboats, with no sweaty jungle trekking required. Highlights include wild orangutans, harems of proboscis monkeys, silver-leaf monkeys with orange babies and spectacular hornbill birds. Many visitors spot the Bornean pygmy elephant. At Selingan Island, endangered green and hawksbill sea turtles come ashore to nest. Guests can observe a turtle laying eggs and watch as rangers release any babies that have emerged in the hatchery that day.